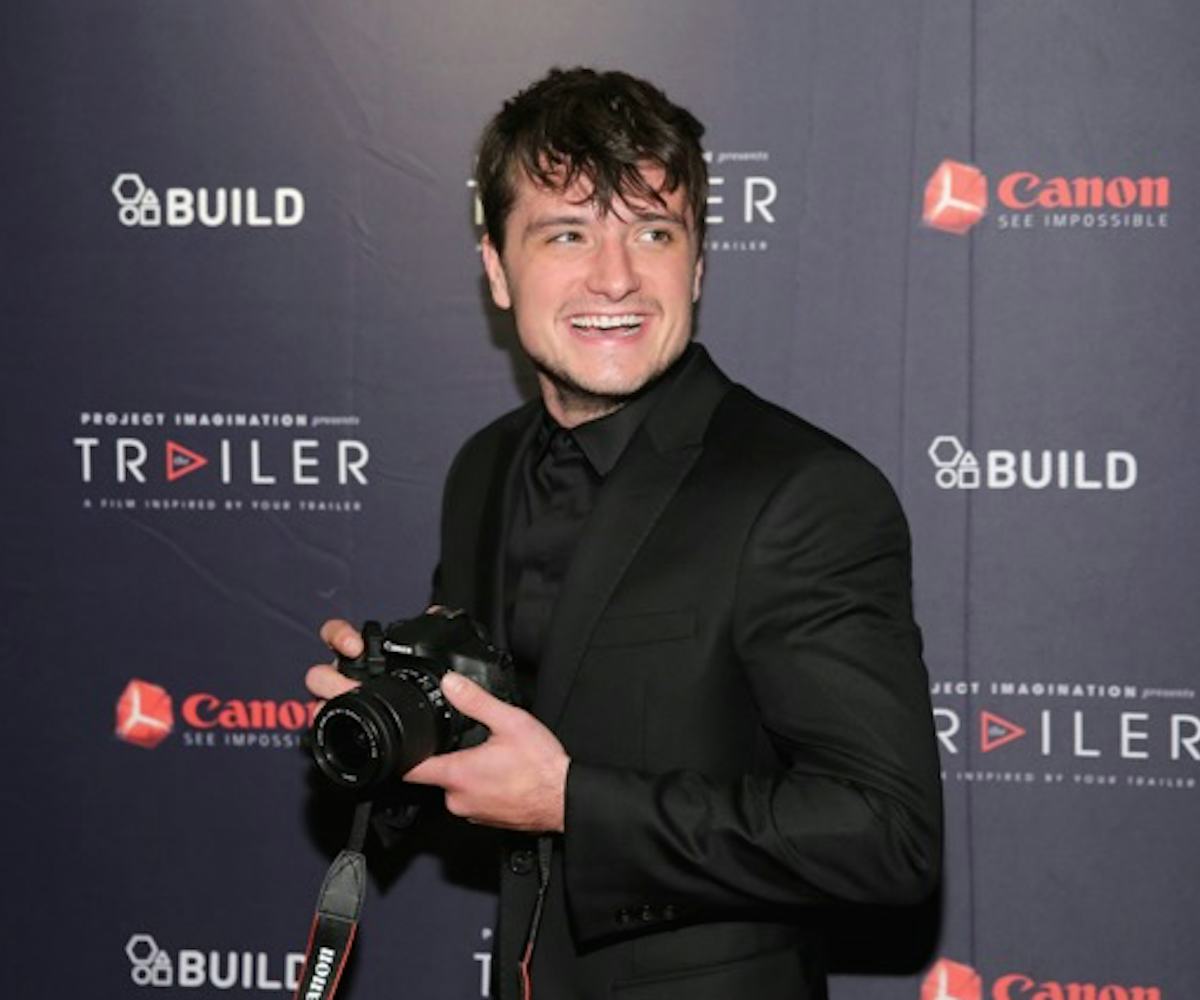 Josh Hutcherson On His Short Film, Doing Press With JLaw, And The Last 'Hunger Games' Wrap Party
watch 'the rusted' right now
About a month before Josh Hutcherson finishes promoting one of the year's biggest films, we found him in the penthouse of a hotel in Manhattan's East Village, where he was there to talk about something much different, and far more personal. The Rusted is the first project that Hutcherson, an aspiring filmmaker, produced from start to finish, and came to be after Canon and the director Ron Howard approached the actor to be a part of their filmmaking competition, Project Imagination: The Trailer. Aspiring filmmakers would submit a short trailer for a fictional film, and Hutcherson would help choose the best one. From there, he would produce and star in a short film based on the winning trailer. The result of that process is The Rusted, a tense and sinister drama starring Hutcherson and his Hunger Games costar Jena Malone as siblings who grapple with dark family secrets. We spoke to an excited Hutcherson about the unusual project, his press tours with Jennifer Lawrence, and the conclusion of his Hunger Games odyssey. 
How would you explain to someone what Josh Hutcherson from The Hunger Games is doing starring in a short film?
Well, it was cool because Canon came to me talking about Project Imagination, and it's a really cool concept to inspire people of all walks of life to pick up a camera and have a hand at filmmaking. I was really excited about it too, because I didn't know what the hell I was going to be doing. I didn't know the genre, character—nothing.
Is it an ambition of yours to direct?
Absolutely. Since I was a kid, every director I worked with I would annoy the shit out of them with questions, just asking about this lens here, why this story is going in this direction, and always absorbing everything I could, and hanging out in the camera truck after work.
Talk to me about your burgeoning career as a producer.
I'm producing a lot of stuff with my production company—we have like eight projects we are developing—probably five movies, two TV shows, and a miniseries. And I wrote a short film that I might direct next year, but I'm nervous to start. I put too much pressure on myself.
What kind of gratification did being in this film give you that something like The Hunger Games couldn't?
It's the first thing I produced, start to finish.  
What does that entail?
Selecting the winning trailer in the beginning, selecting the director, going out to the director, talking with her about the development of the story, and after that it was working with her, like with story points, notes, and then casting.
Did you get Jena Malone involved because of your relationship from The Hunger Games?
Exactly. The characters are brother and sister, so to create the kind of depth of a real relationship in the course of a three-day shoot is difficult, and we were thinking of who to cast and I thought, "Fuck, Jena would be perfect in this!" So, I just texted her and said, "Hey! I'm making a short film, Ron Howard is producing, come do it with me!" and she's like "Okay cool, I'm in!"
Are you a big movie trailer fan?
Oh, totally. I'll go to a movie theater and just sit down for two hours and watch trailers. Whenever I read a script, I think about the trailer because it's really important. Last year, I loved the one for Inherent Vice—that was a great trailer.
Now that The Hunger Games are ending, are you savoring this final press tour with your cast mates more than the other ones?
I think we will enjoy this last press tour the most, because it's the final one and we never have to do it again, and it's really fun because it's like travelling all around the world with all these people. Everybody is really close, but it's tiring, man. So I'm savoring it to a certain extent, but we still hang out all the time away from The Hunger Games, so we've made that leap from co-worker friends to actual friends.
What goes through your mind when Jennifer Lawrence says and does some of the more outrageous thing she's prone to during these press tours?
Like, "Why the fuck did you just say that? Don't say that!" We were doing this one interview during the only domestic junket, and me, Liam and Jen were doing some roundtable, and she said something about our intense sexual relationship, which is completely untrue, and I was like, "Jen, don't say shit like that! You're just putting fuel to the fire, you're killing it."
What's the biggest impact The Hunger Games will leave on your life?
It's like college. I started when I was 18 and finished when I was 22. It was like my college experience, so I just grew a lot as a person, and I obviously made friendships.  
What was that final wrap party like?
It was awesome. It was in Berlin. It was crazy and it went late.  
Watch The Rusted here.