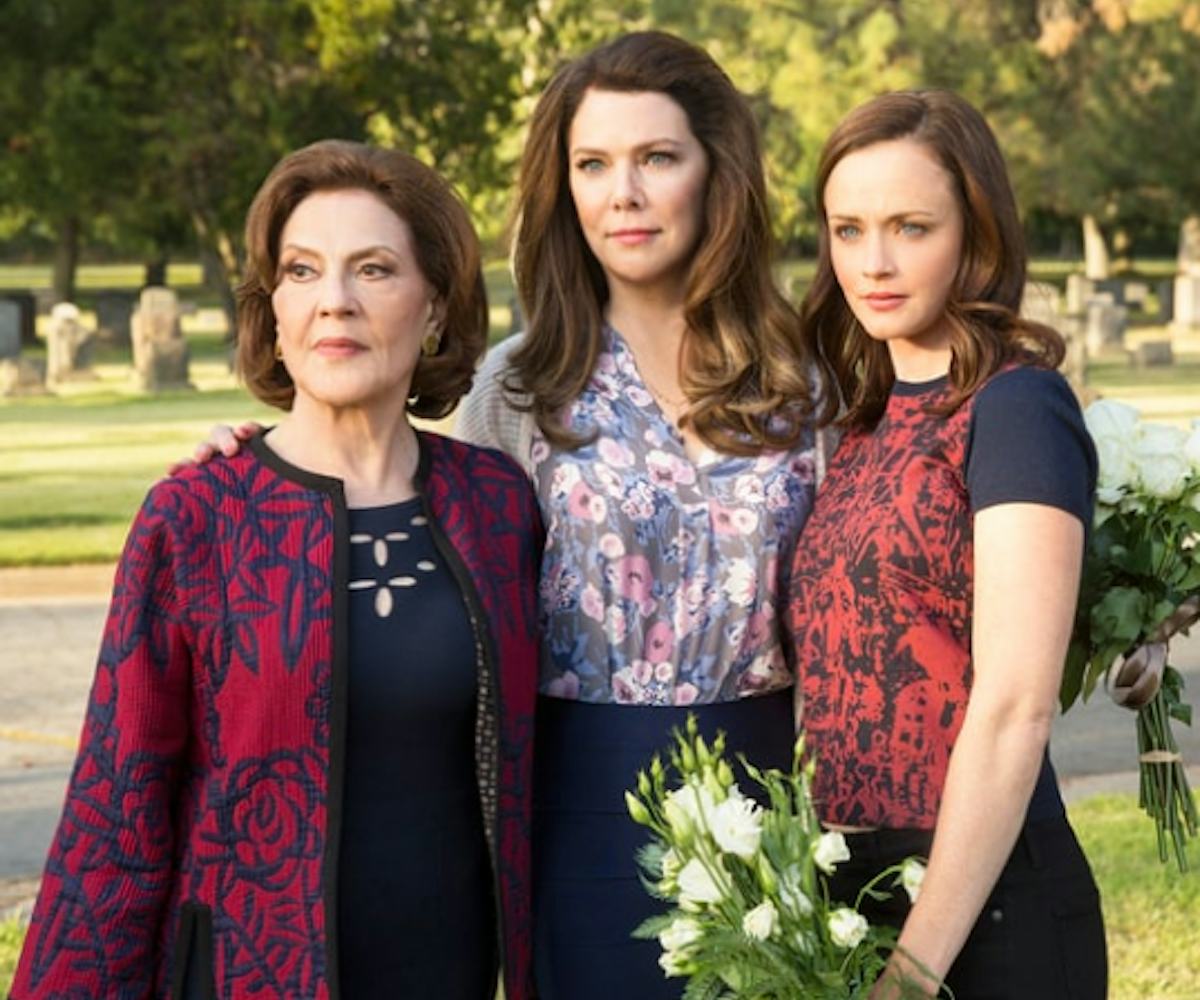 Robert Voets/Netflix
Four Real-Life Journalists Give Rory Gilmore Career Advice
1) Don't expect editors to grovel at your feet
In the long-awaited reunion special of Gilmore Girls—the cult mother-daughter drama that won the hearts of cerebral bookworms everywhere—intellectual daughter Rory grows up to be, unsurprisingly, a journalist.
The Netflix special, Gilmore Girls: A Year in the Life, picks up nine years after we first left the duo: after Rory took off to cover Barack Obama's first run at the Democratic nomination and embarked on what seemed like a promising career as a freelance writer. Things are not so bright and shiny in Trump's America, however, as we find Rory flailing, both personally and professionally.
The show's depiction of Rory's career caused a bit of drama among journalists, who seemed to agree that Rory's professional story line desperately needed a reality check. Four working journos have a few words of advice for Rory, who is clearly in need of a 101 refresher course.
Ilana Kaplan (Rolling Stone, Complex, Lenny Letter, VICE, NYLON)
1) You don't need a lucky outfit to get your dream job, but you do need to come prepared with a solid amount of ideas and critiques for a publication. Rory spends "Winter" and "Spring" looking for a red outfit for her Conde Nast interview, which might be excessive, but it is important to show that you have knowledge about the place you're interviewing so they can see your passion and competence for the job at hand.
2) Writing jobs, generally, don't fall into your lap. You usually have to do an edit test to get the gig, so coming to an interview with ideas is just preparation for that. Expect to do the work to get the dream job and show you know what you're talking about when you're in front of any EIC, Sandee included.
3) Pay attention: Your sources make your story. Rory takes on a piece about people who "wait in lines," and she falls asleep talking to her first source. Even if your heart isn't 100 percent in a story, you can't let that show. You need to treat every source and every word like your life depends on it. Be grateful for your assignment, and don't forget to load up on lots of Luke's coffee.
Bryn Lovitt (Rolling Stone, Rookie, Vanity Fair)
1) Don't expect editors to grovel at your feet after one good story a top-tier mag. Freelance writing is 50 percent hustle, and no journalist is above writing a good pitch. Sorry, Rory.
2) Hanging out in the lobby of the New York Times office hoping to "run into the Metro Editor" is probably not the best approach for getting work. Reach out over email to see if they'd be interested in setting up a time to meet with you and come prepared to discuss the story you'd like to write.
3) Take anything you can get. Turning down assignments because you feel the subject matter or publication is "beneath you" (Rory begrudgingly takes an assignment from GQ instead of The New Yorker) is a quick way to lose friends and contacts in this business. Be grateful you published a paragraph—anywhere.
Brenna Ehrlich (The Talkhouse Music EIC, Rolling Stone, Broadly, CNN, MTV)
1) After begging a publication for an assignment (as Rory does at GQ), don't just drop that story because you lost interest. You made a commitment, and you don't want to waste the editor's time (or fray their nerves). If you do the research, however, and find that the topic is not that rich, talk to your editor and perhaps offer a new angle—or a new pitch altogether. If you flake enough, word will go around.
2) Don't yell. At sources. At editors. And certainly not at people who are interviewing you for jobs. See: How Rory responded to the "Sandee Says" EIC when she didn't offer her the staff writer position and her erstwhile book/Talk of the Town subject when she opted out of the biography. This doesn't mean you shouldn't be firm, but, again, word gets around, dude. People don't want to be yelled at. Also, just, wow.
3) Always ask about salary. Always. Case in point: when Rory agreed to be the EIC of the Stars Hollow Gazette and Taylor asked if she wanted to be paid. Taylor previously said the paper was in the black, but Rory said she'd work for free. That sets a bad precedent in general. Also, lady, you can't afford underwear. That's all on you if you're not even trying.
Bonus OG Gilmore Girls advice: I don't care what your high school teacher says, a piece about how repaving the faculty parking lot proves that "everybody and everything eventually becomes obsolete" sounds f*cking stupid.
Maria Sherman (Rolling Stone, Entertainment Weekly, Complex, Billboard, NPR)
1) Be realistic with time management: Scoring one major story for a top outlet is exciting, but not sustainable; frequent trips to London in the midst of making a name for yourself is irresponsible. At times, half of this gig can be reminding editors of your talents. If you disappear, you disappear. Spending time traveling instead of working, pitching, and building relationships doesn't pay off—in more ways than one.
2) This one should be the most obvious, but here we go: Don't sleep with your subjects. Ever! In the second episode of the series, Rory has a one-night stand with an interview subject while reporting a piece on the psychology of lines. It's perhaps one of the most unethical things you can do in this field, and it perpetuates a sexist trope that makes the world challenging for women. If you walk into a professional setting and the person chatting with you thinks it's okay to treat it like a bar date, something is amiss.
3) Ask your family if they're comfortable appearing in your work. When Rory realizes (well, when former boyfriend Jess Mariano realizes for her) that the most interesting story is the one between her and her mother, Rory announces that she is writing a book on the subject. Lorelei disapproves of her only daughter putting her life on blast, and they have a falling out. Rory confides in her BFF, Lane Kim, and decides that her mom's being stubborn. If you value your relationships with loved ones, you'll ask for permission first. It's very not cool to make their lives public because your life as a writer depends on transparency.