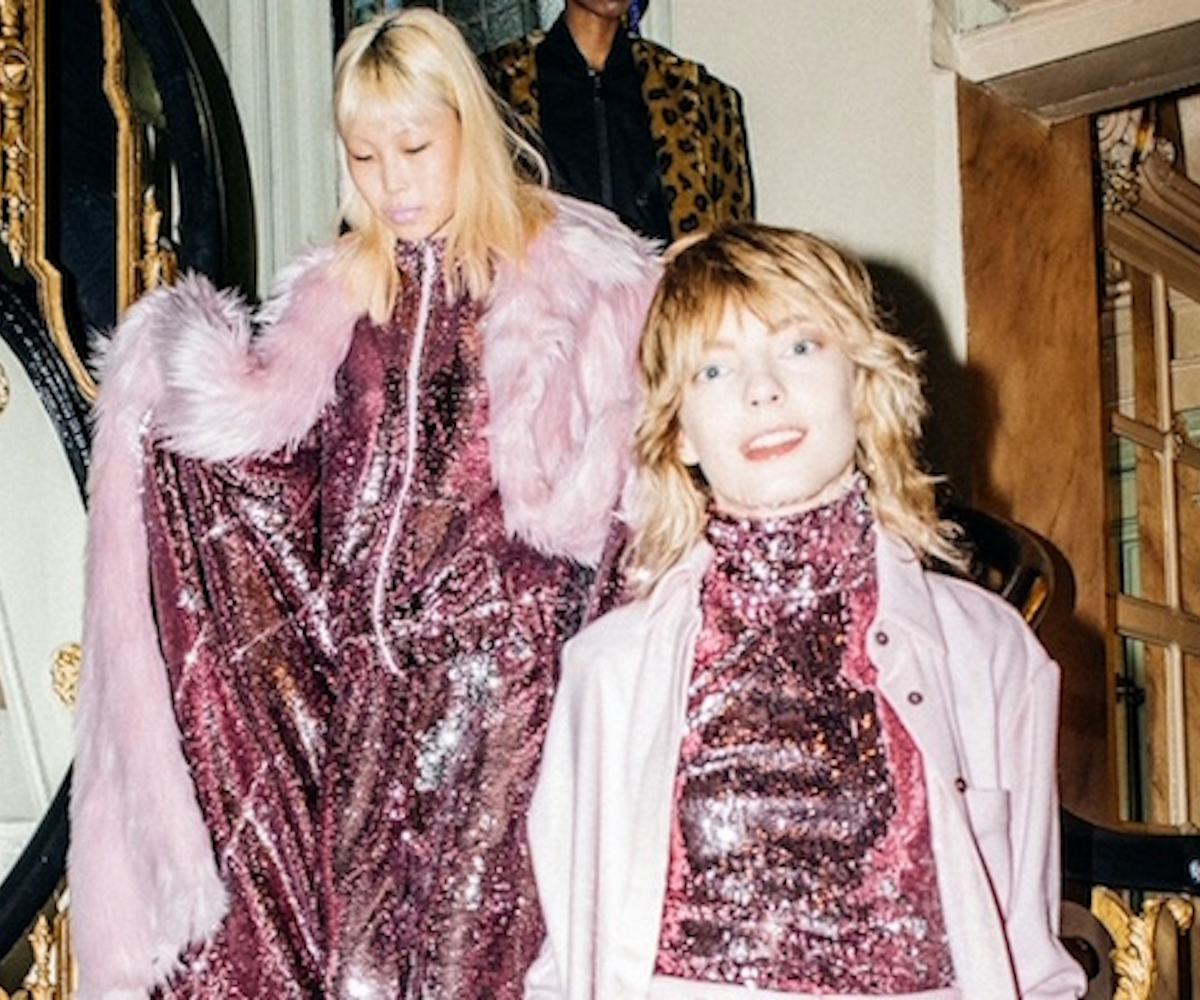 All photographs by Andrew Blumenthal.
Juicy Couture Is Back, And The Tracksuits Are Better Than Ever
Its NYFW debut collection included high-fashion tracksuits, glitter, and lots of pink
The velour tracksuits are officially back.
That much was clear today when Juicy Couture, the iconic aughts brand known for its luxe matching tracksuits made famous by the likes of Paris Hilton, made its runway debut at New York Fashion Week. After the brand closed all of its U.S. stores a few years ago and rebranded as Juicy Couture Black Label a year later, people (read: millennials) wondered what would happen to the brand they once splurged on with all their saved-up babysitting money.
For what many described as the brand's "comeback," Juicy Couture's Fall 2018 collection was every nostalgia lover's and influencer's dream. There were floor-grazing robes, leather dresses and jumpsuits, and lots and lots of glitter. The beloved tracksuits were translated into a chic outwear-inspired number with a belted blazer-jacket of which I will be dreaming until next season, a polo shirtdress styled over a sequin skirt, and classics worn underneath a sequin hooded cape and a fuzzy winter jacket. Juicy Couture's adult version of the tracksuit: a pantsuit, of course.
There were also the familiar JC touches in the form of a leopard print coat and sweaters and, of course, velour. Less expected were the traditional Asian fashion influences that appeared on embroidered silk cheongsam-esque shirts and patterned separates and high-collared dresses. In true Juicy form, the show closed with an explosion of pink, sequins, and tulle, solidifying the fact that while the brand is more grown-up, it hasn't lost its flair for having a good time.
While the collection was undoubtedly flashy—with sequins paired with velour and fuzzy fabrics worn over leather—it was also, weirdly, wearable and in tune with how the late-20-somethings of Juicy Couture's past dress now, in the age of Instagram. Juicy Couture did what every brand faced with a rebrand must do in order to gain a second wind: induce a sense of nostalgia into trend-driven pieces that you want to wear today.
Oh, and also: put out a really great millennial pink pantsuit.