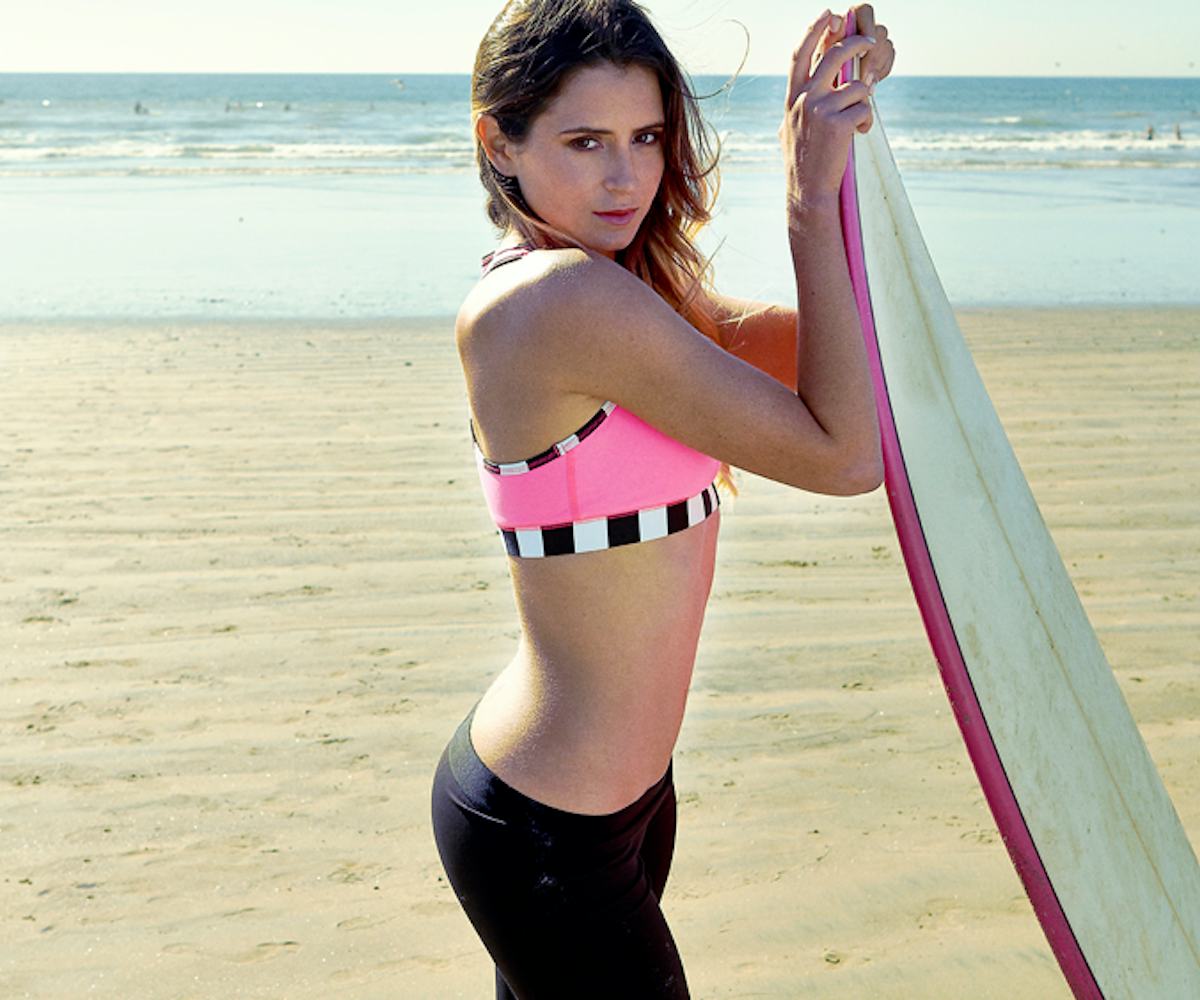 exclusive: meet the face of juicy sport!
pro surfer anastasia ashley fills us in on juicy's new athletic line.
Juicy Couture has a history of recruiting badass models for its ads--remember that time Karlie Kloss kicked butt on the beach? So it should go without saying, then, that the face of the company's new Juicy Sport collection is about as rad as they get.
Anastasia Ashley is a surfer who's already competed in big leagues like the Women's Pipeline Pro (she nabbed the #2 spot last year, NBD).
The California native has teamed up with the label on the just-released styles of sports bras, tank tops, leggings, and workout clothes that definitely aren't embarrassing to be seen outside of the gym. In fact, they're really, really cute (click through the gallery to see for yourself!).
Just in time for the clothes to hit stores and online, we quizzed Ashley on her style icons, her workout playlist, and her favorite beach movie. Who knew? Even pro surfers are just as obsessed with Blue Crush as we are... 
The coolest piece in the Juicy Sport collection is...
One of my favorite pieces is the racer-back sports bra, because its supportive and a stand-out piece at the gym.  
Your
style icon is... 
Gisele. I love her effortless and beachy,  yet polished style. 
Three songs on your workout playlist include...
Martin Garrix - "Animals," Tove Love - "Habits," Diplo - "Revolution"
Your favorite beach to surf is....
Anywhere tropical! My favorite of place of all-time is in Hawaii on the north shore of Oahu, at Pipeline. 
The best beach movie of all time is...
Blue Crush.
It's the ultimate girl power movie and who doesn't love a fun love story?
When you're not surfing, your style is... 
I try to be easy and effortless, a lot of my style is influenced by my surfing and the lifestyle I live as a traveler. I'd describe my style as a gypsy surf feel with an edge. 
See the entire Juicy Sport collection here.