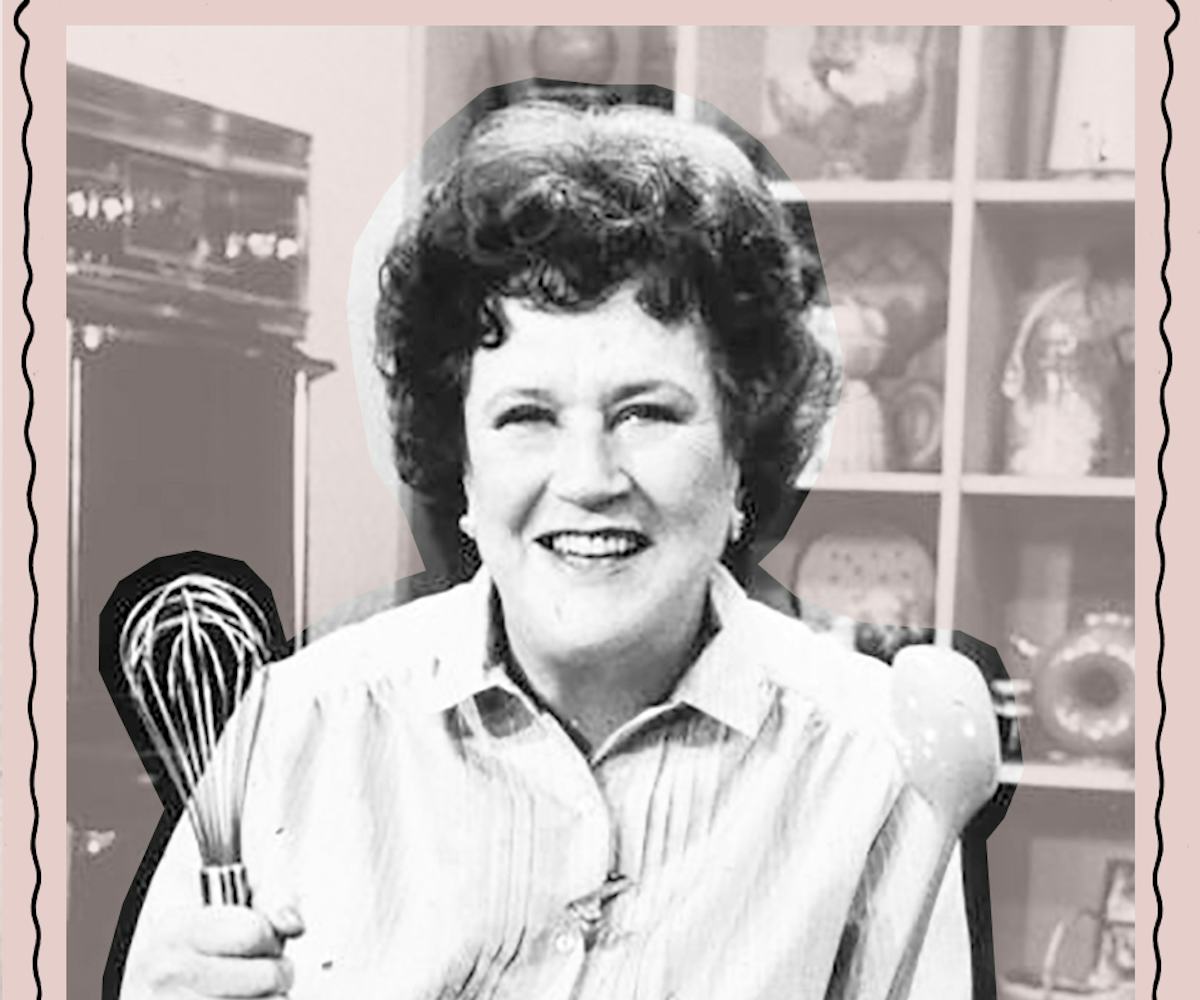 Photo by New York Times Co. via Getty Images
These 6 Tips From Julia Child Will Help You Keep Your Cool In A Very Hot Kitchen
Whip out those candles and whip up that chocolate ganache frosting: August 15 is Julia Child's birthday. The culinary hero, who brought French cooking to the Wonderbread-infested American kitchen, deserves constant celebration. She inspired a nation of home chefs to think outside the TV dinner box and embrace the notion that complicated cooking could actually be simple with the right tools and techniques.
Of course, her birthday happens to coincide with the time of year when pre-heating ovens or turning stove burners to high, can mean the kitchen will soon match sauna-like temperatures (but feel nothing like a spa). It's so hot that you can feel the burn from the steam of an accidentally charred baguette in your heart and break a sweat as you sit in your ACd living room watching Chopped. But it's time to wipe that sweat from your brow! Julia Child is about to drop some wisdom on how to stay cool—at least mentally—in a hot kitchen. Because anyone who enters the kitchen can stand the heat.
"The only real stumbling block is fear of failure. In cooking, you've got to have a what-the-hell attitude."
So fear not the homemade hummus or the steak sear. If you fuck up, you fuck up! Letting a hypothetical mess of tahini or the food left on a guest's plate keep you from mastering a plethora of pre-dinner dips won't teach you anything. This is true for life in general. 
"I was 32 when I started cooking; up until then, I just ate."
It's never too late to master Thanksgiving dinner or French toast. If you're curious, find a recipe and learn what goes into what you've been eating.
"It's so beautifully arranged on the plate—you know someone's fingers have been all over it."
We live in an Insta-picture-perfect world. But your smoothie doesn't need the entire fruit aisle plopped on top of it. Of course, there's nothing wrong with an aesthetically pleasing arrangement, but food as it naturally falls on your plate is pretty enough. Just make it and eat it and slap the X-Pro II filter on it. It'll get more than 11 likes.
"You don't have to cook fancy or complicated masterpieces—just good food from fresh ingredients."
Just eat well. That doesn't mean eating fancy. Source your ingredients from quality distributors and makers. You don't have to go as far as artisanal ice, but purchasing artisanal flour or cheese might be a good idea to maximize flavor.
"Fat gives things flavor."
Don't let #fitspiration scare you away from butter. Eat well, eat in moderation, and work out if you want to!
"Maybe the cat has fallen into the stew, or the lettuce has frozen, or the cake has collapsed. Eh bien, tant pis. Usually, one's cooking is better than one thinks it is. And if the food is truly vile, then the cook must simply grit her teeth and bear it with a smile, and learn from her mistakes."
Julia Child gave us license to mess up and broke the picture-perfect frame that made cooking look unattainable or something to leave to the professionals. Instead of harping on mistakes, learn from and work around them. It's fine. Don't let the Gordon Ramsay on your shoulder get you down. I'd feel worse for the cat who took a hot bath in the stew.
Every mistake is an opportunity to learn and better yourself. Forgot the salt? You'll keep a shaker at your hip from then on. A soufflé recipe should never make you want to reach for the Xanax. If you need to cool down, stick your head in the fridge. Cooking is fun and mistakes are edible so that sunken cake probably tastes okay even if you've dubbed it not fit for presentation. Don't let anything stop you from getting back on that skillet. Follow Child's word and equip yourself with a blowtorch and butcher's knife and dig in. Cooking is not only relaxing, it's educational and confidence boosting. 
If you need more inspiration to cook yourself up a feast, you can now peek into Julia's studio kitchen at the Smithsonian in Washington, D.C.