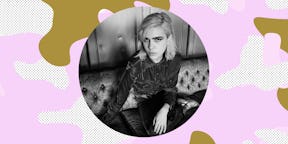 Julia Cumming Is Going Places
It Girl: Julia Cumming
The future is looking bright for musician, model, and muse Julia Cumming.
At just 22, Cumming has accomplished quite a lot for her age, and there's no doubt it's in part because she started pursuing her passions by playing in bands since the age of 13. The NYC native can be found touring the world with her current project, Brooklyn-based Sunflower Bean, playing alongside bands such as Interpol and The Kills. Modeling in her spare time, she's walked Hedi Slimane-era Saint Laurent runways—even earning herself a campaign spot—and has now landed at modeling agency Wilhelmina.
While you could say music is her main priority, the 2016 election caused Cumming to shift her focus to activism. Last year, Cumming founded a project called Anger Can Be Power, which aims to inspire people to be politically active. It might sound like a lot, but she has no plans to slow down.
Below, we talk with Cumming about her biggest accomplishment, the changes she wants to see in the modeling and music industries, and who her own It Girls are.
Being both a female musician in the rock scene and a model means you've probably been in frustrating professional positions at times. How have you seen these industries change over the years?
I think both industries have been making moves for the better. NYFW just recently had its most diverse season of all time, which happened through a lot of hard work by a lot of determined people. The power and reach of fashion are immeasurable. As it opens its doors to all bodies, colors, and genders, the world gains a little more understanding.
The music world has changed exponentially in the past few years, but I am deeply excited by how much music made by women is being loved by the world. I think the future is really bright.
You travel the world playing music, walked some of the biggest runway shows, and have interviewed some of the most empowering women for Anger Can Be Power—pretty much, you're doing it all. What's next for you?
There are some cool things on the horizon on all fronts. Being a touring musician takes up most of my time, so I have to be creative with how to spend the time I have outside of it. I'm working on making Anger Can Be Power a more functional community tool, and building our team. Modeling is still something I love deeply, and I recently signed with Wilhemina, who really think outside of the box.
That being said, music will always be first. We have some surprises coming sooner than one might think!
What would you say your biggest accomplishment is thus far? 
Sunflower Bean's second album, Twentytwo in Blue, is probably my biggest accomplishment. We worked on it for a year straight, and we had to look at some weird and strange parts of ourselves while writing it. We went deeper than ever before, and now I feel like I have so much less to be afraid of.
It was also insane for Twentytwo in Blue to hit the top 40 in the U.K., which was unbelievable for us as an American band. I'll never forget that day!
What message do you hope to send to younger generations that follow you?
I would love for girls—and boys—to not feel like they ever have to be put in a box because someone says so. Especially in the digital age, we have the power to define who we are, reach people we've never met in the palm of our hands, and create the reality we want to live in.
You are you, and you can only be you. If you follow that truth, you'll never fail.
Who was your It Girl when you were growing up?
Unfortunately, I don't think I really had one until I was a teenager. I was obsessed with music, but most of it was made by men. I was genuinely confused why all the lyrics were about women, and not made by them.
But that was just my experience. As I discovered more music and culture, I'd say you can't go wrong with Joni Mitchell, Joan Jett, and Debbie Harry.
Who is your It Girl now?
I think Barbie Ferreira is someone I've always admired for being such a boss and so funny. She goes after her dreams unabashedly, which is sick. Also, we just played some shows with The Kills, so I have to mention the best of all time, Alison Mosshart. Also, every member of U.K. band Dream Wife!!!!!!