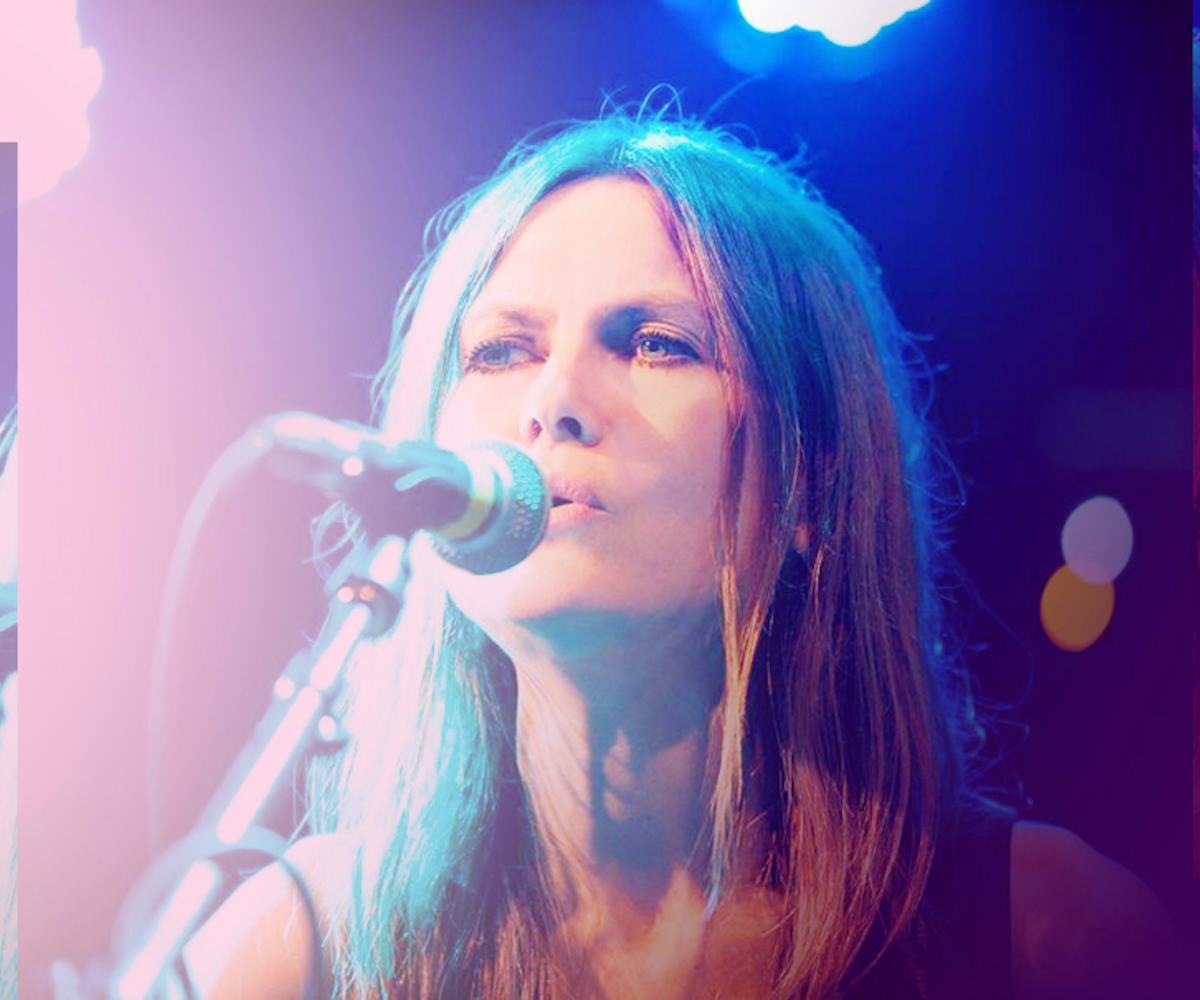 photo via juliana hatfield facebook
juliana hatfield is through with '90s nostalgia
the juliana hatfield three is back
Never mind '90s nostalgia. For Juliana Hatfield, the decade was hard enough the first time around, and as the indie icon tells NYLON, she has zero desire to go back.
This won't shock anyone who's read When I Grow Up, the 2008 memoir in which she details her struggles with depression and anorexia, but it may surprise those casual fans who only know Hatfield as the chipper-sounding alt-chick behind "Spin the Bottle," a highlight of the Reality Bites soundtrack. 
The tune initially appeared alongside the hit "My Sister" on 1993's Become What You Are, the first—and until now only—album credited to the Juliana Hatfield Three. On Feb. 17, the trio returns with Whatever, My Love, and despite that oh-so-'90s title, Hatfield insists this long-overdue sophomore set has nothing to do with rehashing the past.
"It was really curiosity," she says by phone from Boston, the city in which she grew up, studied music, and launched her career in the late '80s as a member of jangle-pop stalwarts the Blake Babies. "I was in touch with Todd [Philips], the drummer, because he was doing some shows with the Lemonheads, and we're all friends. It was purely curiosity, like, 'Hey, we should try to make another record. It might be good, and there might be an audience for it. Are you guys up for it?'"
He was, as was bassist Dean Fisher, and with some help from a successful Pledge Music campaign, the trio set up shop at Nuthouse Recordings, the Hoboken studio where Hatfield and Nada Surf leader Matthew Caws cut their joint Minor Alps album in 2013. As with that collaboration, Whatever, My Love was a chance for Hatfield, an artist with 13 solo discs under her belt, to once again feel like part of a proper band. 
"In terms of the personalities, when we all get together, it definitely feels like this is a group of people that has musical and personal chemistry," Hatfield says. "I would say now, as [in 1993], I'm the leader of the band, but I'm not a tyrannical overlord. It's more like I'm writing the songs, and I'm kind of directing the process, but I'm not telling them what to do."
Whatever, My Love certainly comes across as unforced, and with its sly lyrics and mega-hooky coffeehouse-grunge aesthetic, it picks up right where Become What You Are left off. While many of the songs stem from demosHatfield recorded with Philips in the late '90s, after she left Atlantic Records and went off in search of another major-label deal, she says there was no attempt to recreate a "'90s sound."
"I don't know how we would even try to recapture a '90s sound," Hatfield says. "I don't have a sense of what a '90s sound is. When you think of the '80s, you definitely think of a sound, a type of production. And in the '70s, you think of Thin Lizzy or ELO or whatever. But I don't think the '90s has definable sounds."
If anything, she says, '90s artists were distinct for their focus on writing good songs. Whereas modern pop is more about beats, hooks, and noises, musicians of her generation would sit around with acoustic guitars and piece together tracks they'd later flesh out with actual instruments. There's clearly something Hatfield likes about that, though she's not hating on today's stuff, and again, she's not pining for the days of plaid shirts and combat boots.
"I'm nostalgic, but I'm more nostalgic for the 1970s, when I was a child growing up," Hatfield says. "That's the era I really connect with. The music, the television, the movies, the fashion, the décor: The '70s is my favorite era. When I think of the '90s, I think of really bad fashion—like, a terrible fashion era. Not great TV. I don't think it's the best. I'm not personally nostalgic for it, but I understand that some people are, and if I can go out there and make those people happy while playing some music with my friends and having fun today, then that's great. Then we'll all be happy."
On that subject, happiness, Hatfield is doing much better these days. Emotionally, she says, she's got her shit together, and she's excited to be taking the reformed trio on the road for a run of winter shows set to begin in Portland, Maine, on Feb. 26. She's in the moment, not looking to another time and place for contentment, though if she had her druthers, she might consider switching species. 
Several of the new tunes make reference to dogs, and one, "If Only We Were Dogs," puts for the idea that life would be easier if we were canines, and we could just simply gnash our teeth to signal anger and "run right up and jump all over" people we like on the street. It's an interesting thought, and it naturally leads to the kind of question Hatfield might have heard on some corny '70s dating game show: If you were a dog, what kind of dog would you be?
"I would be some kind of a mutt," Hatfield says. "I'd be a scrappy mutt who was abandoned in the street. I'm tough. I'm self-sufficient. I can get along on my own. I'm a good-natured mutt. If someone were to find me and adopt me, I'd be happy to come into their home. I'd be a good companion. I endure."