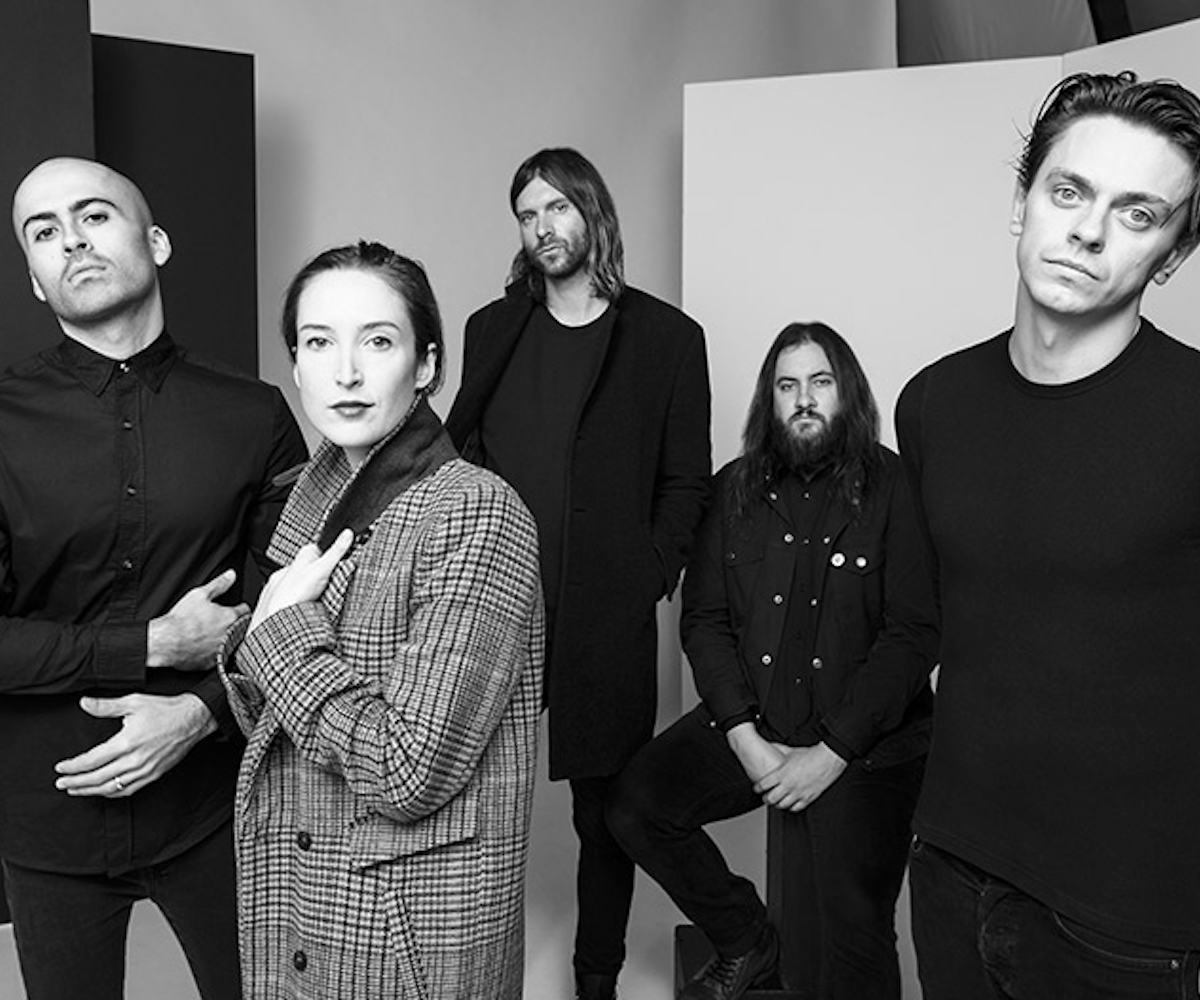 Photo by Ty Snaden
July Talk Is Breathing New Life Into Rock And Roll
They just don't make bands like July Talk anymore. The Toronto quintet released one of the year's most provocative albums, Touch, and has nowhere to go but up as the new year approaches. It's a band that thrives on contrasts: Peter Dreimanis' deep, startling husky voice and Leah Fay's cheeky soprano, black-and-white aesthetics, rock and roll. There hasn't been a band as unabashedly rock since the Yeah Yeah Yeahs exploded on the scene. July Talk is poised for a similar trajectory, with their cinematic music videos and infectious live sets. If you're looking for a pretty, choreographed spectacle, look elsewhere. July Talk flies by the seat of their pants, and we wouldn't want it any other way. They have just the right amount of aggression the world needs right now. Find out more about them in our interview, below.
How did you guys come about?
Peter Dreimanis: I was playing in a few other DIY punk bands with a few of the members of July Talk now. I walked into a bar in Toronto and Leah was sitting with a woman, singing with acoustic guitars. She was covered in face paint and a bike helmet and was sitting in the back of this candlelit bar. I don't think I immediately thought, We should start a band together. But there was an immediate reaction of, Who the hell is this human? I was a bit overwhelmed with ideas of who she might be. So, after chasing her around for a week or so, I convinced her to come and play some music with me in this dirty old jam space that I had been staying in at the time. After a few times getting together, we just thought it was boring playing these folky duets we had been playing. It was just so obviously not what we wanted to do. It was kitschy. We wanted to be more chaotic. We were young and dumb. We were going for it.
Leah Fay: We were living in bars and living in the front row at shows and wanted to embrace that lifestyle of chaotic rock and roll.
PD: We didn't have any aspirations of this band becoming our careers and all of these things. It was something that started very organically with people who all really liked the same music and wanted to live together.
Was music always a career goal?
LF: I don't think so. I spent my whole life doing dance and studying fine art. After university, I started a performance art collective and was living the dream working in cafes and meeting people and learning from people and making art for no money and really, really loving that life. Peter went to film school and dropped out with our bass player, Josh, and started their own film company and spent years in Toronto making music videos for other bands. I don't think either of us ever saw this becoming anything other than a project to work on together and play. It wasn't until we started playing live and getting a reaction from different audiences that we realized it was a thing.
PD: All five of us are artists and we always have projects and will always be morphing those projects to fit what we're excited about. The reason it all happened is because July Talk made us feel differently. It made crowds feels differently too, and we're lucky for that. It just feels like a project that is more unique. It feels new to us, and it feels like a project that as soon as it does fall stagnant and we're not excited about it, we can turn a page and make it exciting again.
How has performing as July Talk helped both of you discover more of your identity?
LF: I think that it forced us to be responsible and develop opinions and mandates and artist manifestos in terms of really taking on the responsibility and being aware of the knowledge that music has the power to change people's lives and their minds. July Talk has given me perspective, for sure.
PD: July Talk has changed everything in my life, but more specifically, with performing, I think I've become a lot more aware and in touch with my body and how my body wants to move. Music has a tendency to control you, your chest, and your legs. As soon as you start writing your own music, you realize you're writing your own body movement. With Leah, who was super experienced with performance art and dance, I immediately had the chance to address my body in a way I would have never done. Because you watch the Mick Jaggers and you watch the Cat Powers, you watch these people go up there and they have these amazing ways of moving, and I don't think I addressed what my body wanted to do until July Talk.
It makes me think about how saturated the music world is right now, especially when it comes to pop music and indie stuff, but then you guys are so much more rock. What role does rock music play today?
PD: That's such an interesting question because we often notice that too. We love Queens of Stone Age and Arctic Monkeys and more modern stuff. We just got off tour with Catfish and the Bottlemen. Really guitar-driven music is exciting to us, however, we're also extremely aware that for a band's scope to be expansive, you can't paint yourself into a corner by having devil horns. The worst possible kind of music is fueled by devil horns and that's not what rock is.
LF: When people are like, "Yeah! Rock and roll!"
PD: We understand that rock isn't necessarily in its heyday right now, but it's so important for us to not run away from what we grew up loving. It's so rare today, and I hope it sets us apart in a good way.
It's more about shaking up the scene.
LF:I think rock and roll can be described to use anything that's busting out of the box, or something slightly revolutionary—not that we claim to be doing anything revolutionary or reinventing the wheel or anything like that. You can play pop music live with a click track and machines that are doing what humans are doing; it can create something magical, but it definitely creates something different than what can come about through spontaneity and through real live moments and humans being together in a room and being together on stage.
What are you most excited about for 2017 and is there a new album coming?
LF: I think a lot of people would argue that 2016, for many reasons, was the worst year that they can remember. I do think that there's so much truth to the collective consciousness thing that art is about to get crazy and important and people are going to be inspired to use their voices and speak up and speak out. I'm excited for our band to be able to engage in those conversations and be affected by it, because the artistic community moves in one big wave and one big movement.