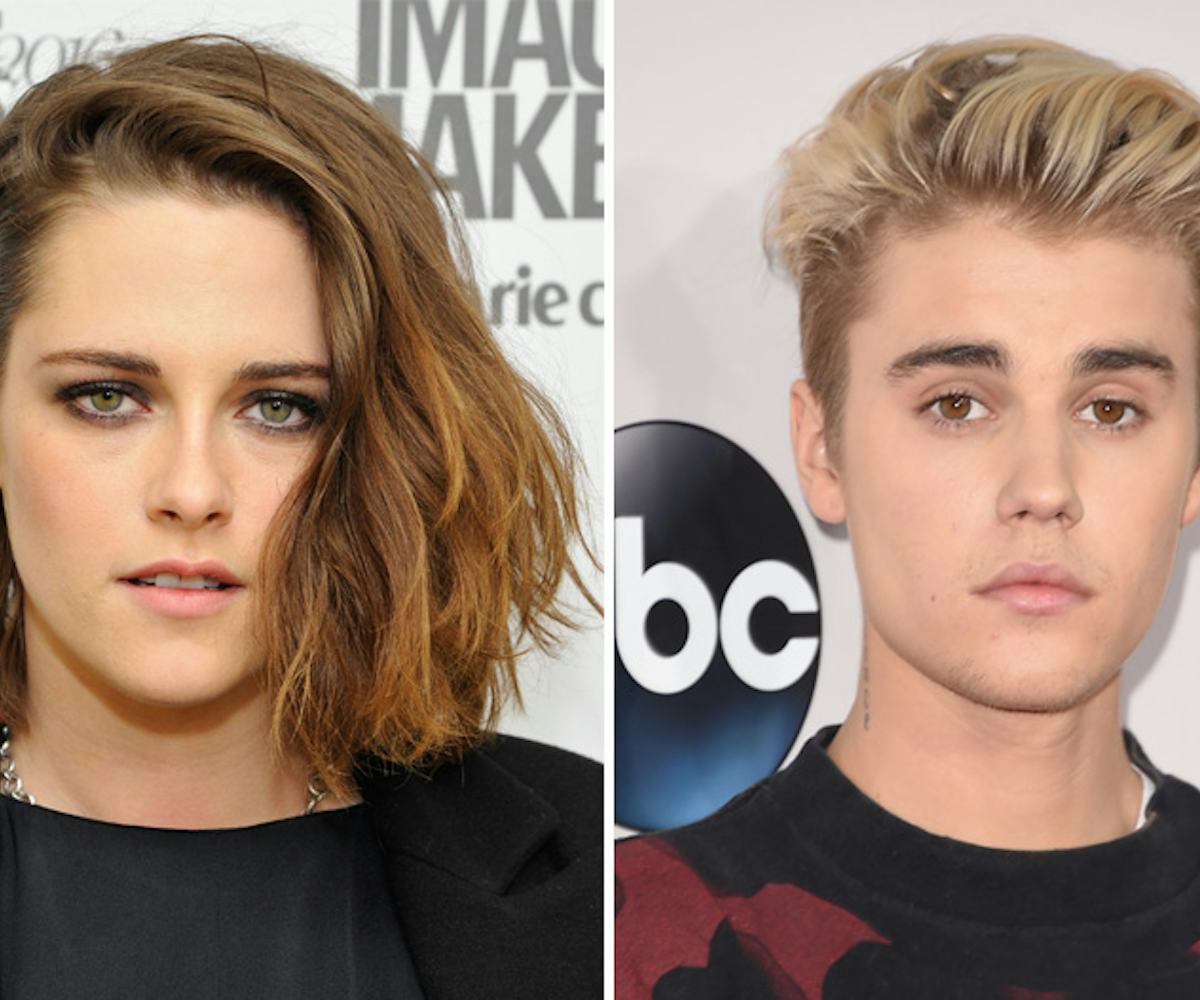 Photo by John Sciulli/Getty Images for Marie Claire; by Jason Merritt/Getty Images.
Kristen Stewart Was Mistaken For Justin Bieber, Because Wine
Everyone knows that Kathie Lee Gifford and Hoda Kotb's hour-long segment on The Today Show is its best hour. It's an iconic ending to a four-hour long morning adventure through hard-hitting news, pop culture musings, a puppy, screaming people outside of Studio 1A in Rockefeller Plaza in New York City, and finding out "what's happening in your neck of the woods." Why? Because wine. Gifford and Kotb are never without the nectar of the gods. For, what's better than talking about the day's buzz while buzzed?
The other day, Gifford and Kotb discussed Justin Bieber canceling his tour meet and greets. While Kotb delivered the news, Gifford interjected and mistook Bieber for actor Kristen Stewart. She said, "That looks like a woman… I'm sorry, I keep thinking, 'Is that Kristen Stewart?'" She added, "There's earrings… Does it not look like Kristen Stewart? Is that Bieber?" No. It's Becky. 
Kidding! KStew is not the first person that comes to mind when thinking of celebrity doppelgangers for Justin Bieber. Ruby Rose is very upfront about their twin-like status, but Stewart? That's a first. 
Gifford went on to suggest that "maybe he should not do as many tours. I think he's awfully young and awfully fit to be exhausted. Look what Taylor Swift does for her fans. It's not a good idea to disappoint fans. That is not cool because the people that love you will stay with you for the rest of your career if you treat them right." Is it too late now to say sorry?