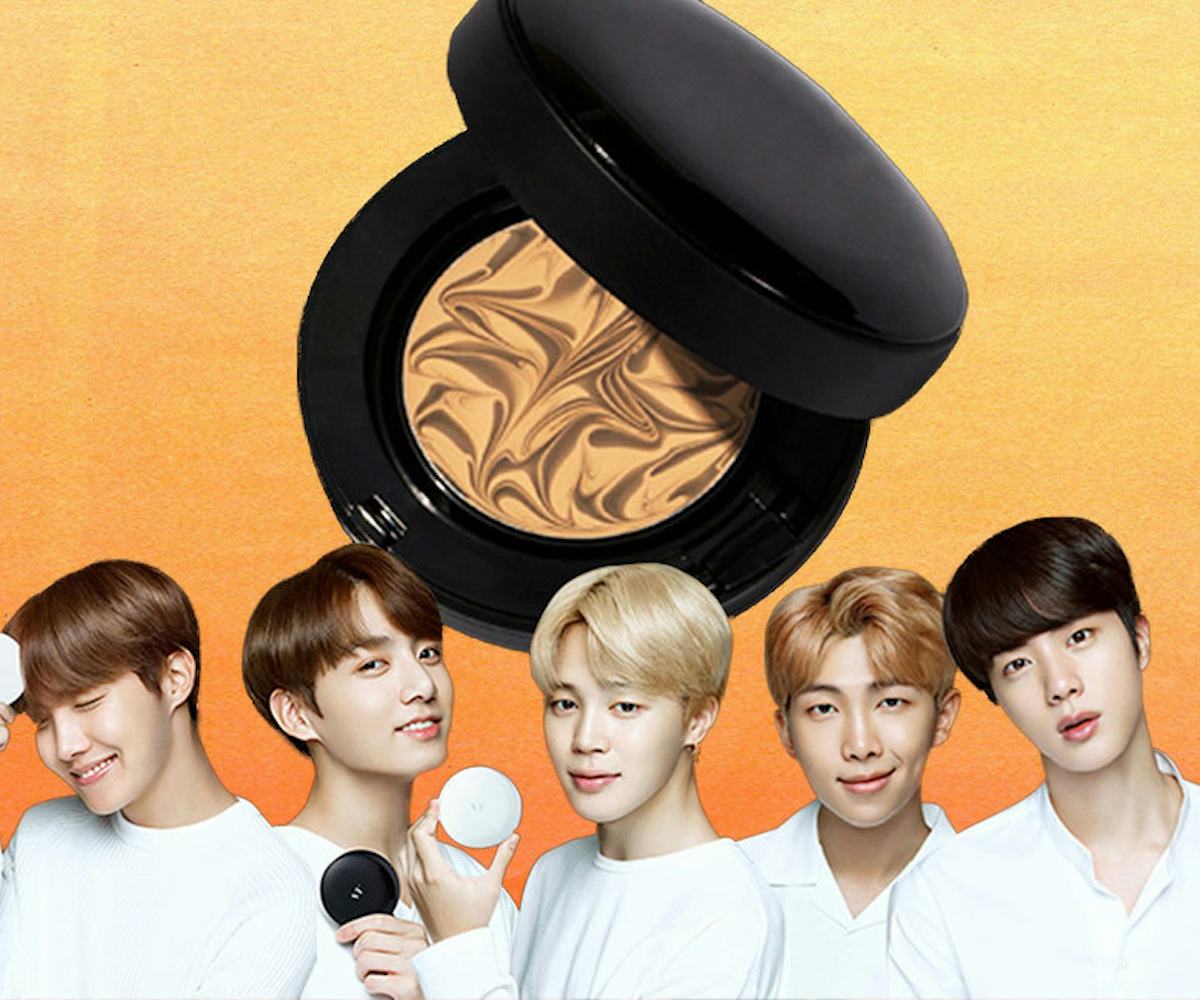 How K-Pop Artists Influence K-Beauty
And how they're both poised to take over the world
It's hard to say what's more popular today: K-pop or K-beauty. If you work in the beauty industry and have witnessed the explosion of the category over the years, you'd say the latter. Take yourself out of that space, and the hype surrounding K-pop seems to completely eclipse anything else happening in music right now. What can be agreed on: the success of the two are undeniably linked.
"K-beauty would never have become big if it weren't for celebrities who unofficially became brand ambassadors simply by showing their beautiful complexions to the world," David Yi, creator of Very Good Light, tells us. The celebrities he speaks of are K-pop stars, predominately. Bands like Wanna One, BTS, and EXO have all been tapped by South Korean brands over the years to collaborate on different products and lines. 
A celebrity endorsement holds a different type of weight in the Asian market. When we learn about an American star becoming attached to a new anti-aging moisturizer or shampoo, the news is usually met with indifference. That bouncy hair is the result of a team of professionals, not Herbal Essences, we think. 
In Korea, endorsements come across as more believable because things like skin care are such a huge part of their culture. Are the Innisfree face masks the reason behind Wanna One band member Kang Daniel's poreless visage? Probably not, but he has used it before, had a say in the formula, and approves of it. And that's a big selling point.
According to a report, men in South Korea buy more cosmetics than men in any other country. The industry is worth more than $1 billion and is expected to only double in the next couple of years, making the endorsements an even better marketing strategy. This way, brands can capture two markets. "[Brands] have savvily figured out how to sell beauty to both women and men," Yi shares. "Men want to look like these swag-y guys who are the pinnacle of male beauty. Women want to feel closer to these guys by using their products." It's also not uncommon to see band members like Baekhyun of EXO wearing eyeliner or Seventeen's S.Coup rocking a popsicle-stained lip tint. "Men's beauty is going to become huge thanks to K-pop," Yi predicts. "It's a globalized world, and acts like BTS are only the beginning."
Speaking of the biggest K-pop boy band in the world right now, an endorsement from the group might include something silly like a selfie of rapper RM with a toothbrush hanging out of his mouth. The next image: a shot of the accompanying toothpaste. The caption: two four-leaf clover emojis and the hashtag #VTSxBTS. It's comical how obvious of an ad this is—especially given the conversation surrounding #SponCon Stateside—but when the post receives 700K likes and 200K retweets, the only one left laughing is the brand.
Innisfree's leader of marketing communication, Dohwee Hwang, tells us that Wanna One first caught the brand's eye when the 11-member band appeared on the South Korean show Produce 101. Hwang mentions that the number of members made them the perfect models to show off the concept of multi-masking (the band is currently promoting the brand's "Jeju Volcanic Color Clay Mask"), but they also saw teaming up with them as a perfect way to reach their customers—those in their teens and 20s. "By collaborating with Wanna One, we thought Innisfree could become a brand that best understands the 'millennial code,' and Wanna One could become the 'hottest artist among millennials,'" he tells us. It doesn't hurt that they have millions of followers across their social channels. It's an "I scratch your back, you scratch mine" kind of situation that ends up benefitting both parties (the money bands are paid for their deals are rarely disclosed, but it's likely well into the millions).
At the end of the day, if you want your product to sell, attach it to a K-pop star. Just like Western brands latched on to K-beauty trends once the market started rising, they're now becoming privy to the selling power of K-pop stars, and are taking advantage of that, too. M.A.C. tapped South Korean pop star Lee Hi to front its campaign last year and Z. Tao, formerly of EXO, was recently recruited by YSL to speak about the power of makeup. While brands like The Saem and Innisfree plan on keeping their current Korean spokes members exclusive to the Asian market, it would likely benefit both parties to change that in the near future. 
"Korean pop stars are setting the trends not only in Asia but globally," Yi says. "When a Korean pop star endorses one single brand, it becomes a global sensation. That says a lot about the power of Korean pop culture—and it's only going to become bigger."