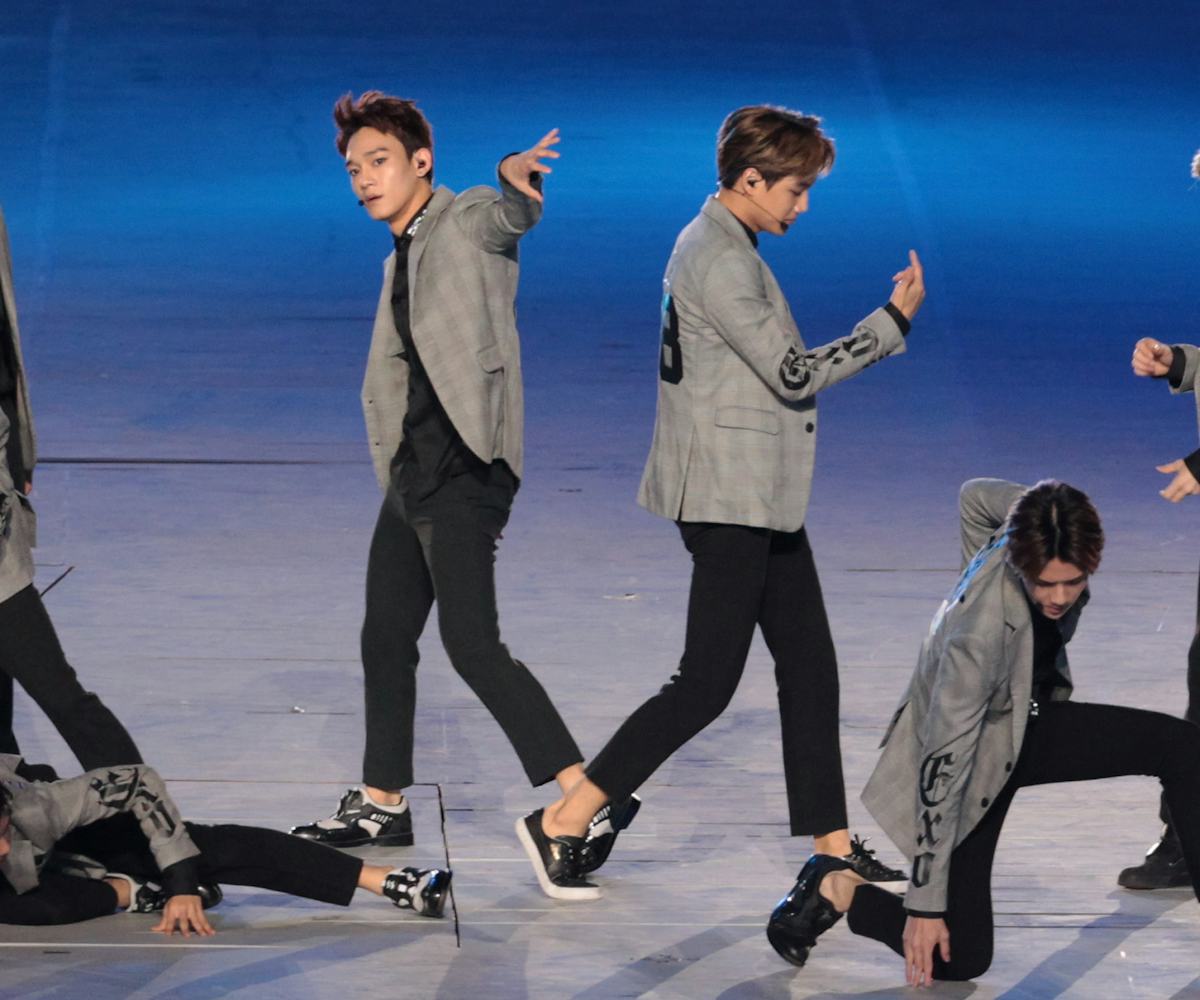 Photo by Chung Sung-Jun/Getty Images
How K-Pop Is Set To Dominate The Winter Olympics
From BTS to AOA, everyone's involved somehow
Earlier today, the opening ceremony for the XXIII Winter Olympics in Pyeongchang, South Korea, officially kicked off the 2018 games with a celebration filled with fireworks, fanfare, and, naturally, K-Pop.
The genre, which has recently been making huge waves overseas thanks to acts like BTS and AOA, is being spotlighted in a special way during this year's Olympics, with popular artists serving as torchbearers and several big names being touted as honorary ambassadors for the games. "K-Pop is one of the most well-known and successful Korean cultures throughout the world," Olympics honorary ambassador management head, Lee Kyusang, told CNN. "Appointing K-pop artists as honorary ambassadors has brought much attention to the Games." And he's not wrong. 
Everywhere you turned—whether it be the livestream or on Twitter—K-Pop was a big point of conversation amid the myriad political overtones and controversies lingering over the games. With "around 400 various events during 20-30 minute intermissions to wow and entertain fans," according to a sports presentation division organizing committee official per the Korea Herald, there's a whole lot to parse if you're not yet super-familiar with the genre. Which is why we made a guide to the biggest K-Pop moments slated for this year's Olympics. Check it out, below.
Ahead of the games
Even before the games officially started, K-Pop stars were all up in the Olympics buzz. As CNN noted, K-Pop heavy-hitters like Girl's Day, AOA, and Big Bang's Taeyang (who also released an Olympics cheer track called "Louder") are honorary Olympic ambassadors, "a vague term that sees the stars help endorse the Games and appear at official events," and have had a hand in the festivities. AOA, in particular, have been in it for a while and have had a prominent place in the 500-day lead-up to the Opening Ceremony, with the group even performing at a 2016 K-Pop concert meant to promote the Pyeongchang Olympics alongside BTS, VIXX, Mamamoo, Red Velvet, Oh My Girl, and more. 
In addition to the ambassadors, other popular K-Pop stars were also torchbearers, including Super Junior, 2NE1's Sandara Park, AOA, Girl's Day, Suzy, Mamamoo, Monsta X, and more, as reported by Billboard. The publication also reported that the February 5 International Olympic Committee general assembly opening ceremony was quite the event, with EXO's Baekhyun singing the South Korean national anthem alongside 25 schoolchildren and VIXX performing "Shangri-La."
At the Opening Ceremony
As The New York Times notes, the peace-themed Opening Ceremony had a couple of live performances, but they were geared more toward Korean rock stars, with Deulgukhwa's Jeon In-kwon, Guckkasten's Ha Hyun-woo, and singer Lee Eun Mi joining Ahn Ji Young (who is part of K-pop duo Bolbbalgan4) to perform John Lennon's "Imagine" together. That said, K-Pop did have a small presence during the ceremony, with BTS's international hit, "DNA," playing during the Parade of Nations. And while the seven-piece boy band was not actually present, the nod was enough to cause their fandom (known as ARMY) to go wild on Twitter. Other K-Pop hits like Red Velvet's "Red Flavor" and Big Bang's "Fantastic Baby" were also played, not to mention PSY's 2012 hit "Gangnam Style."
During the games
As Billboard reports, throughout the Games, a free "K-Pop World Festa" will be taking place with the help of big acts like Seventeen, BoA, and more, who are performing in a big show on February 10. There's also supposed to be a second showcase on the 17th that will cater more toward hip-hop and ballads. Then, it's back to K-Pop for the February 24 show, which will feature the likes of Super Junior and B.A.P.
And, as mentioned before, there are around 400 events taking place throughout the 15 days of competition, which means a lot of time for a large number of acts, big and small, in between events (peep a more comprehensive list of events that extend through March via the Korea Herald here). That said, according to MBC News, there is supposed to be a "different headline performance following the medal ceremony" every day of the Olympics. Check out the full listing for that, below:
2/10: Insooni 
2/11: DJ Doc
2/12: NCT 127
2/13: Jazzyfact
2/14: BTOB
2/15: B1A4
2/16: Rose Motel
2/17: The Boyz
2/18: Kim Taewoo
2/19: 2PM
2/20: Red Velvet
2/21: Jazzyfact
2/22: Hwang Chiyeol
2/23: GFriend
2/24: Super Junior D&E
At the closing ceremony
According to All K-Pop, both EXO and CL, who was part of girl group 2NE1 before going solo, will reportedly be representing Korea during the February 25 Closing Ceremony, though this all has yet to be officially confirmed by the International Olympic Committee. Per The New York Times, there is also a rumor afoot that there will be a "reunion" of sorts for boy band 2PM. Talk about going out with a (big) bang.