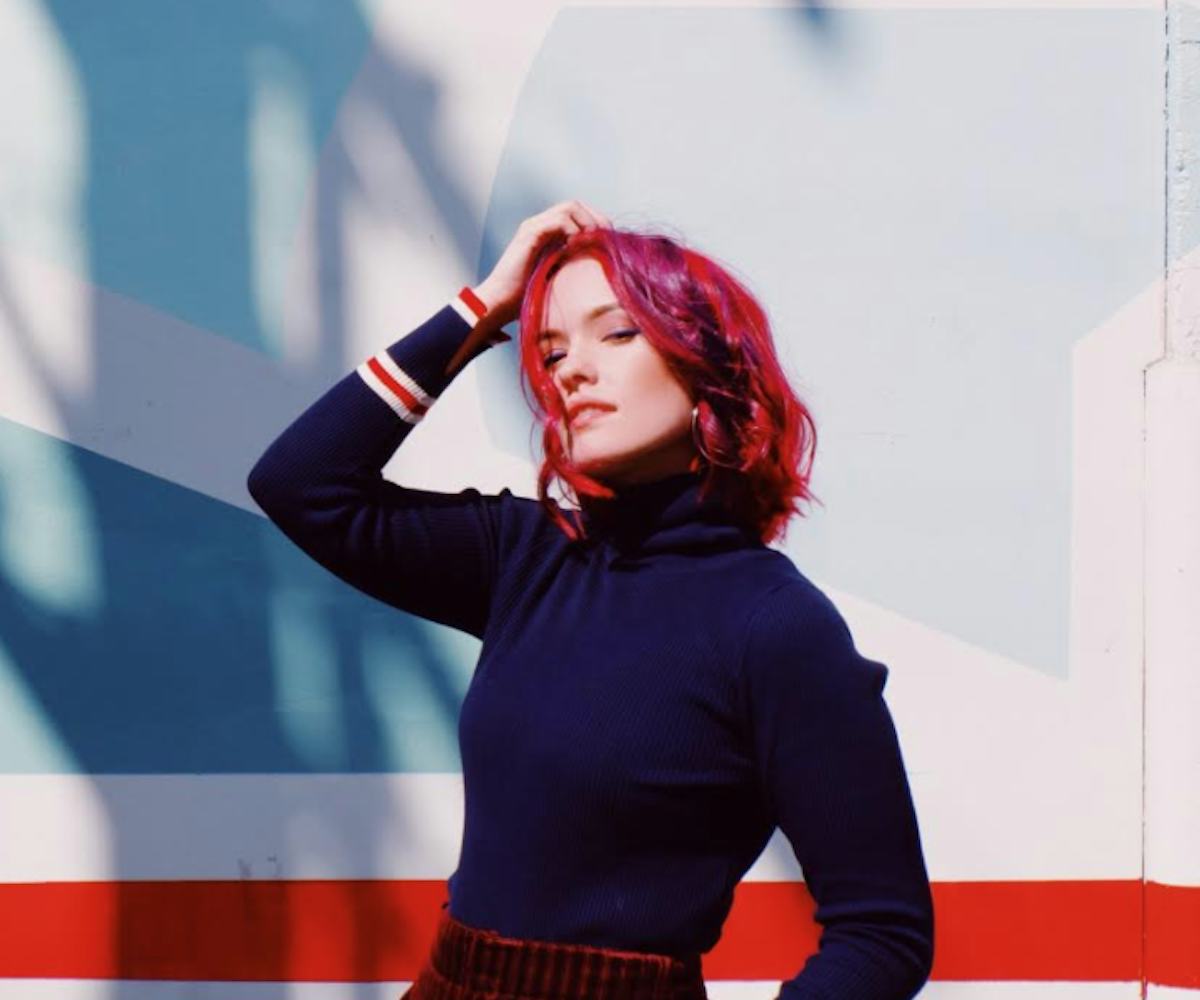 Photo by Exploredinary
Kaela Sinclair On Making Her Musical Mark Outside Of M83
Listen to her new single, "I Cry Too," here on NYLON
"I asked, and the universe gave," says Kaela Sinclair of her philosophy of positive thinking, while sipping on a glass of wine redder than her hair at Hollywood's La Poubelle. And did it ever. The 27-year-old's life changed emphatically since joining French electronic band M83 two years ago as a keyboardist and singer. In between recording with the band, she's releasing four singles as a solo artist on what she calls a "mini album," which is better known as an EP, but then again, it doesn't sound as cute that way.
Sinclair's signature hair color is a unique combination of red with streaks of deep purple, yet she's seen it of late framing fans' faces on Instagram. "Those are the fans I want to have," she says, noting the aesthetic similarities not only between her fans and herself but also between M83's and her own solo music. She loves that she's acquired a devoted following, and is not scared off by peculiar fan gifts either, like the chocolate bar she once received with a picture of her face on the wrapper. 
In 2016, Sinclair was managing her solo career after graduating with a degree in jazz studies at the University of North Texas. Her cover of "Artifice" by SOHN went viral on Facebook, but she's lost track of the views. It was during that time that bandleader Anthony Gonzalez called to inform Sinclair that she'd earned the coveted spot in synth-pop M83. "The amazing thing about being in M83 is that it's Anthony's vision," she says. "It's not mine; I'm [just] in it. It's a very special thing that he does, and he asks for a creative contributor." 
A month after meeting the group, Sinclair was onstage at Coachella and then wearing a green cape on her first TV appearance on Jimmy Kimmel Live!. Sinclair toured with M83 nearly uninterruptedly for 10 months, using up two passports by visiting 35 countries, going as far as Kuala Lumpur, Malaysia. Her most cherished keepsake is the memory of bar-hopping in Tokyo's Golden Gai district and scream-singing karaoke all night with her jet-lagged band members. Sinclair admits that when she's not working, she tones down her vocal abilities to avoid looking like she's showing off—unless she's at a drag show, as happened in New Orleans. "I did a Whitney Houston song because I wanted to impress them," she recalls, "They were like 'Girl, that was amazing, but we're gonna do it now.'" 
While on tour, Sinclair also played the famed Jools Holland TV program in England, on the same show as Sting, and watched a perfectionist Jack White play three different versions of his own song. "I feel like we exchanged looks, but I can't guarantee it," Sinclair says jokingly. Before M83, she'd played Austin's SXSW festival—as she's preparing to do again with two solo performances this coming week—and put together small tour legs in the South. "It was kinda like janky touring," she says of the DIY shows, "so coming in and having this infrastructure—a keyboard tech, someone whose job is to set my stuff up—that's new." 
And now, Sinclair is releasing her music independently. "I'm doing it my own way," she says. "My strategy is to make more music and put it out, and have it speak for itself."
Sinclair has always been remarkably entrepreneurial about her talent. While attending an arts magnet high school, she formed a pop band with fellow students, which continued through college and got signed to a local label. "But don't look it up, shit," she laughs. She's also governed by her ethics, listing "having integrity" as her top priority, and expects the same from her industry. "I think about fairness a lot," she says. "Having a background and developing yourself, having a vision and an idea—I think that directly impacts what I do."
Every few minutes, Sinclair mentions food. And not because she's particularly hungry. She's a habitual baker, and her concern for animal mistreatment keeps her on a vegetarian diet, though her schedule doesn't allow for any pets. Her boyfriend, also a touring musician, lives in London. While the rest of us spend weekends at IKEA, their dates take them to Amsterdam and Paris. Sinclair finds the silver lining in long-distance dating: "I can have the time alone to write songs about it."
Sinclair believes in the magnetic power set forth by simply asking for what you want. "I'm very convinced that you invite it all in; tell people around you that this is what you want, and it happens," she says. Upon moving to L.A. alone, Sinclair asked friends to set her up with new ones. Now she hangs with an enviable clique of female musicians, including Alisa Xayalith of The Naked and Famous and Chloe Chaide from Kitten. She calls them "a creative support system."
Sinclair learned French on the road with her European crew of 18 people, with an ease she believes she inherited from her parents, who were Air Force linguists. She's still shaken by a recent gig in which she learned of the Parkland school shootings, particularly since her brother is also a Florida high school student. "It wasn't my family," she says, "but it was someone's. I'm absolutely appalled by the current sense of things." Sinclair often dismisses advice not to get political, and while she doesn't consider herself an activist, she does use her social media platform to speak up on injustice. 
"There are very specific struggles to being a musician," she says, "even more as a female." Sinclair often encounters assumptions that she's clueless to technical musical details. "I also produce a lot myself, and do a lot of session work as a keys player," Sinclair says, "They sort of assume I essentially do nothing and give the credit to male producers. Not to take away from the amazing guys I work with, but just to get respected, is the main thing."
Through all her commitments, Sinclair doesn't sit around indulging writer's block. "My life changed so dramatically in two years, it was such a whirlwind," she says, "but now I'm back to writing all the time." Her new single, I Cry Too, was produced in London with Luke Saunders. She's proud of the song's overall message, suited to her "empathetic" fans. "I got a lot of people who write me who've said, 'I didn't have a song for those feelings,'" she says. 
As for herself, Sinclair is enthusiastic about her future. "There's usually a peek, and I don't think I'm at it. I'm working toward this thing, and I can feel it building."