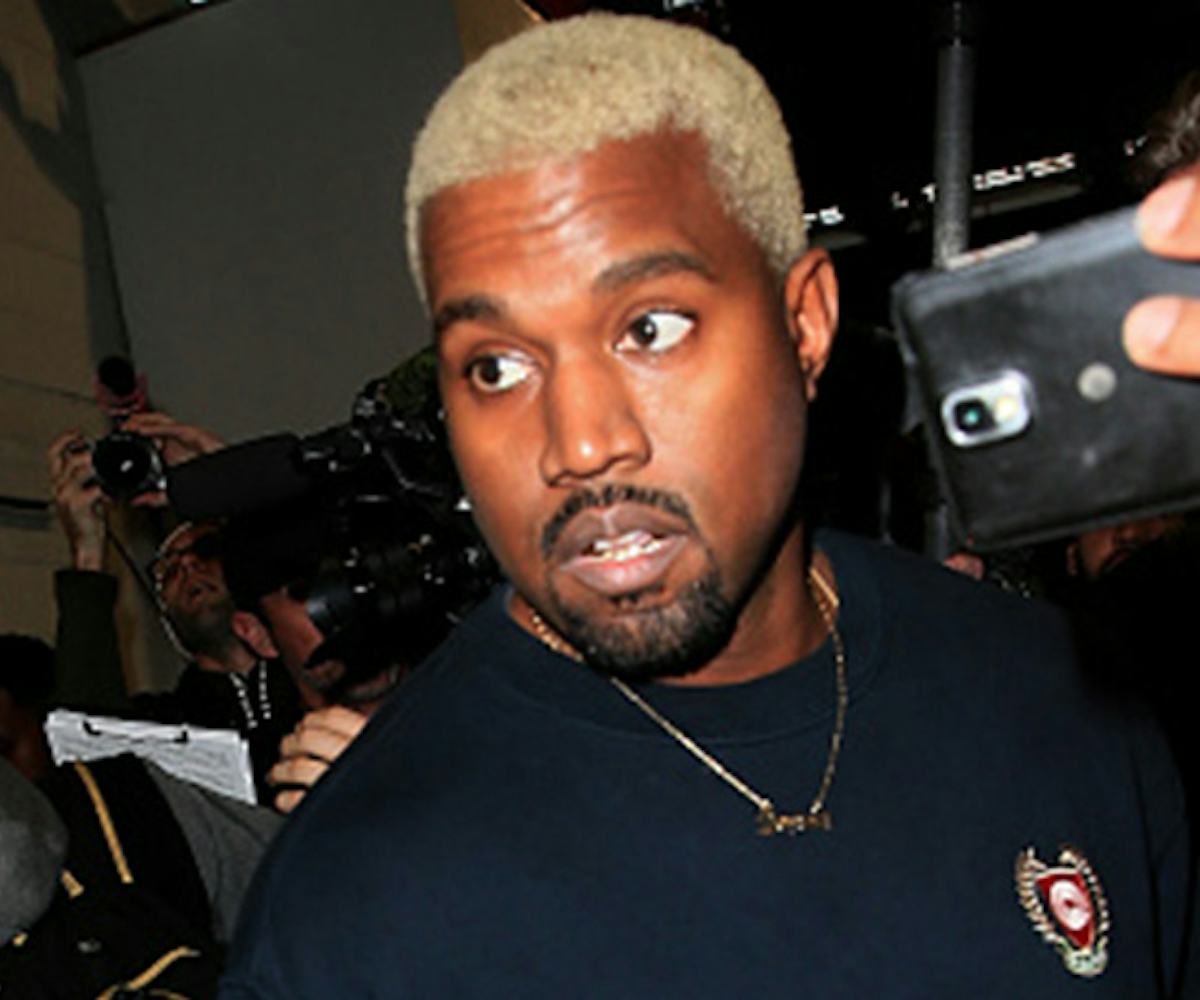 Photo by Pierre Suu/GC Images
Kanye West Files $10 Million Lawsuit Over His Canceled Tour
Insurance companies deny he had a mental breakdown
Last year, during his November 17 show in San Jose, California, Kanye West went on a political tirade, during which he admitted that had he voted, he would have voted for Donald Trump. Not long after, he was hospitalized due to inconsistently taking medication he was prescribed for "physiological issues" and abruptly canceled the remainder of his Saint Pablo Tour. Now, The Hollywood Reporter has obtained information about the $10 million lawsuit detailing an extensive medical examination of the rapper. 
West and Very Good Touring, the company handling the Saint Pablo Tour, filed the federal lawsuit on Tuesday, accusing several insurance companies of refusing to pay out at least $9.8 million in claims emanating from the canceled tour. "Nor have they provided anything approaching a coherent explanation about why they have not paid, or any indication if they will ever pay or even make a coverage decision, implying that Kanye's use of marijuana may provide them with a basis to deny the claim and retain the hundreds of thousands of dollars in insurance premiums paid by Very Good," the complaint states. "The stalling is emblematic of a broader modus operandi of the insurers of never-ending post-claim underwriting where the insurers hunt for some contrived excuse not to pay."
At the beginning of the 38-event tour between August 12 and November 2, West's managers reached out to the insurance market, Lloyd's of London, to get "peace of mind" in the case of cancelations. West ended up needing to cancel two shows when his wife, Kim Kardashian, was robbed at gunpoint in Paris, but more shows were added. It was during these later shows that things went downhill. 
After his tirade in San Jose, West went on another 15-minute-long diatribe at his Sacramento show, disparaging everyone from Beyoncé and Jay Z to Hillary Clinton. West's lawsuit addresses the Sacramento concert, noting the "strained, confused, and erratic" behavior, as well as the decision made the following day to cancel the rest of the tour and issue full refunds. The insurance companies were provided with sworn testimony from West's doctor that he suffered a "debilitating medical condition" requiring he not tour.
But the insurance companies wouldn't accept that. "Almost immediately after the claim was submitted, Defendants selected legal counsel to oversee the adjustment of the claim, instead of the more normal approach of retaining a non-lawyer insurance adjuster," states West's complaint. "Immediately turning to legal counsel made it clear that Defendants' goal was to hunt for any ostensible excuse, no matter how fanciful, to deny coverage or to maneuver themselves into a position of trying to negotiate a discount on the loss payment."
West has had to go to great lengths to prove to the insurers that his mental breakdown was indeed real. "While Kanye was still under medical care for his disabling condition, the Defendant syndicates demanded that Kanye submit to an immediate IME (independent medical examination)," according to court papers. 
"Kanye was made available for a  purported IME by a doctor, hand-selected by the insurers' counsel, who was predisposed to look for some reason to deny the claim. Yet even Defendants' selected doctor had to admit that Kanye was disabled from being able to continue with the Tour. As demanded by the insurers, Kanye was also subsequently presented for an examination under oath ("EUO"), and at least eleven other persons affiliated with Kanye and Very Good were similarly presented for EUOs."
West and the touring company say that they've sought a ruling from the insurance companies numerous times since November and informed them last month that they would file a lawsuit to get the $9.8 million, plus interest. The insurance companies then promised to decide on the claims by this past Thursday, according to the suit, but instead, they leaked damaging "privileged, private, and personal information" about West to news outlets.
"Plaintiff is informed and believes that the 'planting' of the Confidential Information with news outlets ... was part and parcel of Defendants' efforts to impair Plaintiff's rights to the indemnity payments due under the Insurance Policies," states the complaint, implying there was a non-disclosure agreement between the parties.
"Performing artists who pay handsomely to insurance companies within the Lloyd's of London marketplace to obtain show tour 'non-appearance or cancellation' insurance should take note of the lesson to be learned from this lawsuit: Lloyd's companies enjoy collecting bounteous premiums; they don't enjoy paying claims, no matter how legitimate," West's lawyer Howard King writes. 
"Their business model thrives on conducting unending 'investigations,' of bona fide coverage requests, stalling interminably, running up their insured's costs, and avoiding coverage decisions based on flimsy excuses. The artists think that they're buying peace of mind. The insurers know they're just selling a ticket to the courthouse."