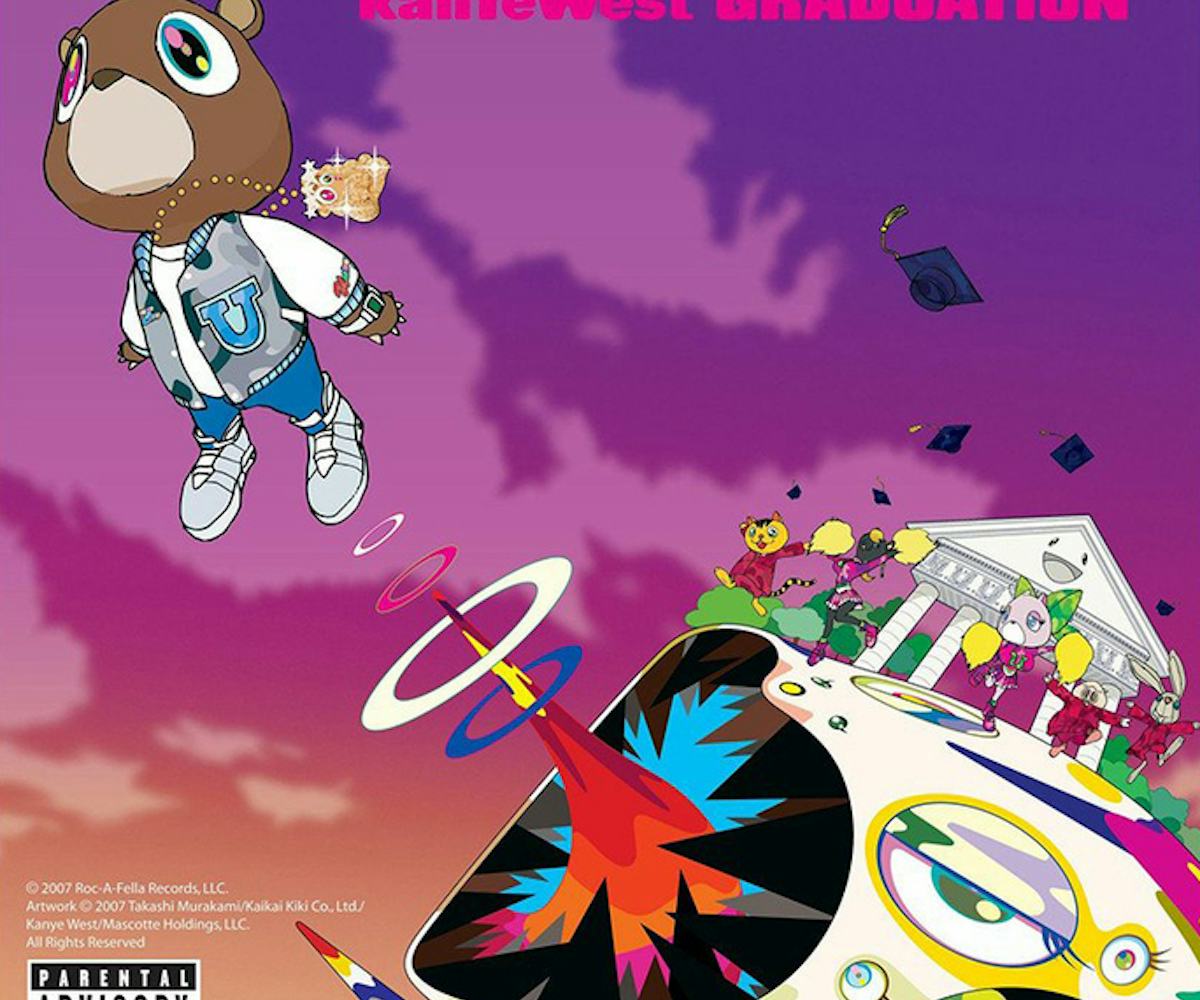 Photo courtesy of Roc-A-Fella/Def Jam
10 Kanye West Lyrics From 'Graduation' That Ring True Today
Kanye West, more or less, graduated a decade ago. September 11, 2017, marks the 10th anniversary of Yeezy's third studio album, Graduation, that completed the trilogy begun by The College Dropout (2004) and Late Registration (2005). It marks the beginning of the persona upon which he famously reflects on in 2016's The Life of Pablo. It's the album on which Kanye solidified who he was to the public. From the anthemic message of "Stronger" to the questionable one of "Drunk and Hot Girls," Graduation is marked with West's viewpoints about fame and success. It's the album that made it possible for West to make 808s and Heartbreaks and the masterful My Beautiful Dark Twisted Fantasy. West didn't peak with Graduation, but he certainly became a legend because of it. 
Since then, West has become an icon, both for his music and other professional endeavors as well as his personal life. Graduation is where that all began—the cockiness, the forward thinking, the everything. It's Kanye, the car crash survivor at the top of his game. So, to celebrate its 10th birthday, let's look back at Graduation's entire lyrical archive and find the Kanye-isms that still ring true today. Because Kanye will say what Kanye says; we just have to make sense of it.
"Champion"
Kanye West made it very clear during his 2015 MTV VMAs Video Vanguard Award acceptance speech that it is, indeed, the kids he listens to. My, how the tables have turned. Listen to 'em, bro!
"Stronger"
A valid excuse for when you're late to any function. Yeezy prides himself on himself. He's rapped about this thing before, like on "Monster" where he says, "My presence is a present." Yes, Kanye. Yes, it is. I wonder if the 2001 seminal film, The Princess Diaries, inspired this lyric—you know, when Julie Andrews says, "A queen is never late. Everyone else is simply early"?
"Can't Tell Me Nothing"
Here we have Kanye putting himself on the same level as God, the Devil, and Adam and Eve. It would go on to be the first of many times Yeezy compares himself to higher powers, often finding parallels between himself and them. In 2013, he wrote and released a song called, "I Am A God." And there's all that talk of a presidential bid. So, there's that.
"Barry Bonds"
Is this the first time Kanye West called himself a genius, or what? Debatable, but it's definitely not the last. He's gone on record referring to himself as any variation of "creative genius," "the greatest living rock star on the planet," and as being like Steve Jobs and Walt Disney.
"Flashing Lights"
Welcome to the Instagram raison d'etre. Yeezy manifested this over one of the best beats in modern history. Only now, the shoes and cars are masked by beliefs in shooting stars. This individual Kanye's talking about just didn't play with smoke and mirrors.
"Everything I Am"
Uh. Same, Kanye. We may try to be Beyoncé but we never will, and that is just something we all have to deal with.
"Everything I Am"
Shower-thoughts Kanye is the best Kanye. Of course, everything a person is makes them who they are. Always has, always will.
"The Glory"
The ironic thing is Kanye West has created fashion movements that, more or less, homogenize the scene. First, it was the neon polos and shutter shades, then came the Yeezys followed by the metal-inspired Pablo merch. Now, as he says in "I Love Kanye," he looks around and sees "there's so many Kanyes." How is he supposed to stand out now? Well, perhaps by creating the new Pablo merch movement. It'll happen. Trust us.
"Big Brother"
We know. He literally made a speech about it in 2016. Time changes, but Kanye's belief in himself doesn't.
"Good Night"
If Kanye can do it, so can(ye) you. West's relationship with fate, destiny, and mortality is largely informed by his car accident, his mother's passing, and his sheer willpower. Not only is this the closing number to Graduation, it's a prayer to himself (and us, the listener, when we recite it to ourselves). Living in the moment is what made social media the monopoly it is today. Yeezy was preaching it before likes and RTs were a part of our everyday.