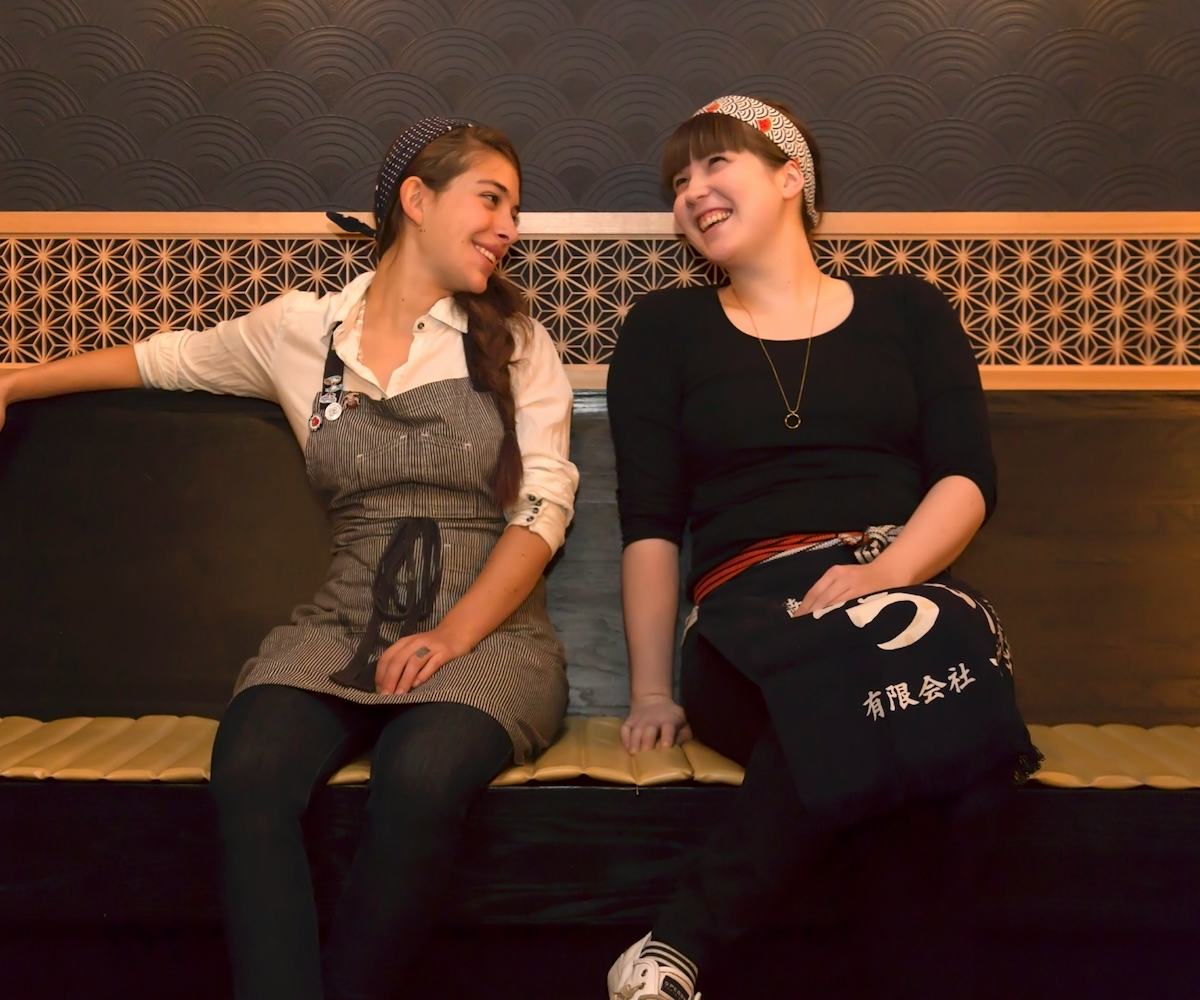 Photographed by Andrew T. White
Meet The Badass Chefs Of Karasu
Yael Peet and Elena Yamamoto run this Brooklyn-based eatery
The following feature appears in the December/January 2017 issue of NYLON.
Walter's eatery has occupied the corner of Dekalb Avenue and Cumberland Street in Brooklyn's Fort Greene neighborhood for years. But enter the establishment, walk past the restrooms all the way to the back, and you'll find a new hidden gem of a Japanese restaurant called Karasu.
With a kitchen run solely by 26-year-old chef Yael Peet (who has worked at New York standouts like Frankie's, Prune, and Shuko) and her 29-year-old co-chef Elena Yamamoto (who just returned to New York after spending over two years working in Japan, where her dad's family is from), Karasu has proven an instant favorite.
Here, the pair chats with us about navigating their unique setup and creating an oddly popular environment for Tinder dates.
How would you describe the atmosphere of Karasu?
Yael Peet: Some nights we're a restaurant, some nights we're completely a cocktail bar—you never know what you're gonna get, weekday or weekend. 
How do you make things work in such a small kitchen?
YP: We have a lot of restrictions, which can be fun. I look to Elena often and ask things like, "What did you eat while you were in Tokyo? What does your grandma make?"
What is your experience working as a woman in this field?
Elena Yamamoto: In Japan, there were a lot of things that I wasn't allowed to do, but there's this idea in Japanese cooking where you steal with your eyes. So even if they don't let you touch things, you can learn from watching. In New York, I've worked at Mission Chinese and Milk Bar, where it's pretty female-oriented.
YP: After leaving Prune, I realized how much I missed it because it was all women. There was a literal absence of sexual harassment. It was special and it showed me how it could be.
Does the secret location help set the vibe?
EY: Yeah, I think a lot of people come in for special occasions, like date night. I've seen a couple of weird Tinder dates. I fell in love with food because I think sharing a meal with someone is the best way to get to know them, and it's really nice to be able to facilitate that.
YP: It definitely helps set the pace back here. It was a happy accident. We can't let people in from off the street because it gives you access to the apartment upstairs. But there are no secrets! Come in, please come in!