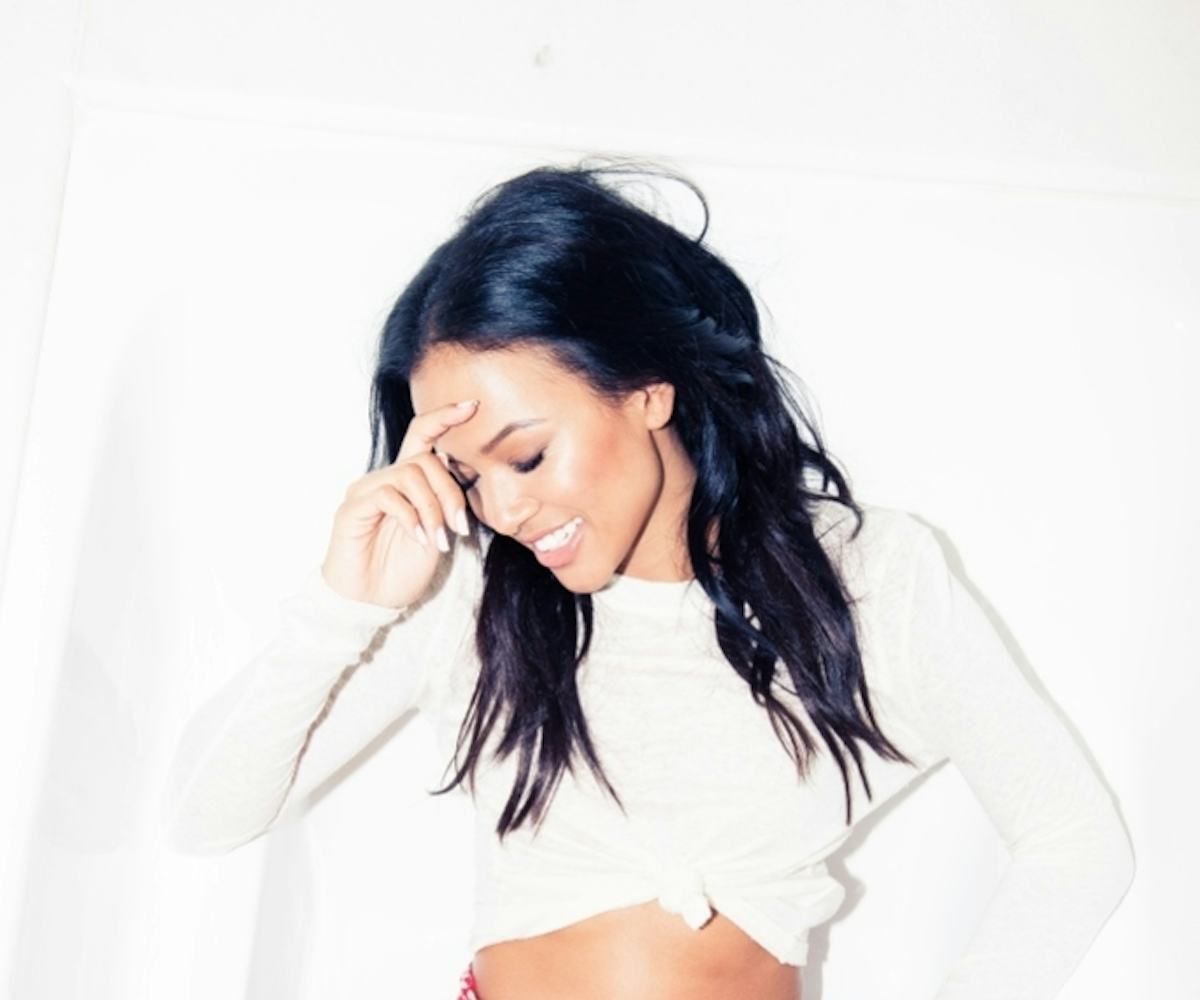 Photographed by Jake Rosenberg
How Karrueche Tran Went From TMZ To TNT
The 'Claws' finale airs tonight
Karrueche Tran is no stranger to the Hollywood spotlight. Well, that depends on your definition of spotlight. Since 2010, it was the paparazzi who provided the maniacal flashing lights that would chase the mysterious Tran, mostly due to the public's interest regarding her relationship with Chris Brown, against whom she now has a permanent restraining order. While the tabloid ubiquity might have had some believing that Tran would have long ago capitalized on her seemingly overnight mega-fame by posting selfies of herself posing with Flat Tummy Tea packets to her 6 million and counting Instagram followers and/or giving reality television a go, that just shows how little the public really knows about Tran.
We advise you to trust TNT over TMZ. If you're obsessively watching TNT's women-led dramedy, Claws—and you really should be—then you know that one thing is for sure: Karrueche Tran is actually everything. And if you're not watching the outlandish Rashida Jones-executive produced show, which was recently picked up for a second season, start immediately. (This should encourage you: Claws has been exhaustingly albeit aptly described as Breaking Bad-meets-Orange Is The New Black-meets-Steel Magnolias. Bad mistakes but good intentions; murders and manicures; dreams and drugs; AND THOSE OUTFITS—it's all happening!)
In Tran's first major role, she majorly impresses as one of the five manicurists who work at a nail salon in Southern Florida. Twist: The salon owner, Desna (played by the perfectly cast and perfect Niecy Nash), launders money from a strip mall pill clinic to get extra cash so she can open her dream salon in Sarasota and take her girl squad with her. Tran plays the unapologetic-to-be-herself ex-stripper Virginia, which finds her rocking a blonde wig and Cher Horowitz-meets-the clothing racks at VFILES lewks that are heavy on millennial pink. (She also delivers one of the best lines in recent television memory by answering the question "Does it always have to be about you?" with, "Uh yes, girl. I'm a millennial." Iconic.)
As the new girl in town at the salon, Virginia doesn't at first receive the warmest of welcomes from the ladies, but in real life, Tran was immediately accepted amongst the cast of acting veterans (besides Nash, the show also stars Judy Reyes and Carrie Preston, among others), thanks in no small part to the fact that it was the Emmy-winning Nash who suggested Tran to the Claws team as her pick for Virginia; though, Tran didn't learn this until a while after auditioning and being cast in this dream of a role. 
Tran's layered performance on Claws marks a fierce step into the solo spotlight, on her own terms, as a result of hard work, hustling, and talent; an official a-star-is-reborn entrance and intro to Karrueche Tran, the burgeoning superstar. In other words, we have a feeling that soon Tran won't be sharing headlines or magazine covers with anyone other than herself and her castmates, who are bad-ass girl squad goals. We also have a feeling that soon there'll be "Which Claws character are you?" BuzzFeed quizzes and an onslaught of Claws Halloween costumes for years to come.
Recently, Tran called us from the set of an upcoming film also boasting a women-led cast and crew, Honored, where she'll play a conservative, 18-year-old virgin. She filled us in on her Claws family, what it took to bring Virginia to life, and, tabloids be damned, never giving up on yourself and your dreams. Welcome to the stage, Karrueche Tran! 
What was it like walking on the Claws set on the first day of shooting? 
I was very nervous, but very excited, like with any project I start. Everyone else on the show are heavy hitters and such great actors. I'm excited and happy to be there and kind of soaking it all in and trying to learn as much as possible. And really, it's a blessing to be there, so it's also very important for me to stay focused and make sure I'm doing my part as an actor and that I'm on point. 
By looking at your Instagram and Niecy's, it's clear that you two have really bonded and are having a blast. Is she anything like Desna, her nurturing character? And what's your relationship like with the rest of your castmates? 
Oh, 100 percent! She is so like that. She's a mother, she's a nurturer. She'll tell you she's always been that way. She's the same woman as Desna in that she takes care of everybody. With all of the women on the show, we have this great bond on the set and off the set. It's so much fun. It really makes me happy and thankful to be a part of this cast. You know, there's certain sets where girls don't get along on an all female cast show; there's drama and there's the she said this, and she said that. We do not have that at all. It's a lot of work and long hours and what not, but we still have fun. We're laughing and dancing and burping and farting and just all of that crazy friend stuff. We embrace and we love each other. It's really great because that chemistry flows on the screen as well.
Totally. I've also noticed via your Instagram many positive vibes and self-care-related quotes. Would you credit this positive mindset with helping you nab this huge role? 
That, for me, is just me in general, and how I like to view life. I'm not the perfect person, I'm not the most happy person. I get angry and I get mad sometimes, but I try my best to control my thoughts. Because that flows throughout your body. I think with Claws, it came at such a perfect time where I really started to focus and to take myself seriously. At that time, I was in acting classes at New Collective in L.A. and I strongly believe my acting coach helped me with expanding myself as an actor and with my artistry. It was a time where I was ready to work. It was perfect timing. 
I'm gay as hell, but Virginia is my girl crush. Those outfits! Is it as fun as it looks playing her? Do you ever give your opinion to the glam squad?  
It's so much fun playing Virginia. On a day-to-day, it's like, you know, I'm just kind of me, how I dress, what I wear, whatever. But then there's Virginia's looks—the short shorts and the fishnet and the earrings and the makeup... I'm very hands-on and I love to have so much input and creative control. So I'm like, "No, Virginia wouldn't wear that! That's too covered up!" It's so much fun creating her character because I'm able to step outside of myself and really transform into somebody else. Being able to do that and to have this fun hair and these fun looks really helps me tap into Virginia. 
I'm so in love with you in this role! I knew you were a business woman and have modeled and released a successful makeup collection, but I had no idea you were such a fabulous actress. Have you always wanted to be an actress? 
I've had my own little stuff going on, but it's funny because a lot of people were kind of surprised as well. They didn't expect that out of me—my performance. And that makes me so happy, because it means something to me. It means I'm worthy, it means I'm on the right path, it means I'm doing something right. All of these acting classes and all of this time and money I'm putting towards it, it means it's paying off. It makes me very happy and blessed and grateful. 
Virginia is quite a complex and layered character. What made you want to play her?
For me as an artist, I was drawn to her because the script itself was freakin' awesome. And I just saw myself being Virginia. I saw myself playing a character that I've never played before. Someone complicated, interesting, fun, and bright. She's got a little bit of everything and I really wanted to tap into that and I really saw myself playing her. 
Can you relate to her in any way? 
We are alike in ways of just being human. Having gone through situations and circumstances in our life that made us who we are today. Me and Virginia both have had to fight for survival in a sense. Being in a place in your life where you're like, "Okay, this is going on and this is going on. What am I gonna do? I need to put my big girl panties on, I need to figure it out, I need to get my shit together." You know? It's the same thing of like, alright, we've got to do this. That's what I love and I'm able to bring from myself—my own personal moments of being up and down and just different things that I can bring from my own life that make Virginia human. That makes her relatable.
So, you've been in the spotlight for awhile now. Looking back, what advice would you give the younger Karrueche who was on the verge of becoming such a public figure seemingly overnight? 
I would say... just keep pushing. Just keep fighting toward something. I wanted to be a ton of other things even before I became a personal shopper. I went to community college for graphic design and I loved it, but I wasn't into the school thing, so that didn't work out. I always say, "If you don't try it, you'll never know." I would've never tried acting. I was at this point in my life where I was like, "I have this following, what am I gonna do?" I could've done reality TV, but I didn't see any longevity in that. And my manager was like, "Have you ever acted before?" And I was like, "No… but I'll try it." And so I tried it and I liked it. It wasn't easy. But if I would've never tried that one gig, that one job, I would've never been here. I think it's just that journey of life of just figuring and trying things out. There's so many times where you just wanna give up, you don't know what's going on. You have to keep going, you have to keep moving. You're gonna hear a lot of things you don't wanna hear, you're gonna hear a lot of no's. You gotta just keep pushing, keep your head up and keep going. 
Claws isn't your only project that boasts a women-led cast. What can you tell us about the film, Honored, that you're currently working on? 
I play Sophie, who is an 18-year-old virgin who's decided to wait until marriage—a choice she's made entirely on her own. It's not her parents, it's not religion. She just wants to be a good girl. She doesn't like the whole hooking-up-in-high-school thing. She has this purity app and she's trying to do the right thing. Being on set yesterday, I literally looked around while we were doing rehearsal and it was just females everywhere—the DP, the director, the AD. And I was like, "Whoa! That's crazy! That's awesome." You can feel that energy and that vibe. It's kind of the same thing as Claws, because we had a lot of female directors. It's just a good energy for us as females. It's like, we kick ass too. We can do what the boys do.