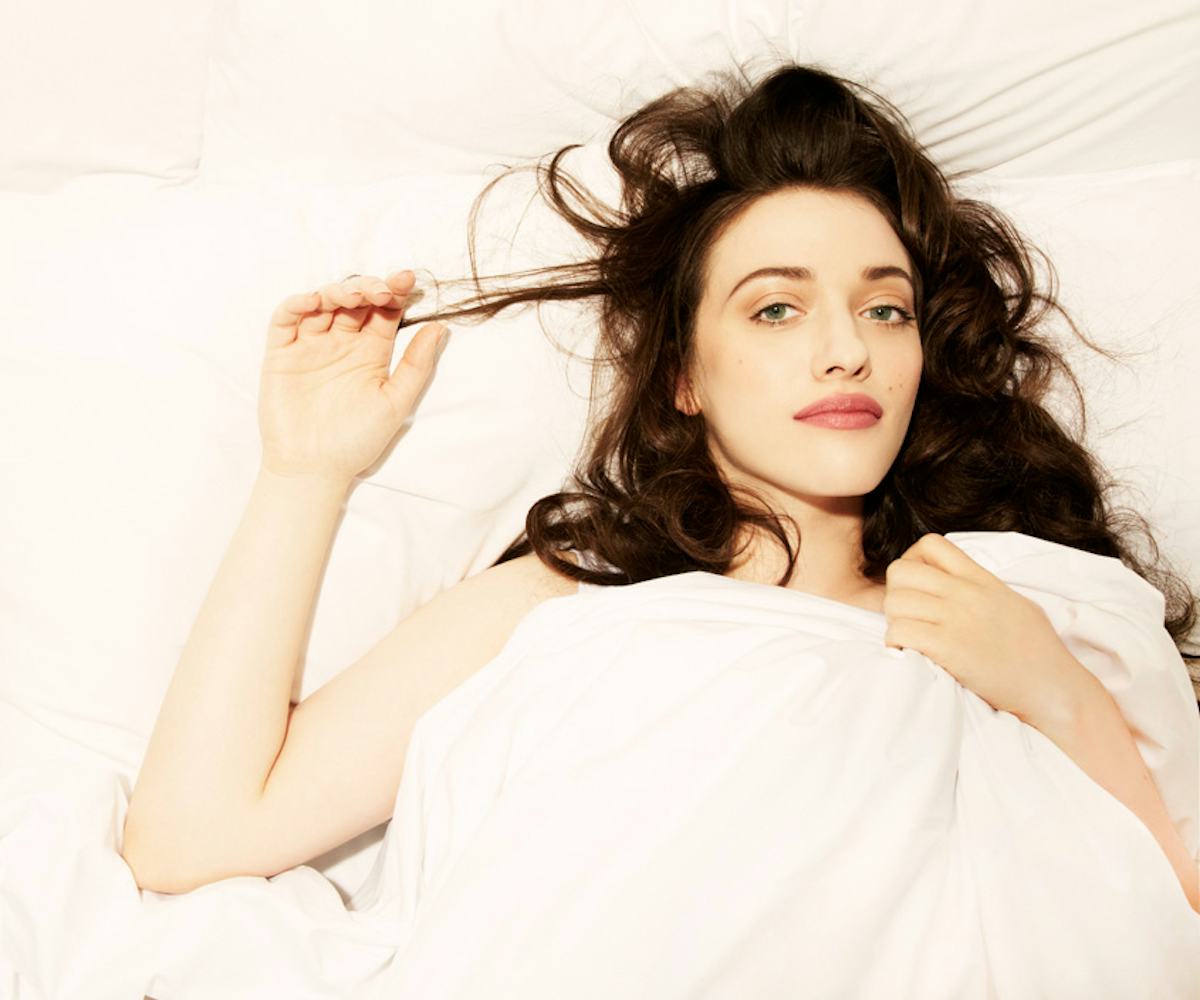 Photo by Hilary Walsh
kat dennings on the role she nearly stopped sleeping for
"to write love on her arms," out tomorrow
In the upcoming film To Write Love On Her Arms, Kat Dennings plays Renee Yohe, a young woman who battles addiction, depression, and self-mutilation. It's a true story about a real person and her path to recovery. Though the plot of the film is pretty straightforward—struggle followed by a journey to triumph through friendship—its origins are anything but conventional. "To Write Love On Her Arms" was originally a short story written by Renee's friend Jamie Tworkowski about the five days leading up the beginning of Renee's treatment. The story went viral. Inspired by the response, Tworkowski founded TWLOHA, the nonprofit: More of a movement than an organization, it spreads awareness about self-injury and addiction and aims to reach people facing the same issues as Renee in order to connect them with resources. 
So, how in the world do you make a message-driven movie that's inspired by a nonprofit without it turning into a PSA? Though Dennings says, modestly, that's in the hands of the filmmakers, it's her acting chops and commitment to her character that lends authenticity to the story; it's what makes this a film instead of just something you watch in health class when the teacher's out sick. 
It wasn't easy, though. "This was a very dark and difficult film to make," she says. The role involved things she'd never done before, like a scene in which she snorts cocaine off a bathroom floor (it wasn't actually cocaine, she clarifies). She also cut down on sleep for a more authentic experience: "The person I was portraying was bipolar, depressed, suicidal, and addicted to drugs. I couldn't identify with a lot of those things, so I decided to sleep a maximum of four hours a night the whole time we were shooting," Dennings explains. "I could only imagine how tormented someone would feel who was going through that, so I wanted to feel as close to it as I could."
Renee's recovery as portrayed in the film isn't all sunshine and rainbows, which adds another element of realness. "The director and I were both very on the same page about that, about wanting it to be dark and gritty and accurate, not too like 'Well, now she's better!' Because that's not what happens. When you're an addict and you start recovering, it's really one day at a time. You're not magically better," Dennings says. "I know I was very conscious of that. I didn't want this to be a hammer in your head, I wanted it to be a story about one person." 
And if that one person's story resonates with viewers in a positive way, it will have accomplished its mission. "If this film makes one person ask for help, it's a success," she says. "This is a story about Renee, who is an amazing girl, but the story is very universal. It happens every day." 
Starring alongside Dennings is Chad Michael Murray, Rupert Friend, Juliana Harkavy, Corbin Bleu, and Mark Saul. It's out on DVD and Digital HD on March 3. Check out an exclusive behind-the-scenes clip, below.