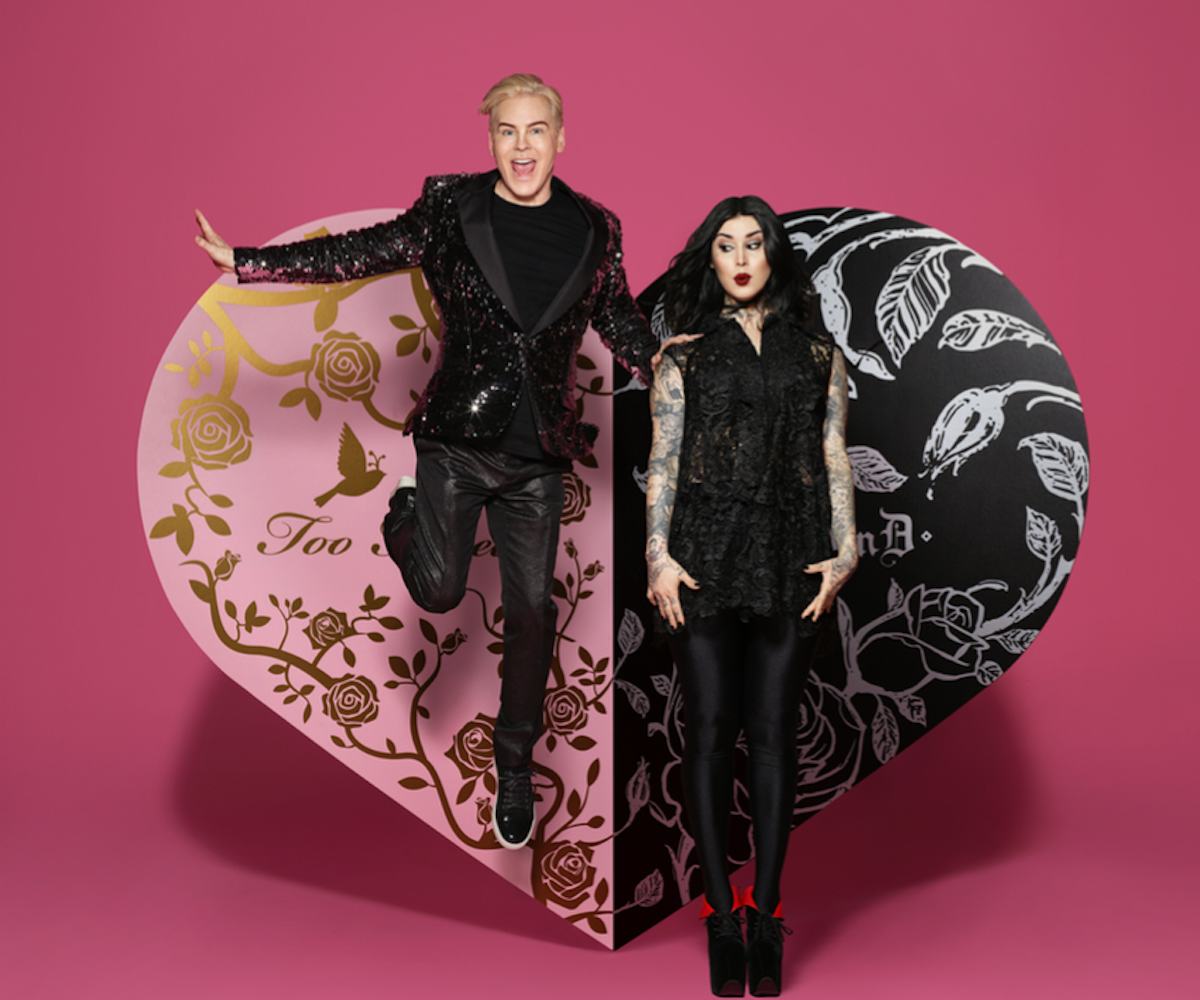 Photo courtesy of Kat Von D and Too Faced
Brace Yourselves For The Greatest Beauty Collab Yet
We must agree, Kat Von D and Too Faced are "Better Together"
Just before the year comes to a close, the ultimate BFF beauty collab is heading our way. Kat Von D and Too Faced's chief creative officer Jerrod Blandino—two IRL besties—have joined cosmic cosmetic forces to bring us the limited-edition makeup collection of our beauty dreams. The two took to Von D's Facebook page to conduct a live Q&A session regarding the upcoming launch.
Part edgy, part feminine, Better Together is a three-piece collection that honors love, friendship, and the two sides in all of us. Each set contains a combination of best sellers from both powerhouse beauty brands—and even some exclusive merch. Prices range from $20 to $65, making for a perfect post-holiday gift for your closest pals (or, a little beauty retail therapy for yourself after all the holiday stress).
Mark your calendars for when the collection drops on December 26 at Sephora, TooFaced.com, and KatVonDBeauty.com. While the collection will only be available for a limited time, Von D hinted during the Facebook Live session that this may not be a one-time collaboration, pointing out how the spine of the eyeshadow palette reads "Volume I." Hmm, could we expect more from the pair in 2017?
Click through the gallery below to take a closer look at each new set.
Too Faced x Kat Von D, Better Together Bestselling Mascara And Liner Duo, $20, available 12/26/2016 at Sephora.
This must-have duo is here to give you the perfect sultry wide-eyed look for only 20 bucks. The set includes the best-selling eye products from both Kat Von D and Too Faced: the Tattoo Liner in 'Trooper' and the Better Than Sex mascara.
Consider this your go-to when getting ready for a night out, and prepare to bat those lashes and turn some heads.
Too Faced x Kat Von D, Better Together Cheek and Lip Makeup Bag Set, $38, available 12/26/2016 at Sephora.
We don't know what we're more obsessed with—the contents of the Better Together Cheek And Lip Makeup Bag Set or the makeup bag itself. One side of the pouch features a cartoon rendition of Kat's beloved cat, Piaf, while Blandino's pooch, Clover, graces the other. 
Inside, you'll find the duo's most popular minis, some in exclusive new shades: Too Faced's Love Flush Blush in 'So Happy Together' and Candlelight Glow Highlighting Powder in 'Rosy Glow,' and Kat Von D's Everlasting Liquid Lipstick in 'XO' and Studded Kiss Lipstick in 'Muse,' making it the perfect (and most adorable) set to carry for an on-the-go touch-up.
Too Faced x Kat Von D, Better Together Ultimate Eye Collection, $65, available 12/26/2016 at Sephora.
Similar to the classic BFF necklace, the Better Together eye palette features 12 best-selling shades—one-half from Kat Von D, the other half from Too Faced—in a range of matte, metallic, and glittery finishes. From feminine pinks and nudes to smoldering browns and blacks, the color combinations are endless—whether your goal is a smokey eye or a more low-key day look. 
In addition to 12 treats for your lids, the set also comes with Von D's legendary Tattoo Liner in 'Trooper,' as well as Too Faced's Better Than Sex Mascara.