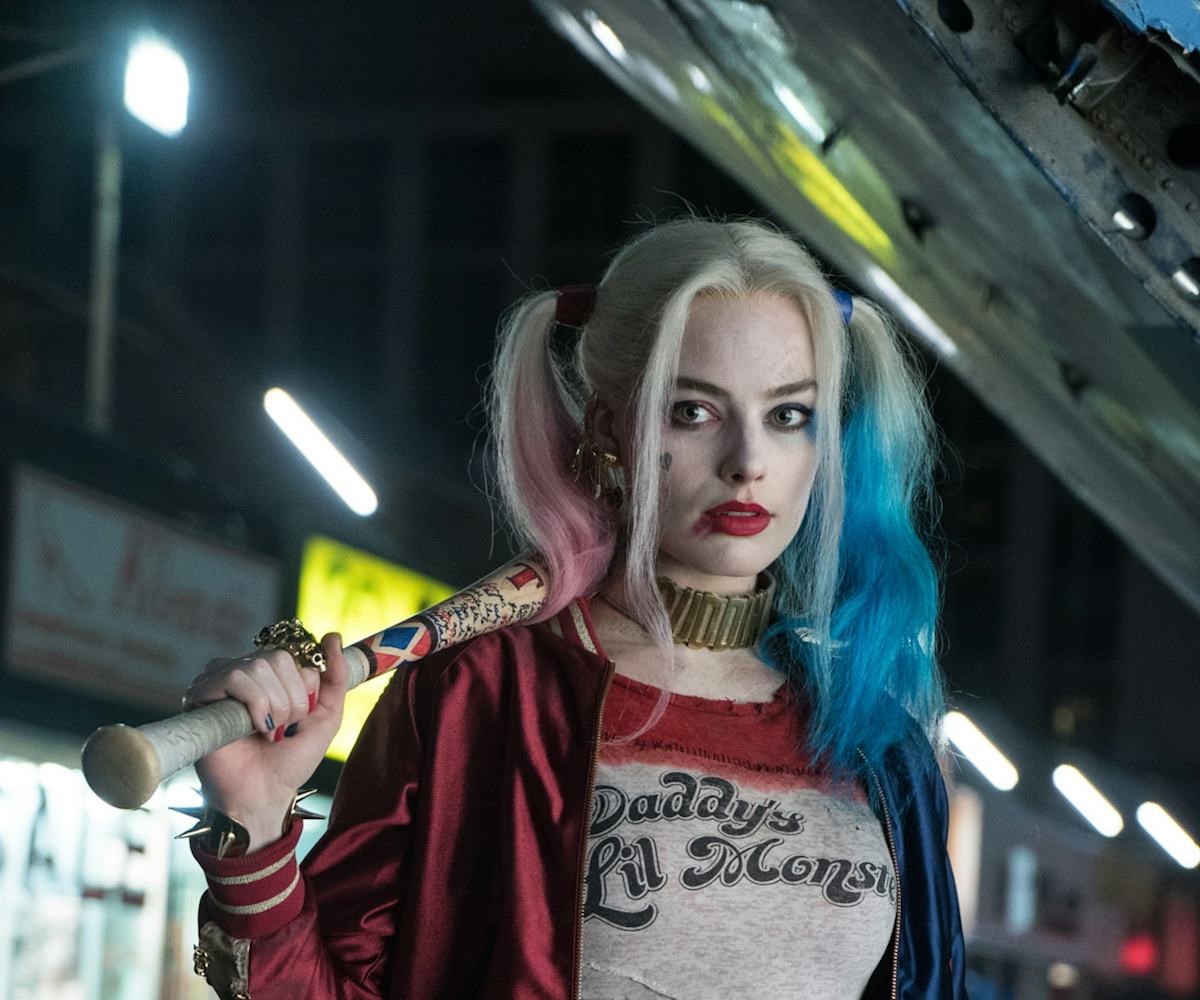 Photo via Warner Bros.
'Suicide Squad' Costume Designer Kate Hawley On Reimagining Harley Quinn
Her new look can't be ignored
The following feature appears in the August 2016 issue of NYLON.
In Suicide Squad (out today), DC Comics' villainous vixen Harley Quinn makes her big-screen debut as a bat-wielding, blinged-out psychopath, played with homicidal charisma by Margot Robbie. And while the character's trajectory—innocent psychiatrist falls in love with the Joker (Jared Leto), then goes insane—remains intact, director David Ayer went a different route when it came to her appearance. Gone is the iconic red-and-black jumpsuit, replaced with Adidas by Jeremy Scott heels, a bomber jacket, and some very short shorts. Here, the movie's costume designer Kate Hawley reveals the inspirations behind Harley's ambitious new look.
How did Harley end up with Jeremy Scott heels?
We went through many, many shoes. We all have a shoe obsession, and Margot really loved these. But the physicality of Harley is something else, so it's sort of a nightmare from that point of view. Margot had to do a somersault in these.  
Why did you dress Harley in hot pants instead of her more traditional one-piece?  
We were trying to figure out where to have the overt sexiness, and Margot has a fabulous bottom! She's such an exceedingly, naturally beautiful woman—inside and out—so it's kind of one of those things where less is more with what you put on her [laughs]. Seeing the skin tone was also important in this world that's very dark, with the whole story of her color shift and its balance to the Joker. Jared has to get his top off, too!
Why did you decide to make Harley's costume so overtly sexy?
What you learn from watching the film is that she is never the victim of the Joker, in the way that she owns herself. I think Margot is amazing in the way she retains that. She really owns her sexuality and power, and it's something that girls respond to. It's not for somebody else, it's for herself.
What kind of real-world research did you do, outside of referencing the comics?
We spent a lot of time looking up drug cartel auction websites, and Mexican drug lords were doing a lot on Instagram at that time. All of the guns and accessories very much came from that world.
How did that inspire you specifically?
There's just such excess in this underground world, you wouldn't believe the reality of some of it. There's even a female gangster who had a pink machine gun. It's kind of suburban, weirdly, but taken to extremes. I was at Warner Bros. working while the Mexican government was auctioning off all their Rolexes and guns and shit like that. And I said, "I have to bid on that!"  And of course Warner Bros. blocked me from bidding on any of it. So we made it instead.