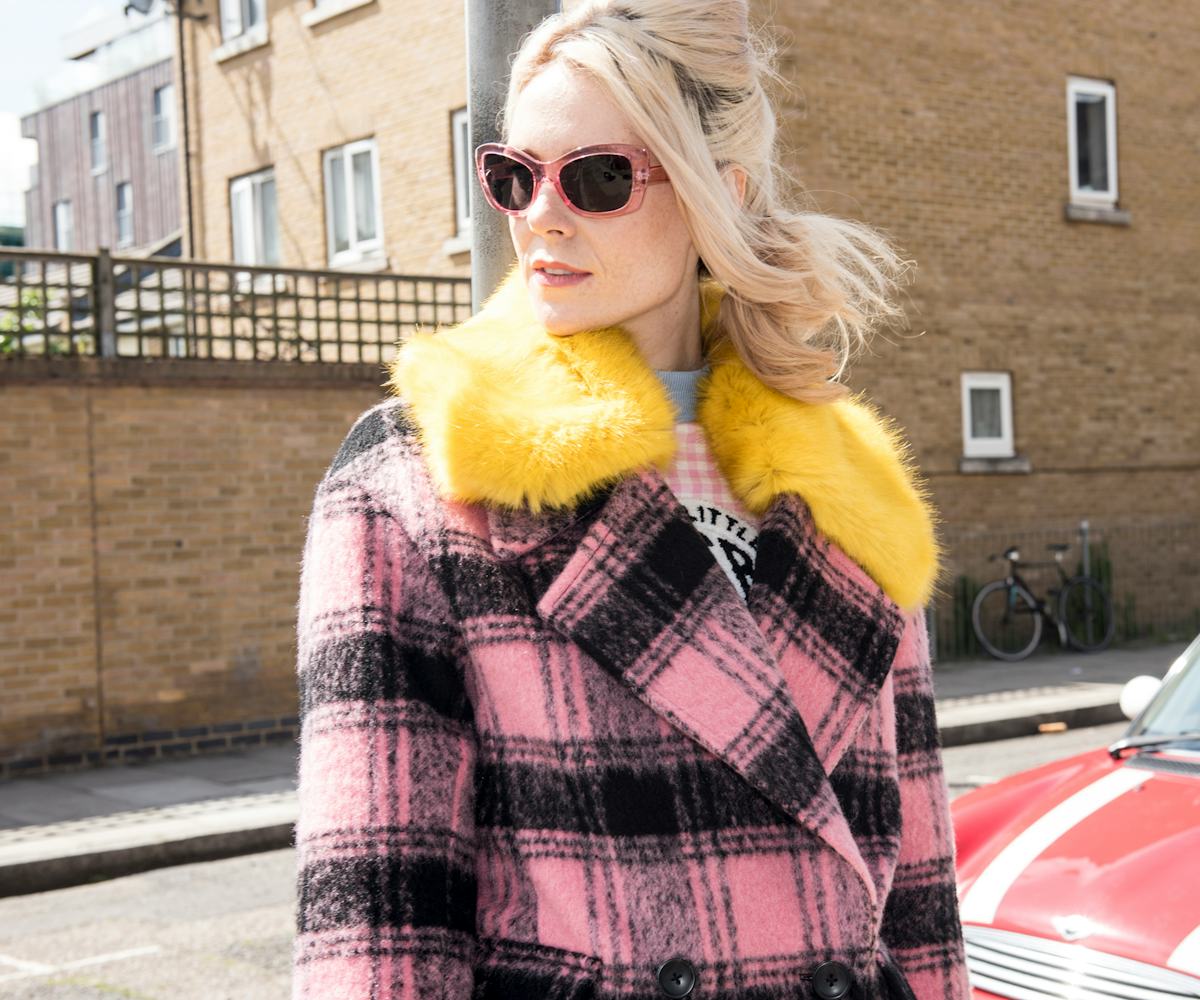 Photo by Lindsey Byrnes, Styling by Rebekah Roy, Hair and Makeup by Evan Huang
Kate Nash Talks Music, Fashion, And The Wildness Of Summer
On staying hungry and keeping inspired
Singer-songwriter Kate Nash made a huge splash when she burst on the music scene in 2007 with her album Made of Bricks. In the intervening decade, lots has changed in the music industry (it's been a post-MySpace world for some time now), and Nash has kept busy touring, putting out other albums (2010's My Best Friend Is You and 2013's Girl Talk), and getting involved with ancillary projects, like the music documentary Distortion of Sound. Nash also spent time living in L.A., a huge change from her native U.K. 
We recently caught up with Nash to talk about her new single, "Good Summer," and play dress up on the streets of London.
What's your favorite part about dressing up?
I love that clothes can completely change my mood, and I really like using clothes to "dress up." As a kid, I felt such joy looking into the boxes of junk that my parents had for us to mess around with, and I continue to make my wardrobe look as much like a costume shop as possible. Mainly, I want my clothes to make me laugh and feel comfortable and confident. 
You have a new song that you're about to release, can you tell us about it?
"Good Summer" is about a typical British summer experience. I grew up in London where one of my main memories of my teen years is walking home from the train station with wet laces slapping my ankles and drizzly rain frizzing up my ginger hair. When the summer came, it literally felt like the biggest relief and like the best things in the world could happen. People in England really go for it during the summer because we have such minimal summery days. There is a wildness to it. 
What else have you been writing about?
Everything! Because, as usual, life supplies; love, relationships, friendships, politics, general observations, mental health. Life is a constant inspiration!
It was so fun working with you in London and seeing you in your natural habitat. What's the best part about being home?
My family, animals, and friends. I love being here. I am so connected and reset. I am so proud of these streets and experiences and the harsh reality of living here. You are truly formed growing up here. I value it so much. My sense of humor and sense of handling myself and others was built here. There is nothing to compare it to. I think, I just feel reassured when I'm home; I'm reminded of who I really am and what really matters, how to carry myself, and not to take any bullshit.
What are your favorite restaurants in London?
I love The Larder in Bethnal Green, and the Florist Pub. Dishoom and Mr. Chilly in North Harrow for amazing curries. And Golden Kitchen for fish 'n' chips. 
Who are your fave British artists right now?
Nova Twins, Liv Wynter, GIRLI, Lips Choir, Brigitte Aphrodite, The Tuts.
What was the moment that made this a "Good Summer" for you?
I just closed Wilderness Festival doing their David Bowie tribute. It was one of the scariest performances of my life! There was a 40-piece orchestra and choir, and I was paying tribute to one of my, and the world's, biggest heroes. It was absolutely insane. A very emotional moment for me. David Bowie completely changed my life. He soundtracked my final year at school; we had to study his songs for our final theatre piece, and it shaped my education of performance and self-expression. It was just a fantastic night.
What's the biggest differences you see in the way the music industry feels to you in L.A. versus London?
I think America is just so big it's hard to get a grasp of it, which is why it is so alluring. It looks like a movie to every British person, so we are instantly charmed. I feel like the hugeness of the U.S. can somehow make it easier for artists to be diverse and have huge touring careers even if no one in the rest of the world has heard of them. It can be overwhelming working in America, but it is always invigorating, and there is so much to discover and so much opportunity. It makes you hungry and keeps you inspired. 
Is there something you would recommend doing in London right now?
Signing up to do a workshop with
. My guitarist, Linda Buratto, set up this charity, and it is completely incredible. I ran a workshop there twice this summer, and it has been so beautiful both times. They are bringing such important opportunities and education to both girls and women. I would highly recommend it.
Do you have any advice to teen girls in a 2016 world?
I think that it's an important time to know when to be totally switched on and when to completely unplug. The world we are living in seems fraught and tense and disturbing and is frankly overwhelming. Tune in, stay aware, know what is going on because you have the power to change the future of your community and you literally are the future. So it's a time to be responsible. The people in power right now are no joke, and we all have no option other than to have an opinion. At the same time, don't overwhelm yourself and know when to indulge in entertainment and let go. Constantly remind yourself of the positive things that are there if you search for them. Don't let the internet ruin your life, and love yourself as hard as you can.