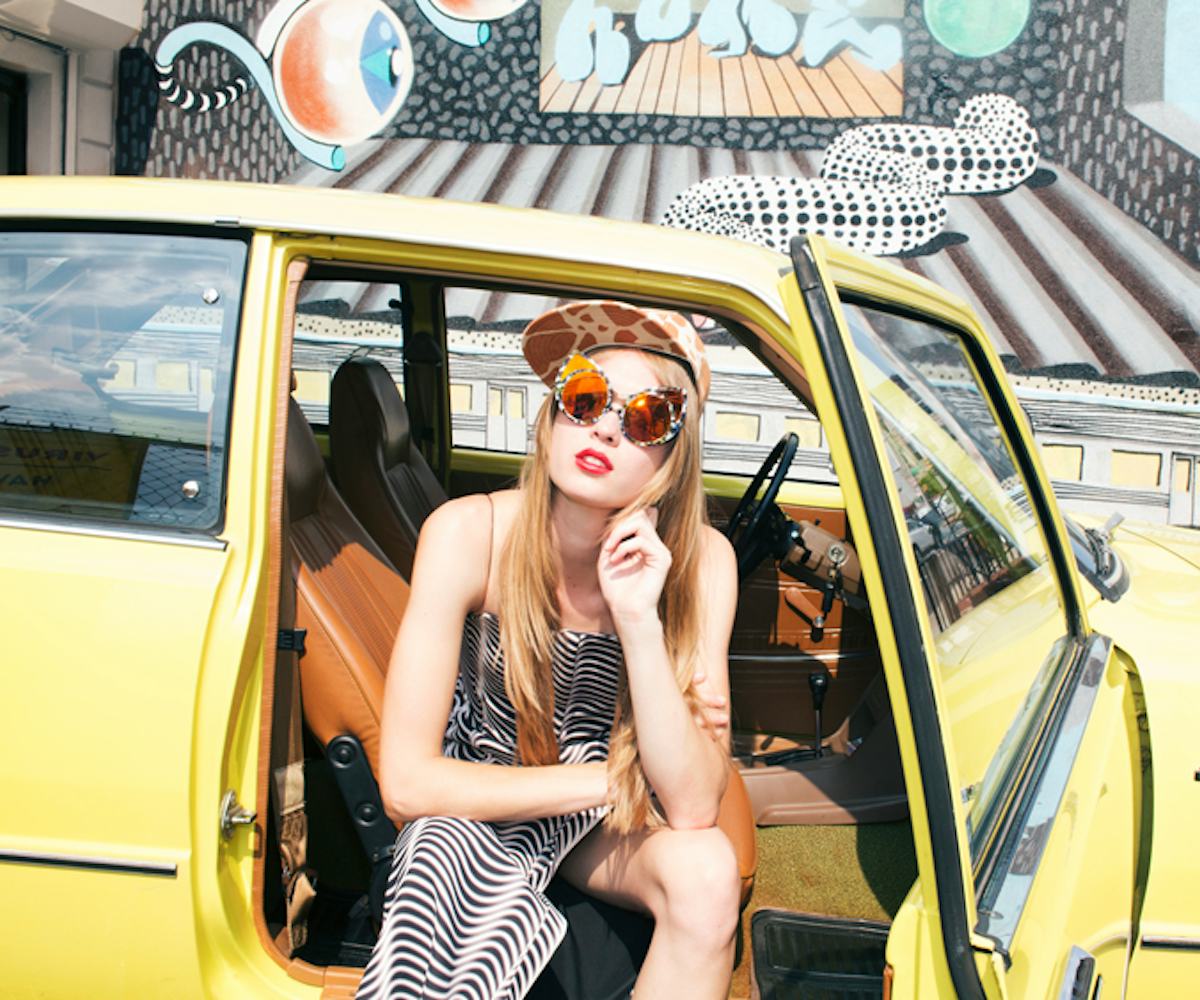 all photos by kate owen; styled by andrea messier cuomo
just drive
working it at the carwash.
The recipe for the perfect mid-August afternoon goes a little something like this:
1. Take a couple of rad jewel-toned pieces from Kenzo, Helmut Lang, and Marc Jacobs.
2. Throw on some killer accessories from Linda Farrow, Plums Italia, and Nicholas Kirkwood.
3. Drench with sunshine, add major attitude, and shake well. 
The dog days of summer are in full swing—and while it might be impossible to OD on those long, languid afternoons spent chilling on the beach or eating ice cream, one thing we are sick of is our wardrobe. After a season of wearing pretty much nothing but breezy dresses, crop tops, and cut-offs, it's officially time to rethink our closet.
Fortunately there's plenty of inspiration, so we sent photographer Kate Owen to Brooklyn to shoot the coolest pieces that you'll be dying for this season. From statement sunglasses to graphic maxis to snapbacks, you can buy everything now and wear them all autumn long. Just don't be surprised if you want the vintage Corolla, too, while you're at it....
Check out our exclusive photoshoot in the gallery! 
Prabal Gurung by Linda Farrow Gallery sunglasses, Plums Italia cuff, Kenzo top, Helmut Lang pants, Nicholas Kirkwood shoes, scarf by Issey Miyake
Federica Moretti hat, Khaleda Rajab by Linda Farrow Gallery sunglasses, Kenzo dress, Oscar Tiye shoes
Federico Moretti hat, Italia independent sunglasses, Marc Jacobs knit top and pants, Nicholas Kirkwood shoes
Photographer/Art Direction: Kate Owen/@thekateowen
Stylist: Andrea Messier Cuomo/ @painclk
Model: Sarah Robinson from Re:Direct/ @sawahwocksursox
Special thanks to Greenpoint Carwash and Eli