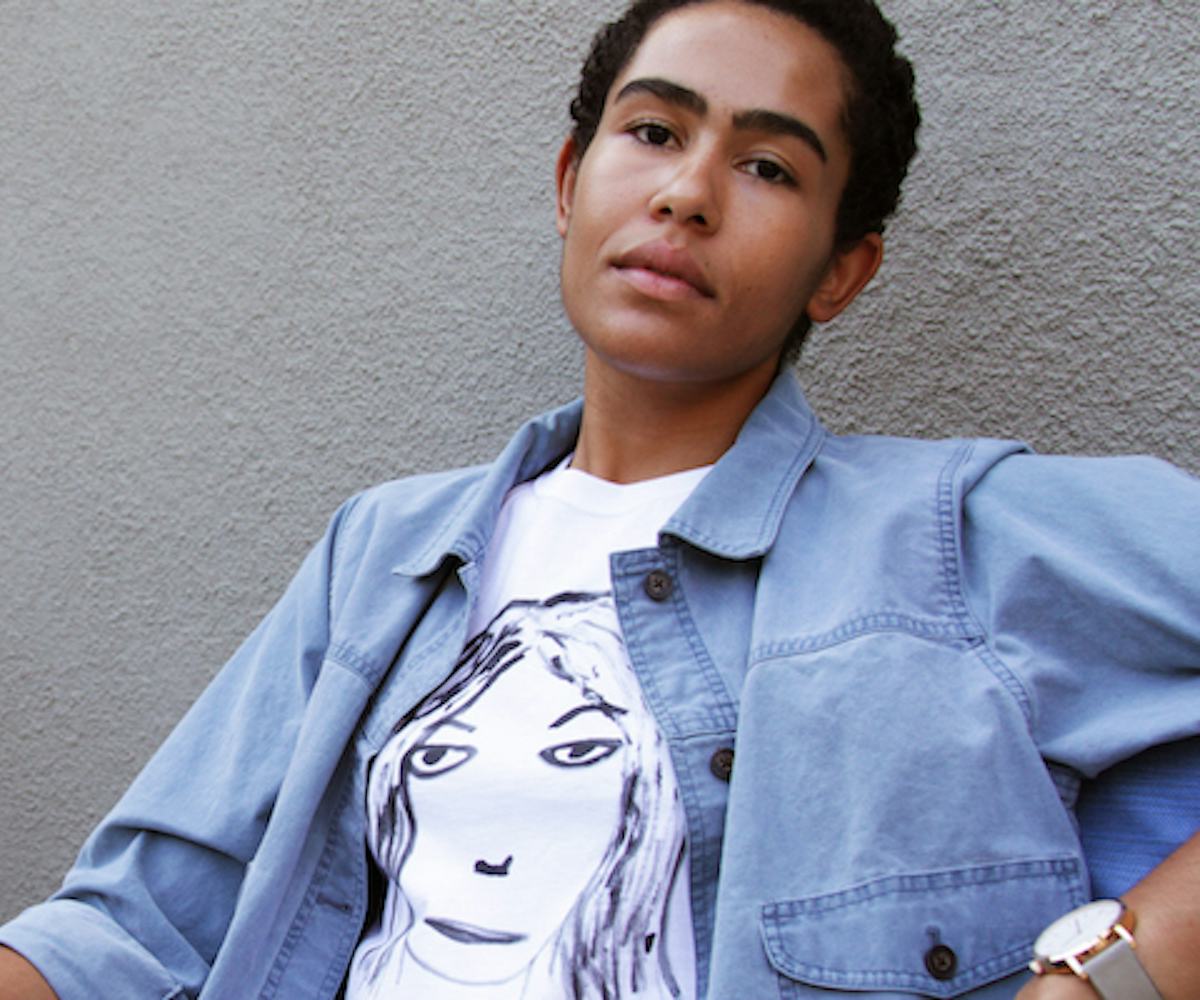 Photo by Vice Cooler
Kathleen Hanna's New T-Shirt Line Is Sending Underprivileged Girls To School
Learn all about Tees 4 TOGO
To say we're fans of Kathleen Hanna—OG riot grrrl, activist, actress, and lead singer of bands Bikini Kill, Le Tigre, and The Julie Ruin—would be an understatement. Hanna has long been a powerfulforce; whether sparking an entire punk feminist movement calling for "girls to the front" or putting out feminist anthems for over 25 years, Hanna is a true icon.
And in 2018, she's still doing all she can to help girls' voices be heard.
Today, Hanna has launched charity T-shirt line, Tees 4 TOGO. Partnering up with Pasadena-based non-profit Peace Sisters, the 15-piece tee collection works to raise school tuition for underprivileged girls in Dapaong, Togo, where many girls can't afford to attend school. The sale of each $40 T-shirt will send one girl to school for an entire year, thanks to the fact that 100 percent of each shirt's proceeds go to Peace Sisters.
This collaboration came into being a year ago when Hanna met Peace Sisters founder Tina Kampor at a holiday shopping event. Immediately moved by the project, Hanna raised $9,000 for the organization through a GoFundMe set up for her birthday. From there, she vowed to do all she could to continue helping. Thus, Tees 4 TOGO was born.
All 15 tees were designed by Hanna and her friends—resulting in some pretty epic art collabs. One tee features a portrait of Carrie Brownstein (of Sleater Kinney and Portlandia fame) that was illustrated by none other than Sonic Youth's Kim Gordon; another features Transparent creator Jill Soloway illustrated by artist Hannah Lucy. Needless to say, we want them all.
Photo courtesy of Tees 4 TOGO
You can start upping your T-shirt game whilst supporting girls' education today at Tees4TOGO.com. Take a closer look at each new design, below.
Kathleen Hanna illustrated by Charlotte Farmer, Jhonny Russell, Katie Edmunds, and Jess Marshall.
Kim Gordon illustrated by Steve Dore.
Kristen Schaal illustrated by Coleman Fitzgerald.
Joan Jett illustrated by Sarah Larnach.
Adam "Ad-Rock" Horovitz illustrated by Seth Bogart.
Jill Soloway illustrated by Hannah Lucy.
Carrie Brownstein illustrated by Kim Gordon.
Hari Kondabolu illustrated by Bill Thelan.
Chuck D illustrated by Adee Roberson.
Grimes illustrated by Maddy Mathews.
JD Samson illustrated by Kathleen Hanna.
Justin Vivian Bond illustrated by Greg Kozatek
W. Kamau Bell illustrated by Eric Adams.
Brontez Purnell illustrated by Janelle Hessig.