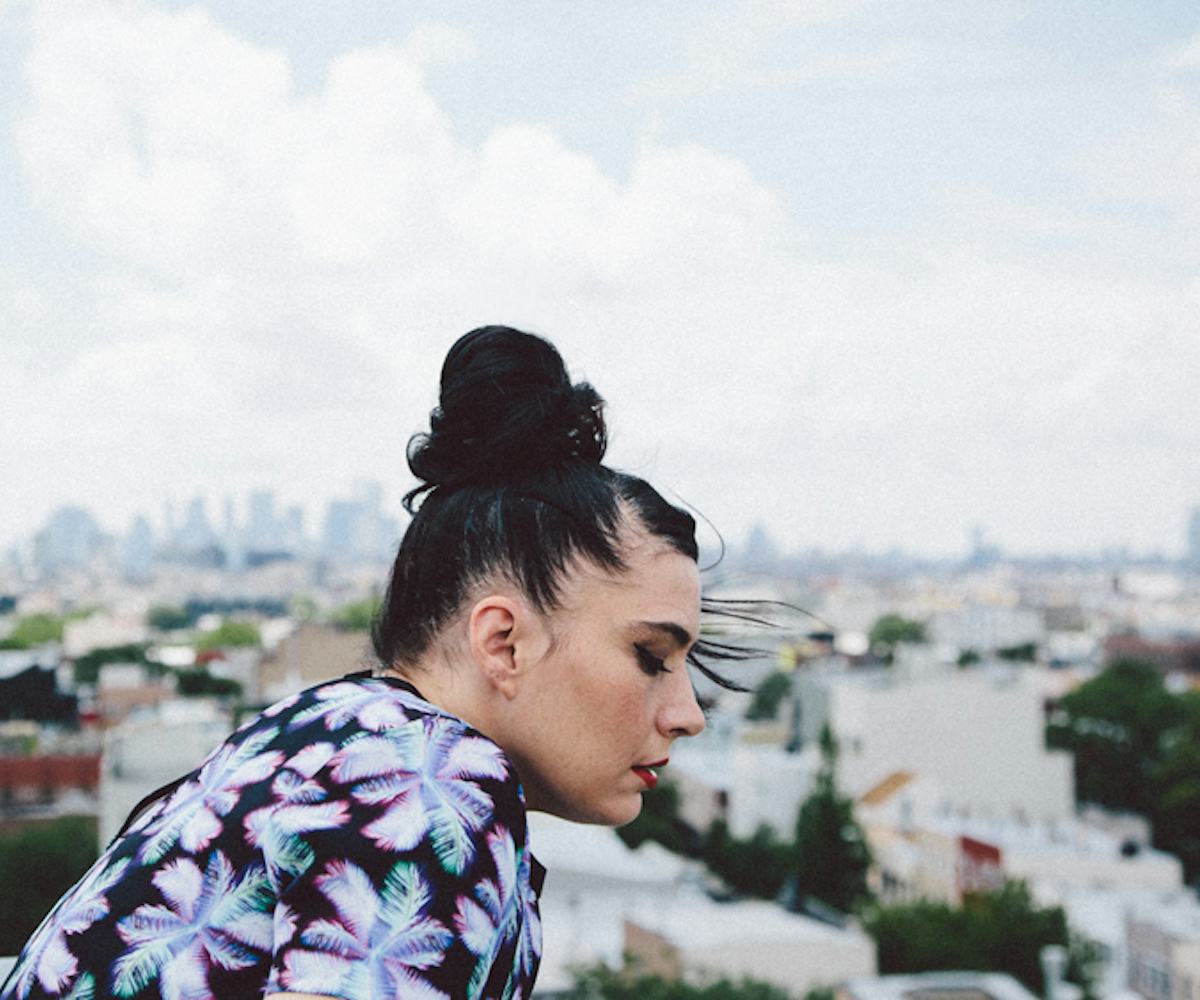 photo by shane mccauley
kathleen hanna is the ultimate riot grrrl
#tbt to our '13 interview
With the recent release of Sleater-Kinney's epic comeback album, No Cities to Love, and awesome shows like Broad City, we have been feeling the grrrl power more than ever. To celebrate these strong female icons, we're throwing it back to our September '13 issue where we spoke with Kathleen Hanna, the punk queen herself, about Julie Ruin's Run Fast album.
The rain cascades with a force strong enough to flush umbrellas out of tipsy New Yorkers' hands, but soaked, smiling fans stand patiently outside Brooklyn's Saint Vitus club on this humid June night. What's another couple of minutes when they've been waiting years for their heroine—the riot grrrl innovator/feminist icon/downtown luminary Kathleen Hanna—to return to the stage for the second-ever show with her new band, The Julie Ruin? When the first crunchy chords of "Oh Come On" hit the masses, Hanna exchanges nervous, knowing glances with her bandmates. Then she opens her mouth and blows everyone's mind. 
Anyone who's paid even a crumb of attention to the DIY scene, electropop, women's issues, or the Beastie Boys' personal lives knows the basic Hanna dossier. From 1990 to 1997, she flipped a girl-power zine into punkrock reality as frontwoman of Bikini Kill. In 1997, she put out a solo record of anxious, emotional, self-produced music under the name Julie Ruin (the current incarnation includes a "The" to indicate its evolution into a full band). From 1999 to 2004, she led feminist party band Le Tigre, then married her longtime beau, Adam "Ad-Rock" Horovitz, in 2006. From the mid-'00s on, though, without warning or explanation, she stopped getting onstage. 
Hanna, now 44, has no more reservations about discussing her absence. Leaning forward on a couch in her longtime publicists' Chelsea office, two weeks after the Saint Vitus show, she explains plainly: "I thought I was dying." 
She isn't being hyperbolic: Hanna suffers from Lyme disease and wasn't properly diagnosed until 2010, six years after the condition flared up and left her debilitated and depressed. With Le Tigre on hiatus, she still craved songwriting, and on her few well days started putting together The Julie Ruin—bassist Kathi Wilcox, who'd played alongside her in Bikini Kill; keyboardist Kenny Mellman, half the beloved drag pop-cabaret act Kiki & Herb; drummer Carmine Covelli, who'd previously done lighting and video work for Le Tigre; and Sara Landau, a guitarist Hanna met while working with the Willie Mae Rock Camp for Girls. 
"Even when I was sick, we would practice, and it was amazing to see my old self," Hanna says. "I felt like I was becoming my illness. I would look at my husband and be like, 'Do you remember who I used to be?' I could barely walk and I talked like I was drunk a lot. I had an IV in my arm for nine months." 
"Kathleen was very good at masking how sick she was," Mellman says over iced coffee in Williamsburg, Brooklyn. The two met after exchanging fan letters in the early 2000s, and Mellman's inimitable work nourished Hanna during some of her darkest days. Tough times also motivated her to get a few major archival projects underway. She donated all of her riot grrrl-era papers to New York University's library and became the subject of a documentary called The Punk Singer. 
"Part of giving my archive to NYU was saying goodbye to my filing cabinet full of shit and being like, 'That was then and this is now,'" Hanna says. "Some people might not be into the new stuff I do, but I need to move on." 
Another part of moving on was relinquishing the idea that she had to write songs for others—a feminist anthem, a queer anthem—and instead own up to her own emotions. Run Fast (out September 3 on TJR Records, the band's own label) encompasses a range of moods, from the ska-pop of "Cookie Road" (about a favorite local sweet shop) to the jittery, intense "South Coast Plaza" (about a euthanasia pact). The deliberately messy, stream-ofconsciousness "Girls Like Us" demonstrates how, in fact, "There are no girls like us, no unifying force. What makes us strong is we're all different," Hanna explains. The shoo-woppy '60s groove "Just My Kind" was one of the tracks Le Tigre offered to Christina Aguilera while writing for her album Bionic ("She rejected it," Hanna says, adding, "I was kind of psyched"). 
Musically, thematically, and operationally,the record represents The Kathleen Hanna Experience coming full circle. Ian MacKaye (who recorded the first Bikini Kill EP 20 years ago) is distributing the disc via Dischord Records. It's a mix of Bikini Kill's punky energy, Le Tigre's synth-bobby jive, and Julie Ruin's introspective honesty. It also captures the winking sensibility of the Hanna who apologizes for showing up to our interview in a face full of makeup ("I just did a photo shoot—I don't typically look like I came from goth Hooters"). 
"I want it to sound exciting," Hanna says, summing up her goal for the album. "I hope it sounds believable, because I felt it when I was doing it, and I know I will feel it onstage." At the show in Brooklyn, there was no question Hanna's long-awaited return gave the audience more than music. Mellman describes the overwhelming sense of relief in the crowd as well as backstage. "People love her," he concludes. "And we all need her back."