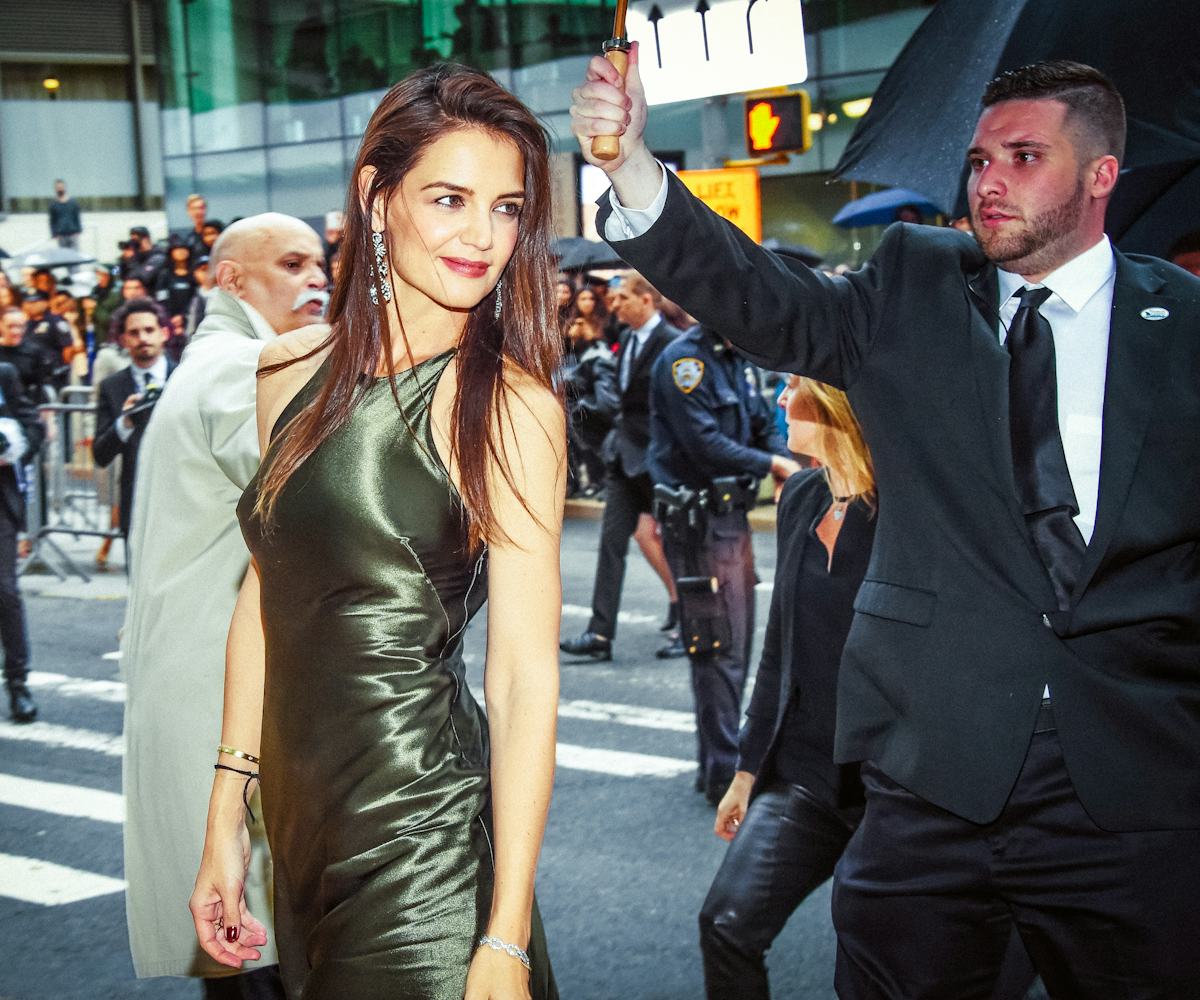 Photo Mike Coppola/Getty Images Entertainment
Katie Holmes Wants An Apology From ABC For Its Scientology Piece
mess with the bull and you get the holmes. 
On Friday, ABC's 20/20 ran segment on former Scientologist Leah Remini's experiences with theChurch tied to the actor's new tell-all book, Troublemaker: Surviving Hollywood and Scientology. While not a deep and thought-provoking look into the secretive, controversial religion in the vein of the recent documentary, Going Clear, it offered up some interesting tidbits on the organization that many call a cult—particularly regarding its most famous member, Tom Cruise, and his relationship with ex-wife Katie Holmes. 
The report featured a lot of weirdness, but offered few surprises for people who already have suspicions about Scientology.
Katie Holmes, however, was not thrilled with how ABC promoted 20/20's segment. On the network's Good Morning America early Friday, host Robin Roberts teased the report by saying, "And we're also gonna hear from Katie Holmes, the former wife of Tom Cruise, [and] what she is now saying about Leah." The claim echoed much of ABC's promotion of the Remini interview, much of which included photos of Holmes who has been very, very tight-lipped about her involvement with the religion and her relationship with Cruise both past and present. 
In truth, though, Holmes only offered 20/20 a focused, one-sentence written statement—released through representatives—relating to her complaints (a "knowledge report" in Scientology terms) made to the Church regarding Remini's behavior during her wedding to Cruise. "I regret having upset Leah in the past and wish her only the best in the future." That was it.
Now, Holmes team is venting their displeasure over ABC's Holmes-centric promotion of 20/20's supposed scoop. "The reporter seemed very overzealous," a rep told The New York Post's Page Six. "Don't use [my client] to [get] numbers on your show. Katie is 100 percent not appearing unless they magically superimposed her. They owe her an apology." 
They kind of do. As much as all of us might have strong opinions about the Church, Holmes has done nothing to deserve being used as the lynchpin in any promotional push about a report on it. Note that Holmes has no real legal recourse to sue (though that wouldn't prevent her from trying).
You can go ahead and read into that statement all you want—and we totally have—but what ABC did was pretty poor from a journalistic standpoint. We all have feelings about Holmes, Scientology, and Cruise and gobble up anything we can get on them. Still, that shouldn't prevent us from being better than this.
(Via The New York Post)