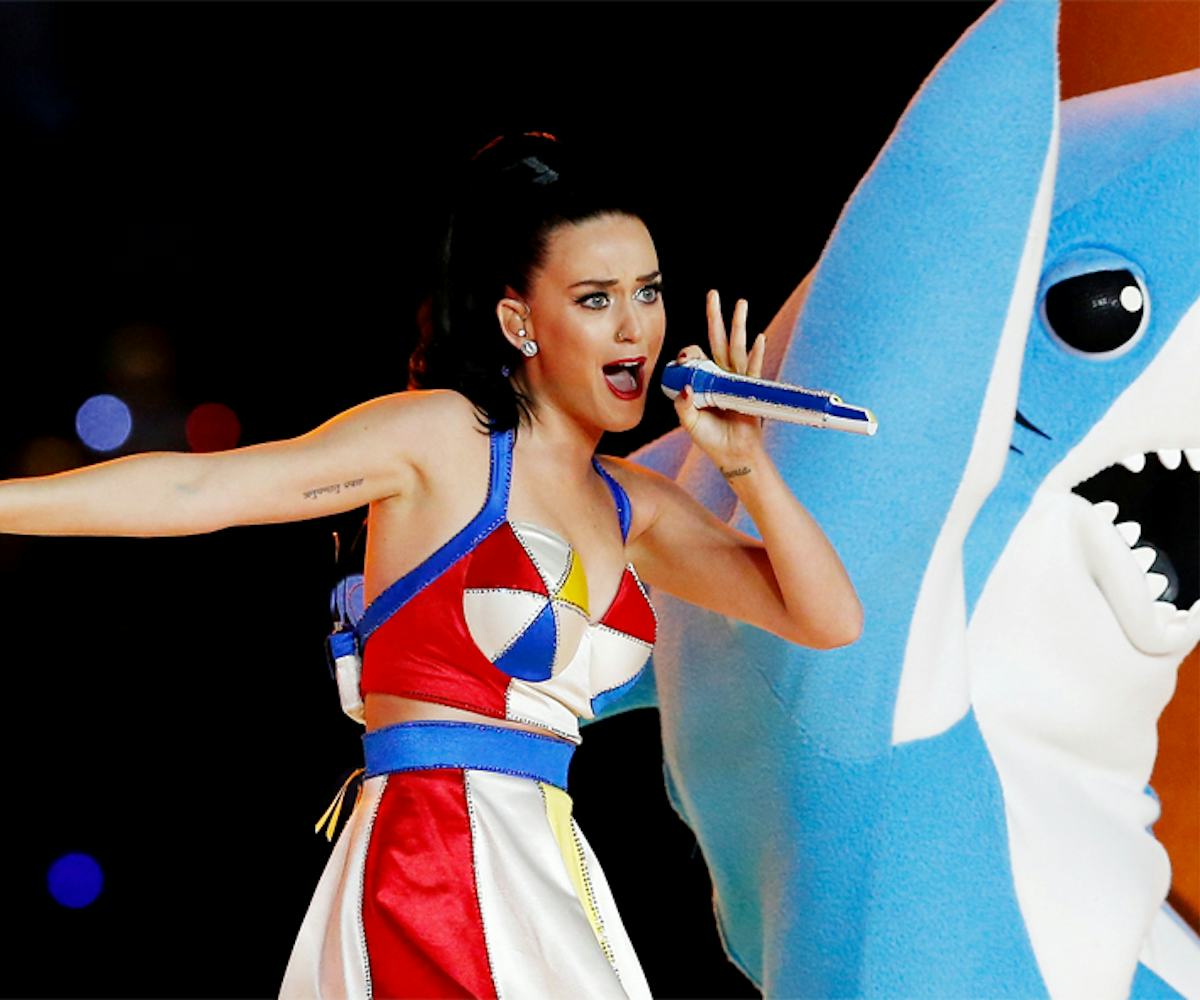 photo via getty images
how katy perry gets away with homophobia
featuring "i kissed a girl" at the super bowl halftime
Katy Perry's halftime performance—while sparkly and spectacular in its own right—left a weird taste in my mouth/soul. I just couldn't get past her duet with Lenny Kravitz: The abbreviated version of "I Kissed A Girl" was definitely not what I expected him to sing with her, but the surprise element wasn't what bothered me.
"I Kissed A Girl" came out around the same time that I started kissing girls. It became a weird theme song to my life, like background music that you can't turn off. Holding hands with my first girlfriend in public meant that someone on the street would inevitably sing it at us (in NYC, no less). And when I told some of my old friends about my new relationship, one of them joked, "Was it the taste of her cherry Chapstick?" Meanwhile, it was blasted at the queer parties we'd go to, in a semi-ironic attempt to take back a song that was so clearly aimed at invalidating our experiences. Lyrics like "It don't mean I'm in love tonight" were a sugarcoated, female version of "no homo," making a pop anthem out of the view that same-gender experimentation is cool and fine as long as you have a boyfriend who doesn't care, and as long as you don't have feelings for the other person. That would be so gay. 
Released on One of the Boys along with the similarly super-homophobic "Ur So Gay," "I Kissed A Girl" was never really categorized as an offensive thing. Katy Perry even became something of a queer icon: Somehow after actually releasing a song with the words, "I hope you hang yourself with your H&M scarf while jacking off listening to Mozart," she went on to have her songs covered on Glee, spoke publicly against Prop 8, and was honored by the Trevor Project. She gets away with an entitled, IDGAF-what-you-think brand of homophobia while also appointing herself a spokesperson for LGBTQ rights. It's like there's this pressure to laugh at her gay jokes because she insists she means well. If you take her homophobia too seriously, it's on you for being uptight: Kind of like how I wasn't allowed to be offended when men sang it to me on the street. It was just all in good fun. 
Slate staff writer Amanda Hess writes, "Katy Perry's entire persona is perfectly designed for the football audience, and it was only a matter of time before the NFL exploited her potential, and vice versa." She continues, "What this performance on TV's biggest stage, aligned with America's biggest sport, will confirm is that Perry is the singing, dancing personification of the 'Cool Girl.'" Who is the "cool girl"? As Gillian Flynn wrote in Gone Girl, she's a guys' girl: "A hot, brilliant, funny woman who adores football, poker, dirty jokes, and burping…" Add "casual homophobia" to that list and you've got Katy Perry's brand strategy, designed to attract a young female audience while winking at the football-loving guys around them. She's trying to appeal to everyone at once: Tweens, dudes who love sports, queers, feminists, misogynists… And she might be getting away with it. 
So, back to last night's halftime extravaganza, when Katy brought in Lenny Kravitz for an unlikely duet version of "I Kissed A Girl." Maybe the goal was to make the song more appropriate for the Super Bowl audience: As the New York Times concludes, it was "presumably to help the subject matter go down more easily for unprepared, unforgiving viewers." It's as if by adding a male voice to the lyrics, the already-vague bisexual (or as some call it, barsexual) themes are watered down. And to my disappointment, while they sang most of the song together, Kravitz didn't chime in to "I hope my boyfriend don't mind it," emphasizing the fact that any experimentation referenced by the lyrics is between straight women. If Lenny Kravitz had sung the words "my boyfriend" during the Super Bowl, I'd be writing a different article. 
Sure, it was only a few seconds of her 12-minute performance, but it represented everything that makes me uncomfortable about her music: With dancing sharks and fireworks, she's distracting the audience from the things she's saying, but it's getting stuck in your head nonetheless. Hey, some light homophobia during a football game is no big deal, right? Especially when the songs are so catchy. No one's going to deny that she put on a good show—and for the largest televised American spectacle of the year, obviously that's the most important thing.