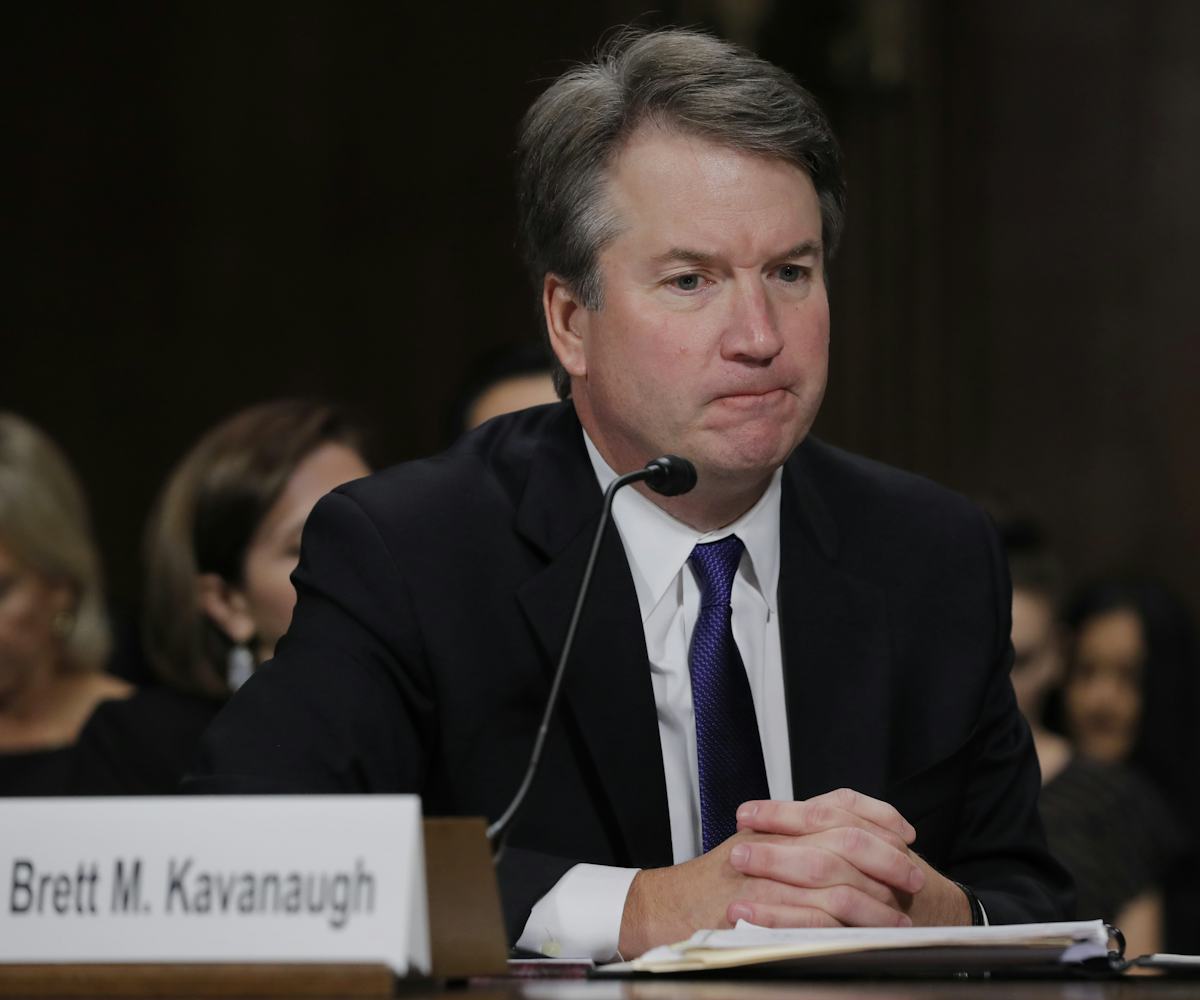 Photo by Jim Bourg-Pool/Getty Images
Brett Kavanaugh's FBI Investigation Will Be Very Limited In Scope
So Republicans can rush the confirmation
On Saturday, Donald Trump said that the FBI will have "free reign" in its investigation of the multiple sexual assault allegations against Supreme Court nominee Brett Kavanaugh. Apparently, "free reign" means a super-limited investigation. What did you expect?
Only four witnesses will be questioned on aspects of the allegations, according to two people who are familiar with the investigation's protocol. People who won't be questioned include "former classmates who have contradicted Judge Kavanaugh's congressional testimony about his drinking and partying as a student." The investigation will also likely take no longer than a week, since Republicans are hell-bent on pushing through Kavanaugh's confirmation at all costs.
Trump said in a tweet that he "want[s] them to interview whoever they deem appropriate, at their discretion," and denied an NBC News report which claimed that he was limiting the investigation and that investigators were not being allowed to examine Julie Swetnick's claims, which allege that Kavanaugh attended parties where girls were assaulted by groups of teenage boys. Once the four witnesses are questioned, the FBI will send its findings back to Trump and the White House, who will decide if further action will be taken.
Mark Judge, an alleged accomplice in both Swetnick's and Dr. Christine Blasey Ford's assault claims, will be interviewed. Other witnesses questioned will be Leland Keyser, Dr. Ford's high school friend who attended the party but wasn't informed of the assault; P.J. Smyth, who also attended the party where Dr. Ford alleges she was assaulted; and Deborah Ramirez, who claims that Kavanaugh exposed himself to her at a party while they were students together at Yale. The two people familiar with the investigation said that the FBI does not plan to question Swetnick, and her lawyer, Michael Avenatti, said on Twitter that he and his team had not heard from the bureau.
This investigation is not a criminal investigation, but rather a limited background check into Kavanaugh's past. He has vehemently denied any wrongdoing, and has actually claimed that the allegations are a "calculated and orchestrated political hit" and "revenge on behalf of the Clintons." Right.
Due to the extremely limited range of the investigation, Democrats are denouncing it as a "farce" since the White House has limited the leads that the investigators can take and the people who can be interviewed. We can't say we disagree.