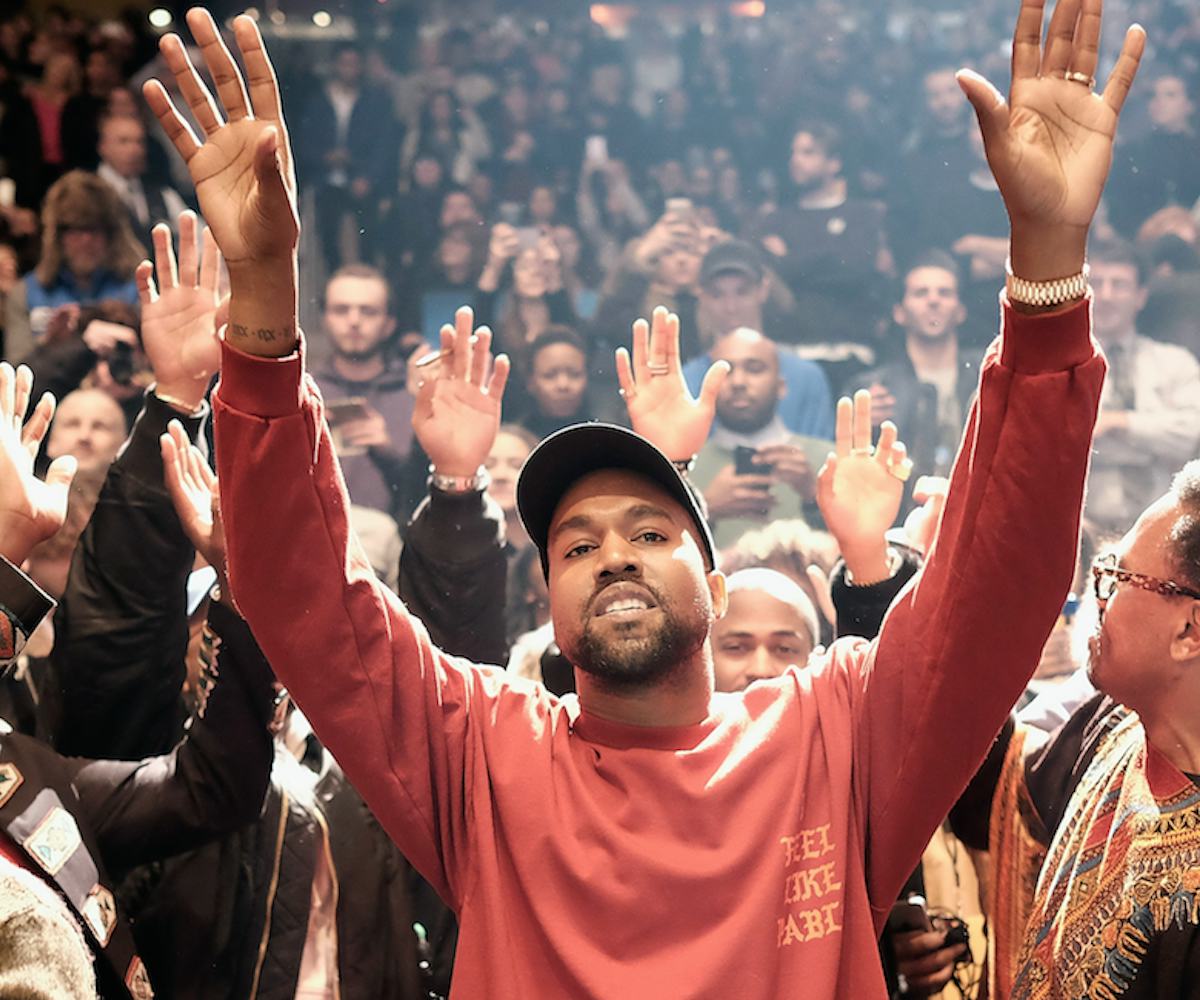 photo by Dimitrios Kambouris / getty images
Kanye West Is Back On Twitter And Wants A Neck Tattoo
After deleting his Twitter account last May, Kanye West has now returned to the social networking platform. The rapper-designer-philosopher—who was welcomed by fans, including Twitter CEO Jack Dorsey, last week—didn't hold back in his grand return and fired off a series of tweets, opening up about his creative process for his label YEEZY, dropping some philosophical gems, and sharing new font designs for a new neck tattoo he wants to get. We truly missed you, Ye.
First, West shared a photo of one of his "favorite" merch shirts from his Saint Pablo tour, which features a photo of Caitlyn Jenner.
Soon after, he shared an anecdote about Khloe Kardashian's ex-husband, Lamar Odom. He uploaded a photo of the two of them entering his 2016 Yeezy Season 3 show in New York, calling that moment his "favorite." "My favorite moment of walking into MSG to play Saint Pablo, I used to go to the hospital and play Lamar the album when he was learning to walk and talk again," he wrote, referring to the time Odom became hospitalized after being found unconscious in a Nevada brothel. "Then we walked into the arena together."
He then revealed some of his philosophical beliefs, stating that "some people have to work within the existing consciousness while some people can shift the consciousness."
He also shared a photo of a prototype of his Yeezy 350 Boost sneakers, which he showed renowned fashion professor Louis Wilson the last night he saw her, as well as a new boot design that he's been working on lately.
Most importantly, West let the world know that he wants a "Saint Pablo" neck tattoo and shared two font options, designed by a friend of his.
Back on Valentine's Day, West made his return to Instagram to post iconic photos of famous broken-up couples. And though he deleted his account the next day, we're certainly glad to see his Twitter account back in action. Let's just hope it's here to stay.