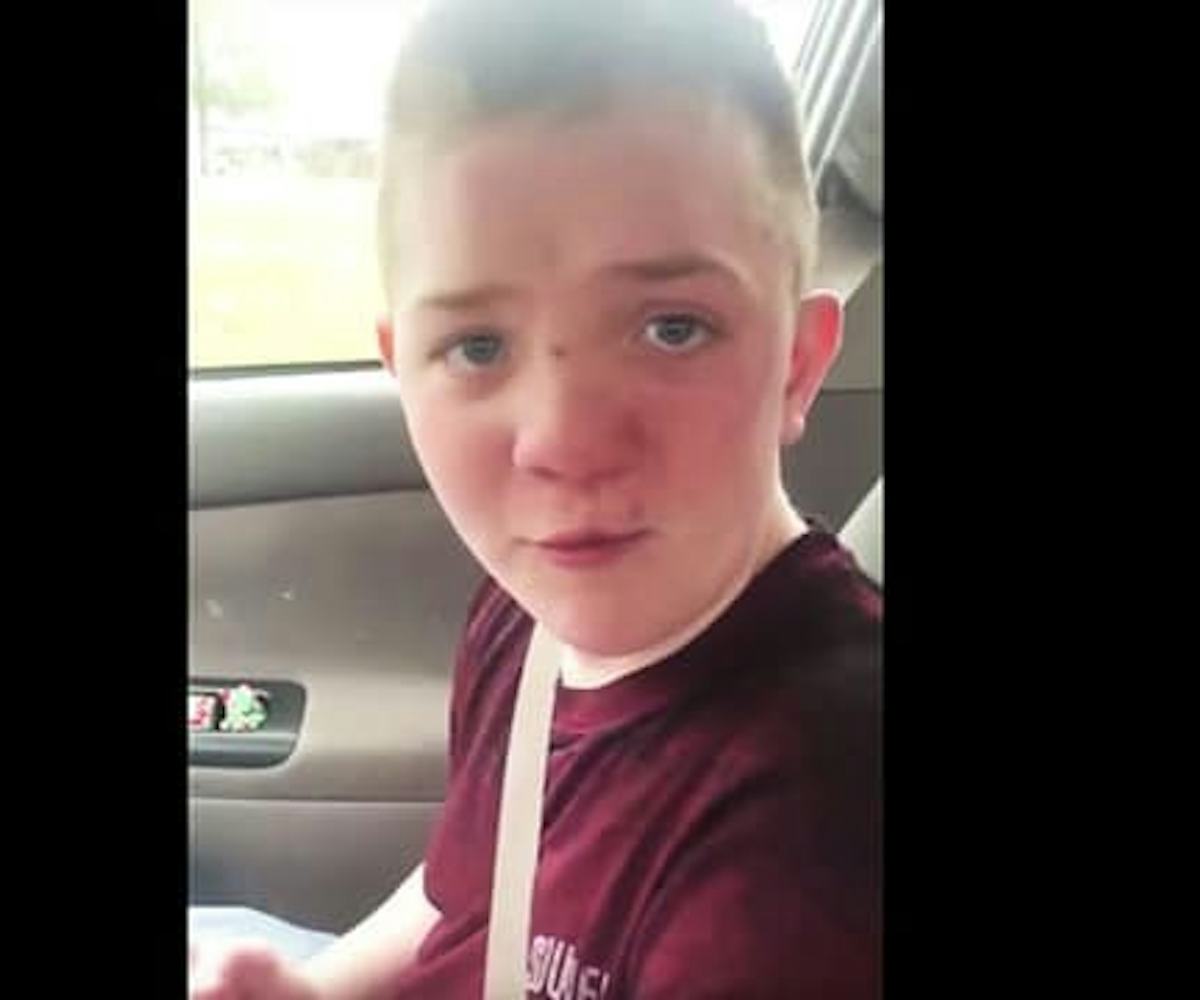 screenshot via facebook
The Bullied Kid Behind The Viral Video Might Be The Actual Bully
And his family appears to have quite the racist history
This weekend, celebrities including Millie Bobby Brown, Rihanna, Chris Evans, and others showed their support for middle schooler Keaton Jones after his mother, Kimberly, posted a tearful video of her son as he talked about being bullied at school. Since the video went viral, many stars have invited Jones to film screenings, wrestling matches, and even raised over $58,000 in a GoFundMe account to show that bullies are, as Rihanna puts, "corny!" But what started out as a moment of unity is now being met with criticism online, as reports now suggest that Jones might not have been a victim after all, and that the family has been accused of being racist bullies themselves.
Many people, including Twitter users @BLVCKMATTERS and @TeeHaitchGee, posted screenshots from Kimberly Jones' Facebook and Instagram pages, which feature images of her children, including Keaton, wielding Confederate flags and guns.
What's more, Keaton's school principal Greg Clay also responded to the viral video, stating that the bullying is "not as rampant as you would believe." He also added that while he can't detail the specifics of the incident in question, he assures that "action was taken with the children," and that the particular incident that Keaton spoke of on the video was resolved. Hmm.
One Twitter user alleges that the reason why Keaton was "bullied" was because he would "call a kid in school n***** on several different occasions. And that the kids got on Keaton's ass to make him stop." 
Additionally, and probably the most disturbing bit of the story comes from MMA fighter Joe Schilling. He took to Instagram to detail a conversation he had with Kimberly in which she refused his invite to Los Angeles for an event where Keaton could meet fighters and "be his friend." He claims that she responded by saying she "just wants money" and wanted him to share the link to her GoFundMe account since she is a "single mom" and the "holidays are coming." You can see his video here:
He also shared a screenshot of a conversation with Kimberly via Instagram direct messages, where she says, "What happened to us whites sticking together and helping one of another against the predator?" in response to him refusing to contribute to the account. 
Image via Instagram/joe_schilling
Upon discovering the evidence against the family, many people vented that while no one deserves to be bullied, it's difficult to support a family which possesses such a toxic, hate-filled mentality. 
People also began sharing various stories of kids who have been actual victims of bullying, including 10-year-old Ashawnty Davis, who committed suicide after being picked on at school. You can donate to Davis' family here.