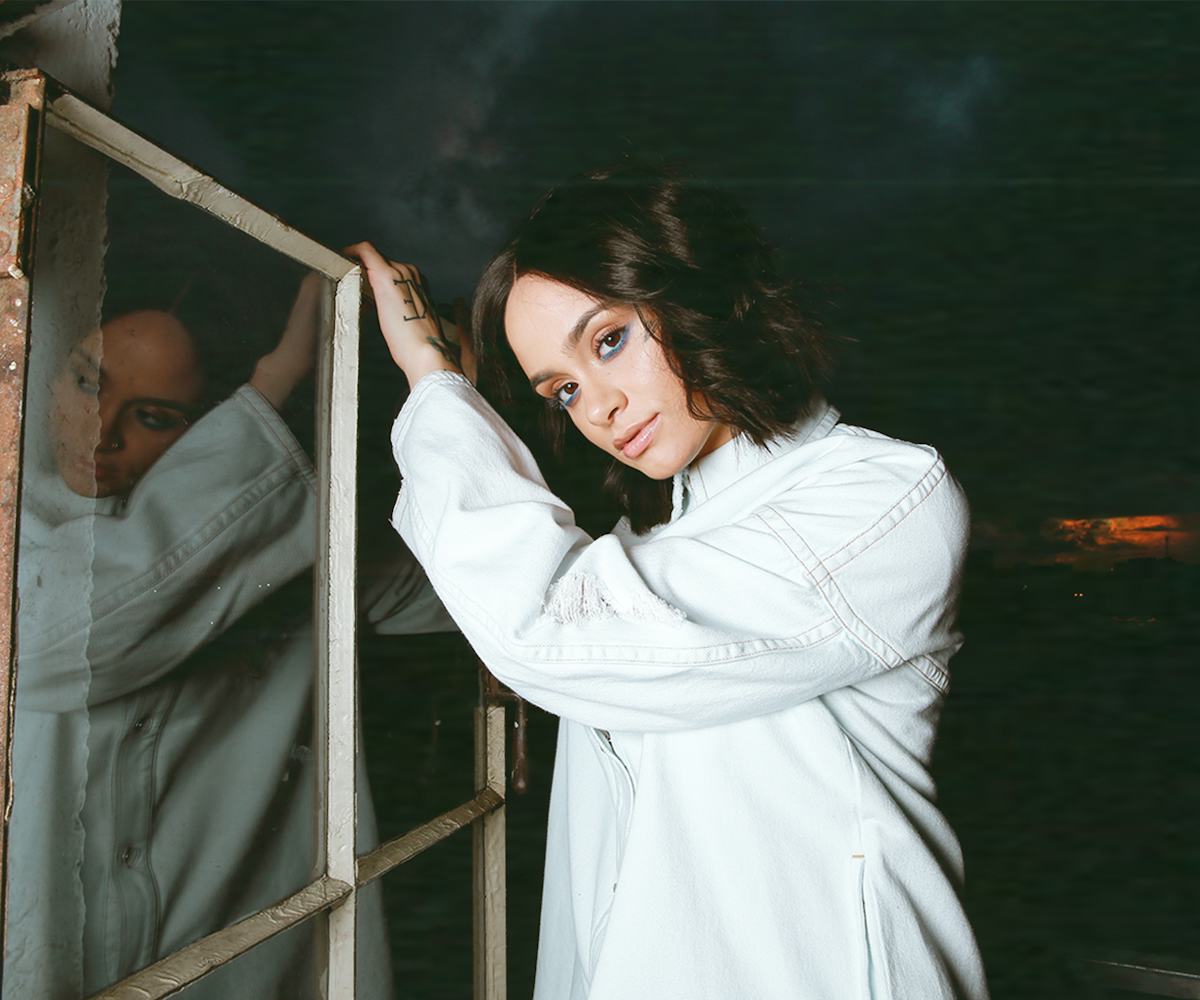 Photographed By David Camarena.
Kehlani Is Sweet, Sexy, Savage, And All Grown Up
We chat with the singer about her debut album
If we had to sum up Kehlani's new debut album in two words, they would be grown up. The singer once said the title of her last Grammy-nominated mixtape, You Should Be Here, was an homage to all of the people no longer in her life. If that's the case, SweetSexySavage is very much her self-assured 'fuck you if you're not here, I'm doing just fine without you' call-out to everyone else.
The first track is the spoken-word "Intro." It's short—less than a minute long—but it sets the mood for the rest of the album. On it, Reyna Biddy, the singer's friend and artist, says:
My condolences to anyone who's ever lost me, and to anyone who got lost in me, or to anyone who ever felt they took a loss with me. My apologies for the misunderstanding or the lack thereof, I'm sorry you missed the God in me and I'm sorry you missed the light, I'm sorry you forgot the way I arose like the moon night after night with the burden to forgive, eager to feed you everything. See, I'm a holy woman. 
That's a 'fuck you if you're not here' sentiment if we've ever heard one. SweetSexySavage is long, 19 songs in total, including two bonus ones (one of which is "Gangsta," from the Grammy-nominated Suicide Squad soundtrack). Kehlani has been counting down the release on her Instagram for at least a month now, and fans have been waiting for the album for about two years. The Oakland native said that, in the process of completing the album, she felt introduced to herself many times over and that her life took many turns.
As you might've gathered from headlines, the past couple of years haven't been the smoothest for the 21-year-old. So how did she know the album was finished, and that now was the right time to put it out? "I didn't necessarily. I'm signed to a label, so it wasn't just up to me on when it was going to come out. It was all about timing and making sure my team and their team and everybody was ready to help me move forward in the best way possible," she tells us. "And I feel like it's a good time now because of all this sad ass shit going on, and my album's happy." 
Sad shit, indeed. The two of us chatted on the phone the day of the inauguration and the vibe was noticeably somber. What Kehlani's great at, though, is weeding out the good in a sea of bad. "I'm kind of just trying to keep in mind that god has a bigger plan for all of it, and that we wouldn't be put through anything that we couldn't handle," she says. "Whatever is going to happen is supposed to happen, we just gotta deal with it the best we can, you know?"
This positive outlook is evident in her SweetSexySavage tracks, also. The album doesn't include many ballads; "Hold Me By The Heart" is the closest qualifier. For the most part, it's driven by pop-laced, upbeat tunes. One of the more sentimental tracks is "Thank You," which Kehlani says she wrote for her fans and god. The singer writes all of her songs, and she's been doing so since she started out. She tells us that "Thank You" was one of the easiest for her to create because showing appreciation comes so easily. "I'm a very grateful person, I'm the person at the end of the tour that cries, pops the champagne, and is like, 'oh my god, thank you guys so much, for everything,' she tells us. "I'm very thankful, especially to my fans for sticking by me through all my ups and downs." 
Up until this point, Kehlani's only put out mixtapes. She tells us that writing, producing, and recording-wise, the process is pretty much the same. "To me, it's still creating however you create. I think that people apply too much unnecessary weird pressure, they end up kind of ruining themselves." She tries not to give into the stresses. If she falls victim, she likes to take a break and engage in self-care rituals such as dabbiling in essential oils, aromatherapy, and smoking weed. "I've just been creating and living and taking things day by day and step by step and allowing myself to breathe and be nice to myself and not, you know, drive myself nuts, which is what I feel like a lot of people do."
With 19 tracks, it might come as a surprise that the record includes no features whatsoever; Kehlani's voice is the only one you'll hear—at least, the only one singing. Weaved throughout some of the songs are skits and voice notes from her close friends and her grandmother (she talks more in detail about that here on her Instagram). She did this to "make it less about me and more to understand the fact that this album is about being who you are… It's not just my story, it's a story for everyone."
Even though she decided to ride solo this time around (her last mixtape had guest appearances from Chance the Rapper and BJ the Chicago Kid), she says she's definitely open to collaborating in the future. Specifically, with someone who's going to push her musically. "I really want to work with Disclosure, I've been saying that for a long time," she says. "Disclosure, Ed Sheeran, or like, just some shit that I wouldn't even expect to come naturally… Something fun and more random." 
Now that her long-awaited album is officially out, going on tour is next for the singer. Some artists are iffy about the demands of touring, but Kehlani says she's all for it. "I love the road, I love that shit. I like being gone… I feel like I'm lost." She's most looking forward to "not knowing where I'm at when I wake up," but first, she's looking forward to drinking some wine and popping in somebody's swimming pool to celebrate the release. "I'm ready to like, get drunk as fuck with my friends," she says. Fittingly, SweetSexySavage would be the perfect soundtrack to do just that.