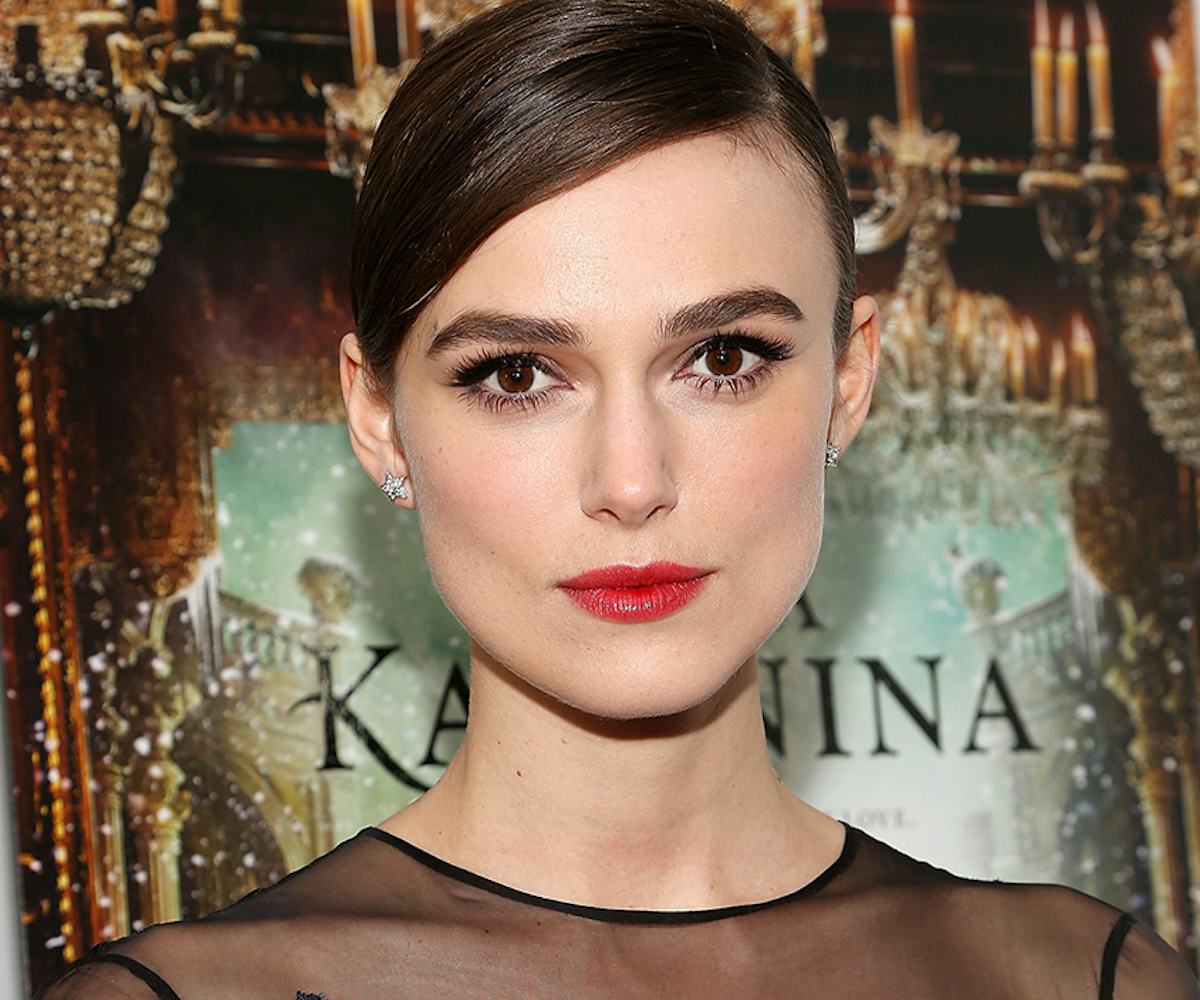 all photos by getty images
shop it like knightley
15 ways to dress like the actress on her birthday.
Is there anyone who has mastered the art of posh, English, elegant style like Keira Knightley? (Don't say Posh Spice! We all know she has her own sub-genre of personal style, known simply as "The Beckham.")
With her penchants for prim dresses, long sleeves, and Chanel, Knightley looks like a lady 24/7, but still keeps up the cool factor with looks from artsy brands like Erdem, Mary Katrantzou, and Miu Miu. And since today is her birthday (HBD, KK!), we thought it would be just the time for a how-to lesson in copping Knightley's graceful style. 
Just check out all of Knightley's sartorial hits in the slideshow where you'll find everything you need to recreate the looks yourself. 
Let's face it, LBDs can be a little boring. But we're all about Knightley's Chanel pumps with bow ankle straps that add a little kitsch to her monotone look.
TRY: Saint Laurent Bow Pumps -- $685
Even in jeans and a sweater, Knightley looks majorly cool. We're blaming that on the perfect pea coat.
TRY: Rag & Bone Pea Coat -- $447.50
Yes, we have been obsessed with this Chanel number since Knightley wore it to her wedding. 
TRY: Alice by Alice Temperley Lace Dress -- $840
"Oh this?! It's just my Mary Katrantzou printed cocktail dress blowing in the wind. NBD"
TRY: Mary Katrantzou Dress -- $2,975
And we've just found our new spring uniform: It's this outfit.
TRY: Richard Nicoll Grey and Blue Sweater -- $261
Yeah, we'd be pretty happy too if we were wearing that floral dress and platform Mary Janes.
TRY: For Love and Lemons Maxi Dress -- $268
The words "mint green maxi dress" definitely sound a little scary when strung together, but on Knightley they look unbelievably cool.
TRY: Pixie Market Mint Maxi Dress -- $168
So not only was this the bob that launched a thousand snips, but this tea-hued lace dress definitely fueled us to go hunting for a similar vintage one--AKA how we spent 2011.
TRY: Lover Pyramid Midi Dress -- $198
The ultimate summer dress. If only we had one in every color.
TRY: Nasty Gal Summer Nights Dress -- $58
Sorry, Carey Mulligan, you're being overshadowed by this epic skirt.
TRY: Risto Kick Pleat Skirt -- $455
Fact: There is no outfit we've ever wanted more than this one.
TRY: Miu Miu Cat-Print Heels -- $675
Party on the top and bottom, chic in the middle.
TRY: London Times Dress -- $99
Reverse layering never looked so right.
TRY: The Reformation Annette Jumper -- $158
Nobody rocks a headband like Knightley.
TRY: Nasty Gal Crystal Headband -- $12
The crop top that defined 2003.