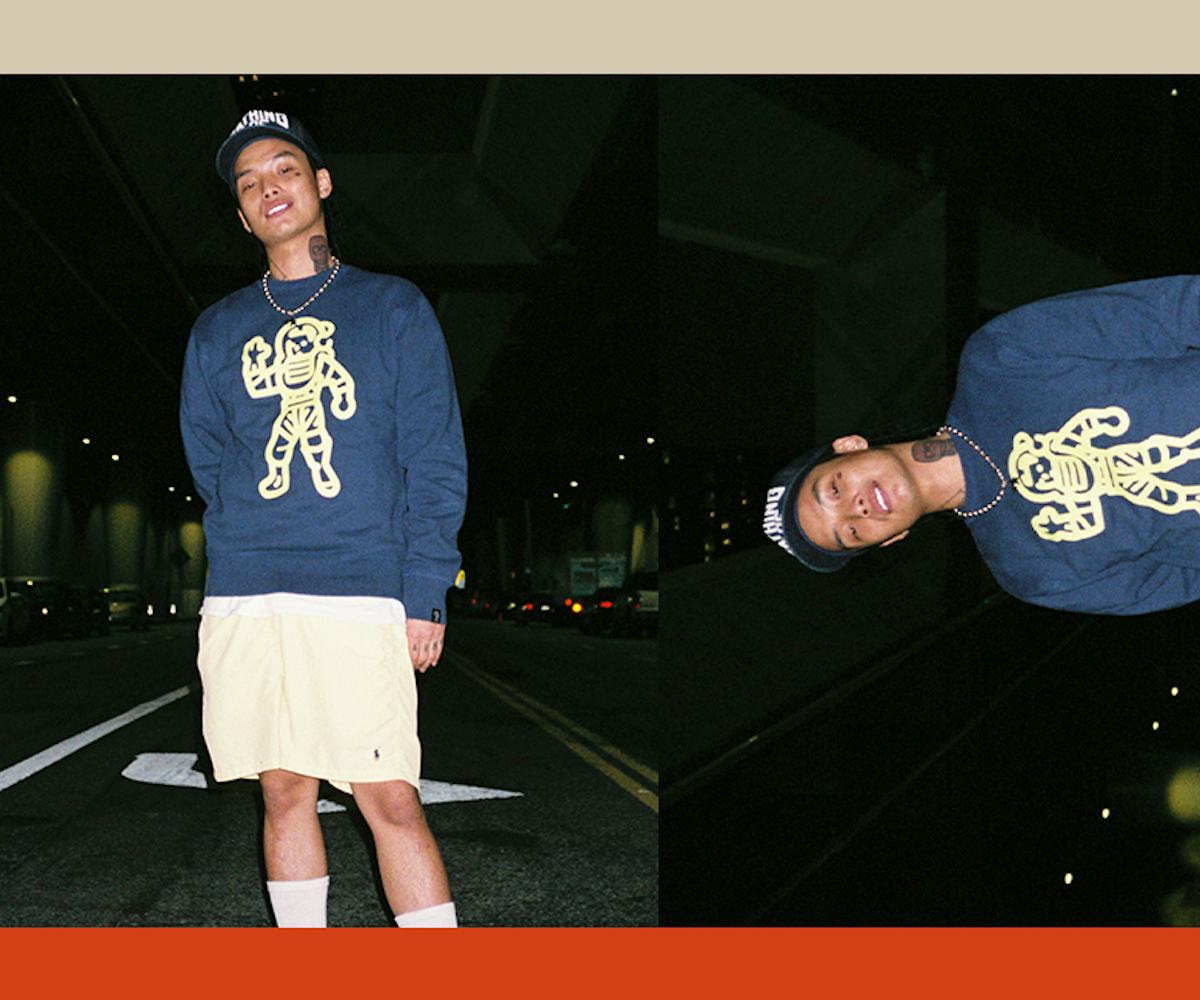 Photo by Nigel Powers
Keith Ape's On A Quest To Never Be Forgotten
The MC who helped bring Asian hip-hop to the masses is making his play for longevity
Barely a second passes on the opening track to Keith Ape's new EP, Born Again, before his voice is heard, spitting rapid-fire bars while the song's 808 bass seeps through the mix like fast-acting poison. Not only does the South Korean MC (born Dongheon Lee) sound in mid-project form from the get-go, but it's easy to see that he's spent the better part of two years sharpening his skill set and watching the impact of his early work spread like that booming bass on "My Wrist Clearer Than Water!"
While some may scoff at the title of the new project, given that Ape has only been in the mainstream consciousness for a relatively short time and barely has a full-length project's worth of music available to hear, the sentiment sums up the three years since the rapid ascent of "It G Ma," a length of time that in many cases wound up being the full shelf life of some of Ape's peers.
"It G Ma" and its remix have racked up more than 72 million combined YouTube streams. The latter, which features rappers Waka Flocka Flame, A$AP Ferg, Dumbfoundead, and Father, has picked up another 29 million plays on Spotify. With the way the video saturated the internet, it would have been easy for Ape to lean on social media to push his brand, but the 24-year-old MC instead opted to dial back.
"'It G Ma' blew up in large part on social media, [but] my main thing is being a musician, and I appreciate how SNS blew up 'It G Ma' and my other songs, but being hot on social media came with things that I didn't expect or sign up for," Ape explained. "It would be a lie if I said there aren't any other reasons, but one of the main reasons is to graduate from being a 'social media musician,' and be looked at more as just a 'musician.'"
Ape has been vocal about having a more serious agenda than just crafting party anthems since he initially burst onto the scene.
"'It G Ma' is not necessarily a rap about struggle, but it's definitely using the method of a turn-up to appeal to people who are antisocial, people not accepted in what's considered mainstream, people who feel alone and disconnected," he said to the New York Timesin 2015.
Born Again will be Ape's first solo release and the culmination of years spent both watching the ripple effect of his emergence and also prioritizing personal and musical growth. After "It G Ma" hit, Ape relocated to L.A. He also joined 88rising, the label and creative collective that has helped popularize Asian rappers like Rich Brian and Higher Brothers.
"There's definitely a big part where I had to transition from Korea to America, settling down here. It's a big process, and it takes a lot of time and adjusting. But also, I didn't want to sound corny or cliché, but I wanted to take proper steps of being a musician. I kind of blew up off of one song, and after that song, I moved to America, so I was on a bigger stage where I realized how I wasn't as ready as I was known for personally," he said. "I needed time to perfect my craft, refine my craft, and get ready."
There isn't a track with the immediate hit potential of "It G Ma," but Born Again is a front-to-back solid project that differentiates Ape from the flock of trap-adjacent MCs, establishing him as someone seeking his own formula. He dubs his new sonic direction "Ape sound." The EP is more intricate, the production a mix of textured, cloudy synths that echo the work of producers like Pi'erre Bourne and precise percussion that pierces through that airy layer.
Ape is more confident than ever rapping in English, spitting lengthy passages in his non-native language on "The Ice Ape" and "Ninja Turtle." He doesn't quite have the same natural machine gun cadence as he does in Korean, but Ape pushes the words out to create their own kind of percussive rhythm atop the actual drums. When he spits, "And my wrist color same as pineapple Fanta" on "Opium War," you quickly realize that you're nodding along to that cadence, not the rest of the track.
Ape doesn't offer a concrete answer when asked whether he sees himself rapping more in English or Korean as his career progresses, noting that it's "too early" to make such a distinction. For a viral rapper who blew up with a trap song as jagged and unhinged as anything cooked up in Atlanta or South Florida, everything about Ape in the past few years is exceptionally measured. That is, besides his stage performance.
When I caught Ape performing as part of 88rising's Double Happiness tour, it was absolutely kinetic. Bathed in light as red as an equalizer trying to measure the venue's volume, Ape was a consummate rap villain. Skulking around the stage and unleashing his bars in shouts and howls to the delight of the sold-out crowd. Unfortunately, Ape didn't get to fully revel in the moment due to some sound issues, but he expresses a sense of awe at the crowd response.
"I feel like one of my bucket list items has been checked," Ape said. "Coming out here in America, fans rapping along to my Korean lyrics, it's a Korean rapper's dream come true."
Within the 88rising crew, Ape may not have as much crossover appeal as Joji, Rich Brian, or the Higher Brothers, but his ferocity and commitment to honing his craft could earn him a kind of secret weapon status. Much like one of his American idols, Chief Keef, who guests on "The Ice Ape," Keith may establish a lane for himself as a progenitor who flirts with the mainstream while retaining a core, cultish audience. Ape performed as part of 88rising's inaugural Head in the Clouds festival in Los Angeles, and he'll have plenty more opportunities to live his dream in front of colossal, infatuated American crowds.
But like any great or aspiring great MC, Ape already has his eyes to the horizon. When asked how he defines success for Born Again, he says he simply wants it to satisfy people enough that they can hold out for his next project.