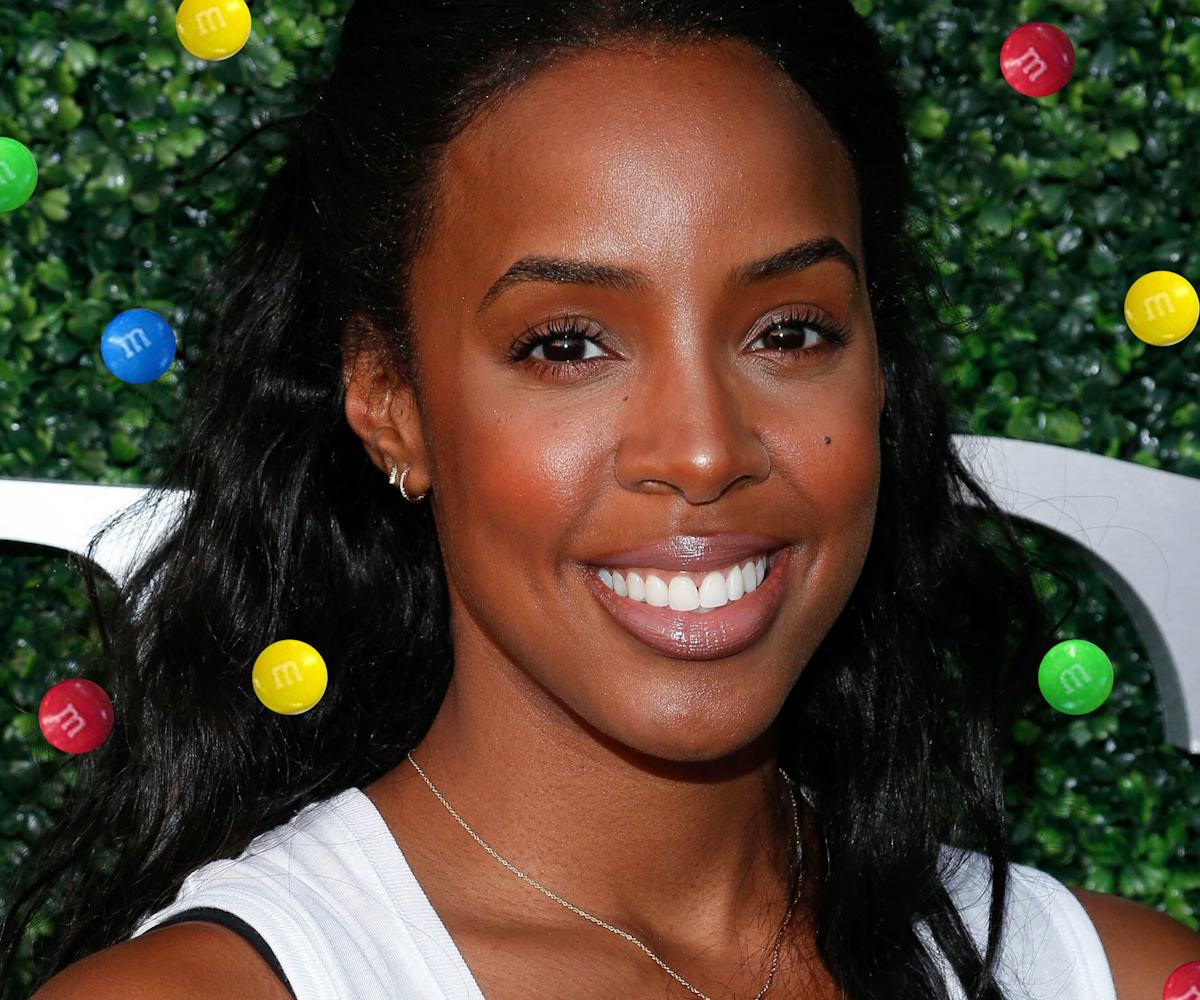 Photo by Rob Kim/Getty Images
Kelly Rowland's Love For M&M's Runs Deep
she's partnering with m&m's to give back to newark, nj
From embarking on a solo career to judging X Factor to acting in some of our favorite movies and TV shows, to say that Kelly Rowland has come a long way from being a member of Destiny's Child would be a vast understatement. And with her track "Dumb," which dropped last night with absolutely no promo, she's not stopping anytime soon. Rowland's talents aren't reserved for performing, either; the philanthropist is teaming up with M&M's to hand out costumes to 15,000 children in Newark, NJ tomorrow.
Here, we chat with Rowland about upcoming music, Lee Daniels casually casting her during a SoulCycle class, and, of course, her love for M&M's and Halloween.
You dropped a surprise track last night, "Dumb." What made you decide to release a song with no promo?
I literally I haven't had any music out in almost two years, I hate to say. And that's because, of course, I had my son. I just really just wanted to wet the palate a little bit. It's not necessarily a single, but I just wanted to let my fans know, "Look guys, I'm working!"
You definitely are! Did you write the track?
It's actually a collaboration between myself and this amazing writer named Mika Means. So, I'm just having a good time in the studio, as you can hear.
So does that mean we can expect an album soon?
Of course! The record is almost done. I'm taking a lot of time with this one, just because I feel like so much has happened in my life and I want to talk about it all. That actually makes it really hard to condense, but it's coming along great. I can't wait for all of my fans to hear the new music.
Moving on to Empire, you've been getting a lot of press for your portrayal of Leah, Lucious Lyons' troubled mother. How did you get into the mindset of that kind of character?
I have a great acting coach, and when I was able to get centered, be focused, and gather myself for the role, it happened on its own. But I just think that Leah is such a interesting character, and I just wanted to play her correctly. So, I'm just happy that it's coming off well.
How did Lee Daniels approach you about joining the show?
We were literally in a SoulCycle class, and he looked at me from across the room and he's like, "I know who you are! I know who you are!" And I was like, What is he talking about? He was trying to mouth to me who he wanted me to be on the show, and I didn't understand. But basically, he talked to me about Leah, and being Lucious' mom and everything.
That's hilarious. So, your cover of "Mona Lisa" from Empire was recently released as a single. Will we see more music from you on the soundtrack?
No, this one was the one that they were really adamant about me doing, and I was like, "Absolutely, I love this song." It's one of the most beautiful songs ever written to me, and I was just happy I was able to do it.
Will we see you returning to maybe the silver screen, perhaps? Any movies in the works, by chance?
I'm definitely going up for different roles and auditions, spending so much time in L.A. But, yeah, absolutely.
So, Halloween is coming up, and you'll be celebrating with M&M's. What do you have planned with them?
This year, I'm working with M&M's to help make Halloween just easier and more fun for the entire city of Newark, NJ. I don't know if you know, but that's where M&Ms were first created. They're basically gonna have this huge family fun zone. They're giving out Halloween costumes and free candy. That's actually tomorrow, and you know it's gonna be a fun time.
How did you initially get involved with the company?
I've been an M&Ms fan for a long time. As a matter of fact, last year I was supposed to be the very sexy green M&M. But the partnership really just came about, and I'm just happy that we started it.
What are you most looking forward to about the event?
Happiness and smiles. I think that's what Halloween is all about. It's all about fun. It's all about celebration.
What other plans do you have for Halloween this year?
I literally am coming in at the last minute to celebrate Halloween with my son. We're probably gonna go trick-or-treating, of course. I got him a cute little outfit. I'm gonna be Minnie Mouse and my son is gonna be a skunk, so I think we are kinda going like with a Bambi Disney theme.
It seems like Halloween is one of your favorite holidays.
It is! One of my fondest Halloween memories was when my mom and I first moved to Houston. I dressed up as a cowgirl since it was my first couple days in Texas, and I was just excited. It felt like a celebration to me. And it felt like there were more, so many other families that celebrated it, too. It made it really cool.
I have to ask: What's your favorite Halloween candy?
Okay, no lie, you know what made me survive on my flight back to New York last night? Me and my best friends LaLa and Angie and I were sitting up there actually chowing down on peanut butter and chocolate M&M's. And it's so funny, I'm having this partnership with M&M's now because it truly is my favorite candy.
So it really is a genuine partnership. A true love.
It is a genuine partnership.