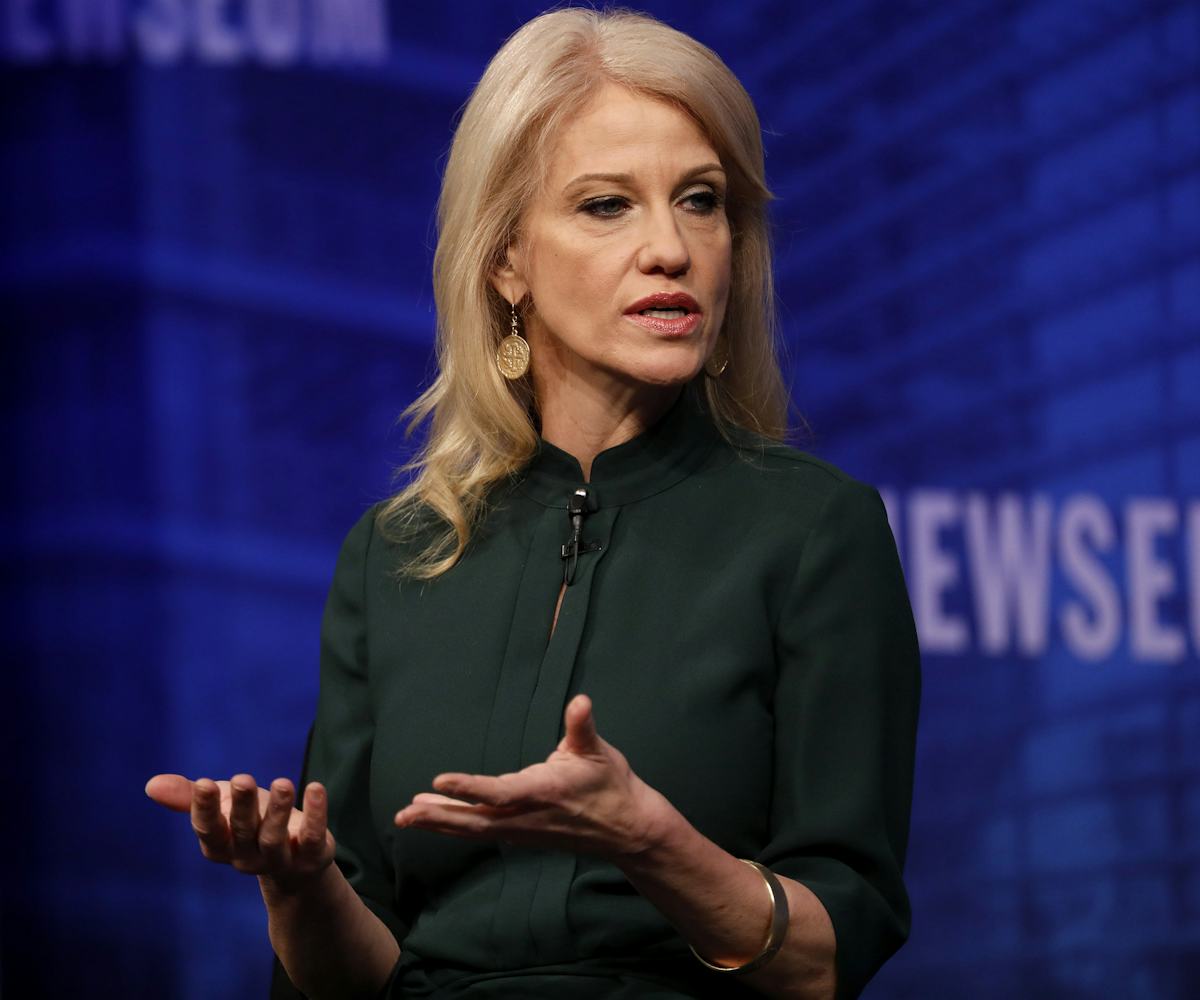 (Photo by Aaron P. Bernstein/Getty Images
Kellyanne Conway Suggests Pittsburgh Massacre Was "Anti-Religious," Not Anti-Semitic
It was clearly anti-Semitic
Kellyanne Conway suggested that the anti-Semitic massacre that killed 11 people in a Pittsburgh synagogue this weekend was not anti-Semitic, but rather a show of "anti-religiosity," and compared the shooting to comedians "making fun of people who express religion."
In an interview on Fox News (because where else?), Conway attempted to replace the term "anti-Semitic" with "anti-religious," suggesting that comedians making jokes about religion is comparable to a massacre. "The anti-religiosity in this country that is somehow in vogue and funny to make fun of anybody of faith, to constantly be making fun of people who express religion, the late-night comedians, the unfunny people on TV shows—it's always anti-religious," she said. To be clear, the gunman responsible for this act of terror screamed, "All Jews must die!" when he opened fire, which is expressly anti-Semitic, and not against religion as a whole.
Conway then tried to prove her point by pointing to the massacre that happened in a Charleston, South Carolina Black Methodist church in 2015. "These people [in Pittsburgh] were gunned down in their place of worship, as were the people in South Carolina several years ago," she said. She seems to have conveniently forgotten that Dylann Roof, the shooter who killed nine people in Charleston, was a white supremacist who opened fire at the church because the worshipers were black—not because they were religious. Roof himself went to a Christian church before the attack.
It's clear that Conway's problem is with the treatment of Christians, the religious group that makes up 91 percent of Congress, and not discrimination based on religion as a whole. She is in no way concerned with the discrimination toward Muslim Americans that has increased due to Trump's xenophobia. And Trump himself had to be persuaded into denouncing anti-Semitism, so it's quite obvious that the problem is not this broad anti-religiosity that Conway claims hurt her feelings, but rather a more dangerous and overt form of oppression that does not target her.
And let's not forget: being mocked for your religious views is in no way comparable to being killed for them.