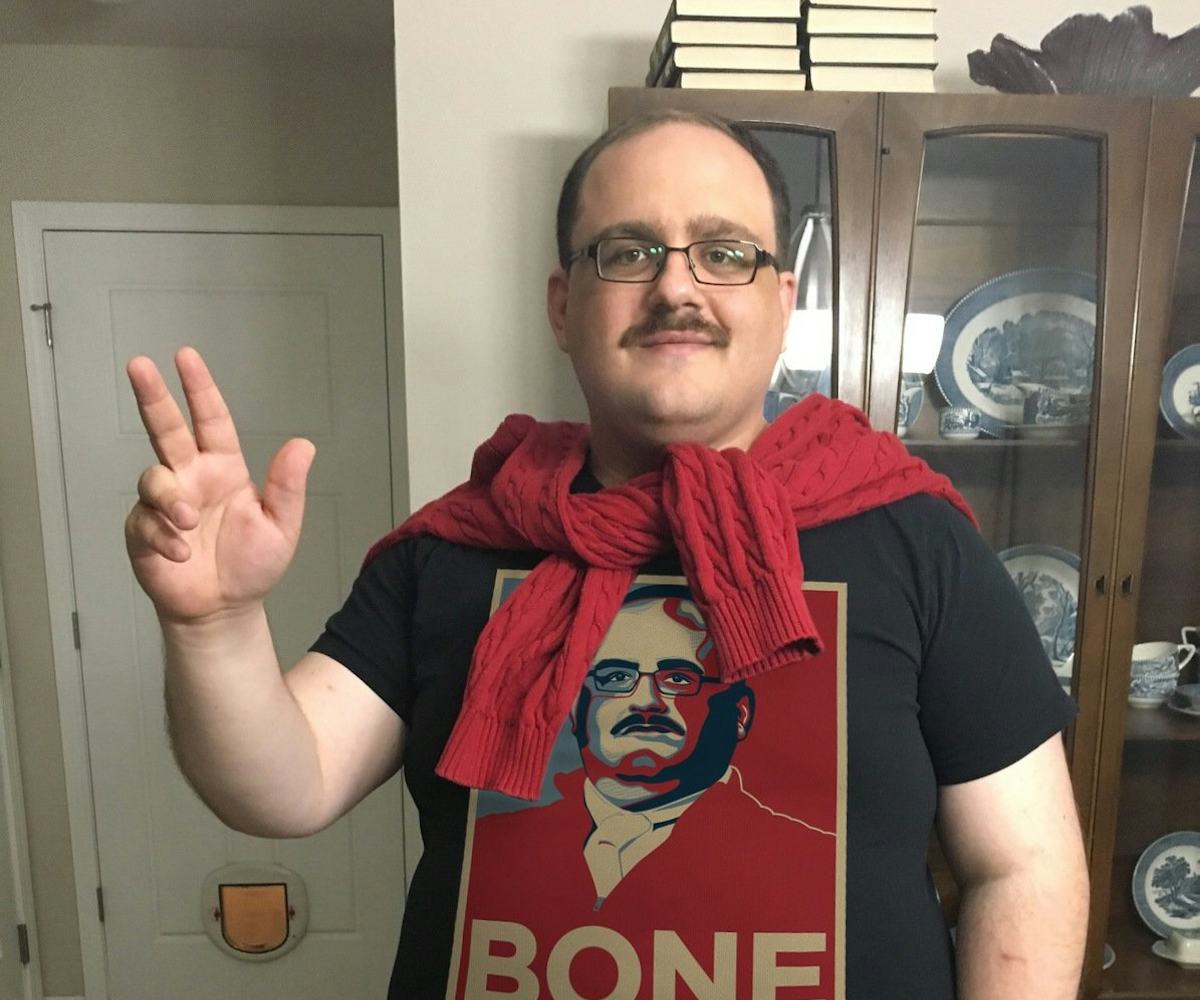 Photo courtesy of Ken Bone
Ken Bone Loves Radiohead And Other (Troubling) Things We Learned From His Reddit AMA
Ken Bone's miracle week continued Thursday when he hosted a Reddit AMA that drew the type of fanfare usually reserved for the world's biggest stars. Dubbed the "Bone Zone," the Q&A presented a chance for Bone's many acolytes to learn more about the red sweater-donning St. Louis native, who became an internet phenomenon after asking a question about energy policy during last Sunday's presidential debate. 
In fact, Bone has become such a sensation that he landed an Uber endorsement and a T-shirt campaign in less than a week.
"Hello Reddit, I'm just a normal guy, who spends his free time with his hot wife and cat in St. Louis," Bone wrote at the start of Thursday's AMA. "I didn't see any of this coming, it's been a crazy week. I want to make something good come out of this moment, so I'm donating a portion of the proceeds from my Represent T-Shirt campaign to the St. Patrick Center raising money to fight homelessness in St. Louis."
So the first thing we learned is that Bone is charitable. Other things gleaned from Thursday's Q&A? Bone is a huge fan of Radiohead, because "nobody blends genres like Thom Yorke and the boys."
He also might have a new friend in Snoop Dogg, who popped into the session to invite Bone to "da doggy den 4 a little chit chat." Bone, never one to turn down an invitation, jumped at the chance to hang out with Snoop. "I'm in L.A. late next week, maybe we can hook up," Bone said. "Big fan here. My dad wants to roll wit da Dogg big time, you me and him could do some tight stuff," before adding, "That didn't sound cool at all, did it?" 
That's pretty much where the fun ended, though. Bone logged in to the AMA using his personal account, whose shady history was pretty quickly revealed. Among the things Bone discussed in the past was his felony insurance fraud, how his vasectomy has enhanced his sex life, and, easily most troubling of all, his belief that Trayvon Martin's shooting was justified. "Bad guy legally kills kid in self defense. Sucks for everybody," Bone wrote at the time while adding that George Zimmerman seems like a "big ole shit bird."
So what's the lesson here? Never judge a book by its sweater. And that maybe the kind of person who is still "undecided" in this election, isn't such a great person to make into an internet hero. Check out the rest of his Reddit AMA
.