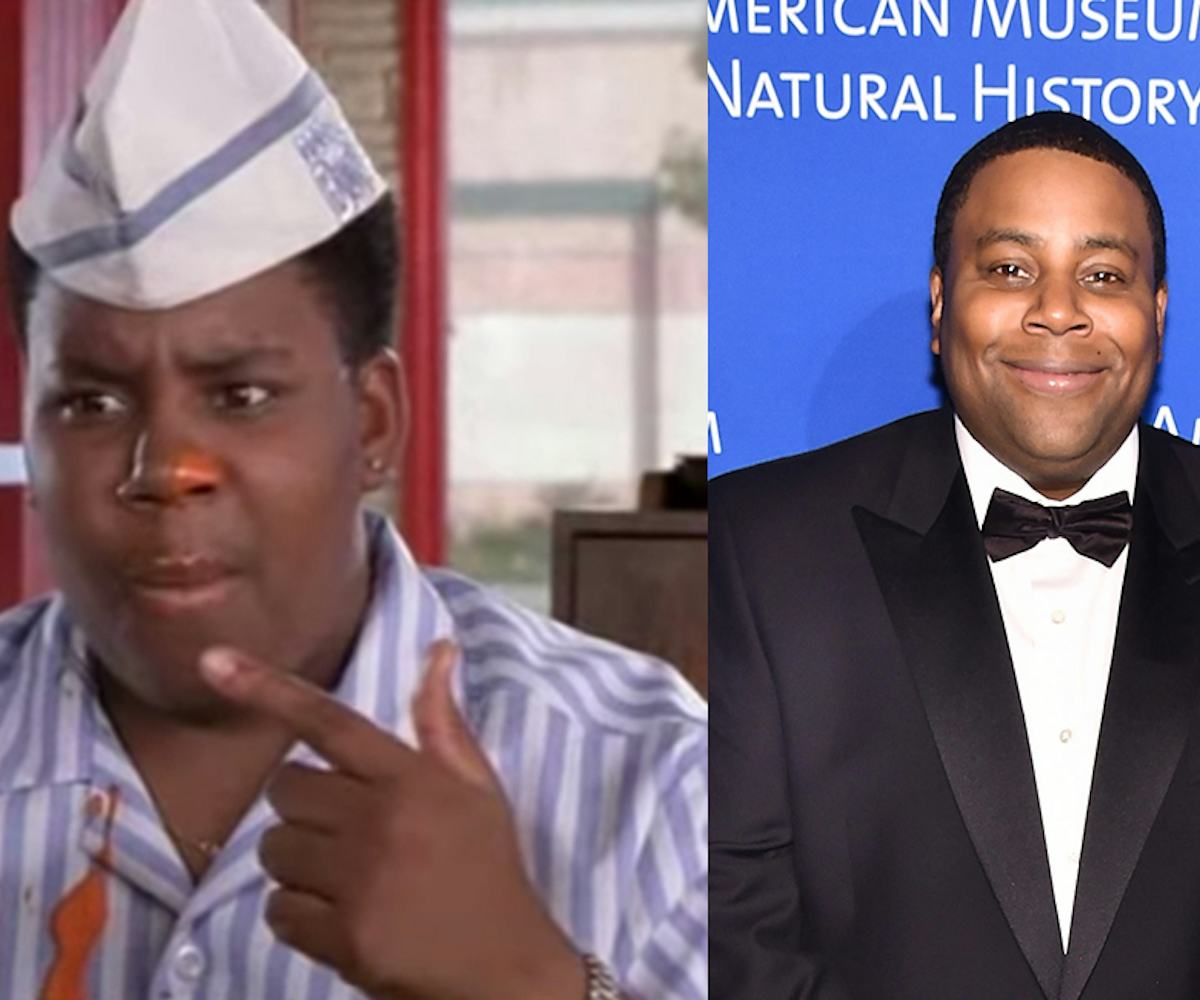 Photo via Nickelodeon; Photo by Michael Loccisano / Getty Images
Kenan Thompson Confirms He Will Be Back On 'SNL' And Talks About The Anniversary Of 'Good Burger'
Today is a special day: What is arguably (very arguably) the greatest kids movie of all time turns 20 years old today. That's right, on July 25, 1997, Good Burger hit theaters, quickly becoming a '90s comedy favorite among millennial kids. 
But Good Burger is much more than just a movie for children. The old-school Nickelodeon movie about employees at a scrappy fast food joint taking on a big, bad burger chain was quotable, lovable, and—perhaps most significantly—helped establish Kenan Thompson as the comedy superstar he is today.
Originating from a popular sketch on the Nickelodeon show All That, Good Burger was the first feature film for Thomspon and his All That co-star Kel Mitchell, but it wasn't Thompson's first break into movies—at just 15, he had starred in D2: The Mighty Ducks in 1994, the same year he became a cast member on All That.
Now, as a current cast member on Saturday Night Live, a job he's had for the past 15 years, Thompson is also loved by the massive SNL fan base. He's also one of the few former child actors who is both a nostalgic icon from years past and a relevant cultural figure of the moment. Not to mention, Thompson's now-confirmed return to SNL this year makes him the longest running cast member of all time.
Ahead, we speak with Thompson about the Good Burger anniversary, his 15th season on SNL, and his childhood performances that now make him cringe.
It's the 20th anniversary of the release of Good Burger. Why do you think the movie has been so loved for 20 years?
There's lots of love and lots of fun in the movie. And everybody loves cheeseburgers. [Laughs] No, I couldn't tell you, honestly. It's just a fun-loving, feel-good movie. We had so much fun making it, and that comes across on the screen. It's one of those movies that you can watch over and over again, like Groundhog Day.
Are there movies from your childhood that you're especially nostalgic about?
Oh, for sure. I had to watch Trading Places every Christmas or I'd feel incomplete.
You've been on screen since you were a kid. What's it like to go back now and watch yourself in those movies and TV shows you made as a child?
It's cute. Looking at my level of experience at the time is a little cringe-worthy for me. But it's cute for me to watch myself figuring things out and learning how to get laughs. It's a good time.
You and Kel had such great onscreen chemistry. Why do you think the two of you worked so well together as comedy partners?
We're great friends, and we enjoy each other's company. We like making each other laugh. He used to make me laugh so ridiculously hard. Also, we had a lot of family around us, in terms of our Nickelodeon family. We were just very comfortable. Kel and I were super close—and still are.
How did the concept of the Good Burger movie come about? I know it began as a sketch on All That.
Yeah, it was a sketch on All That with Kel. It was pretty much the show's most popular sketch.
Was the movie always going to be a Kenan and Kel concept?
In the beginning, it was about making the sketch into a movie. That was Kel's sketch. I had my fingers crossed that they would figure out a role for me in it. I was lucky enough to get put in the movie.
How does it feel to think that it's been 20 years since Good Burger came out?
It makes me feel super old. [Laughs] I can't believe I'm saying that it's been 20 years since anything in my life. But I've also been out of high school that long. I'm a grown-up with a child and everything.
Do you know if you're going back to Saturday Night Live again next year?
Yeah.
You are going back?
Yeah. I always plan on going back there, in my mind.
Saturday Night Live was nominated for 22 Emmys this year, which is the most in the show's history. What was your reaction to that recognition and to Kate McKinnon, Leslie Jones, and Vanessa Bayer all getting nominations for Supporting Actress in a Comedy?
It's a fantastic thing. I couldn't be happier or prouder of all three of them and for the show getting so many nominations overall. The season we had last year was epic. I'm just so happy that everyone took it in and loved it. It's an awesome moment for us. I'm super happy for Lorne Michaels. He's been doing it for so long, but it must still feel good to get recognized like that.
You've been on SNL since 2003, and you've been doing comedy for over 20 years. How does it feel having decades of experience as a comedy veteran on a show that often hires television newcomers as cast members?
It feels good when I can apply my experience to situations and be helpful. I like when I can see something that could be better in a sketch we're rehearsing, or if I could offer a suggestion about a different camera angle. That's when it always feels great—when I use my experience in the service of my castmates. I've been blessed to have this tenure at the most epic sketch comedy show in history. It's hard to fathom being in the business this long, but I'm glad I started out early. I wouldn't have it any other way.