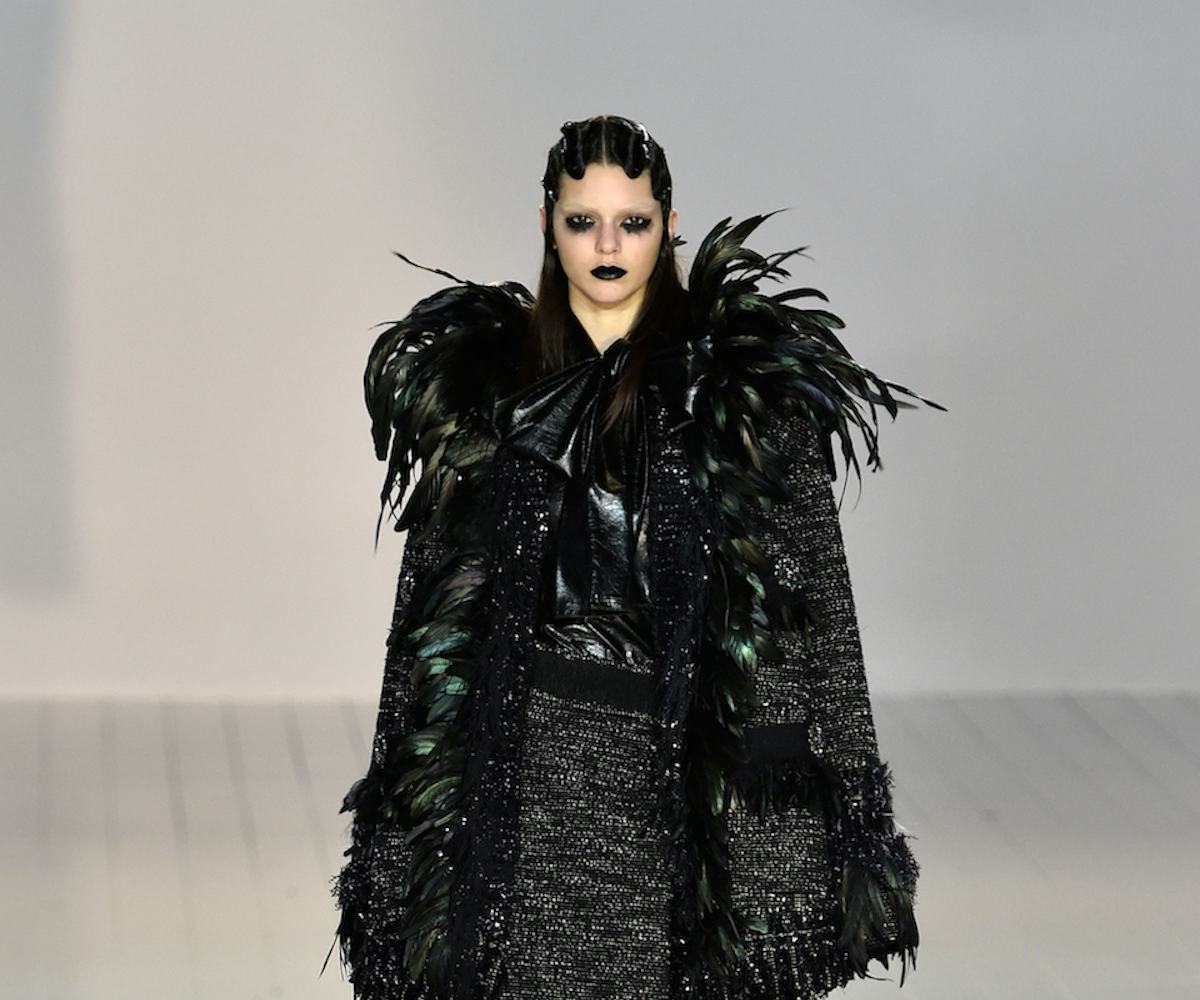 Photo by Pascal Le Segretain/Getty Images
Kendall Jenner's 12 Coolest Runway Looks From Fashion Month
From a reality television star to a bona fide fashion model, there's no stopping Kendall Jenner. Her reign officially knows no bounds, as she takes yet another fashion month by the storm. Proving to be an industry mainstay rather than just a temporary newcomer prompted by a flash of TV stardom, Jenner has made the Fall/Winter 2016 runways of New York, Milan, and Paris her catwalk stomping grounds, modeling for everyone who's anyone—from Marc Jacobs and Calvin Klein to Chanel and Balmain (the show that featured her brief stint as a blonde bombshell, if you remember).
With her chameleon-like ability to go from androgynous grunge to sweet femininity in a matter of the seconds it takes to switch runway looks backstage, time and time again Jenner proves that she is committed to her top modeling career, and is not intending on simply riding the Keeping Up with the Kardashians fame wave.
Take a walk down the runway with the soon-to-be seasoned vet, and see our favorite looks in the gallery, below. With that, we wave adieu to fashion month—that is, until September.
Chanel Fall/Winter 2016
No better way to wrap up Paris Fashion Week than in a blush Chanel cape.
Vera Wang Collection, Fall 2016
Jenner looked like she borrowed from the boys (Harry Styles, perhaps?) in this black-and-white, multi-piece ensemble that featured the season's hottest trends: masculine silhouettes, buckles, and asymmetrical cuts.
Elie Saab, Fall/Winter 2016
Kendall was a grunge vision at the Elie Saab show, rocking a leather jacket over a tie–dye dress and a studded choker that we would have killed for in the '90s.
Christian Dior, Fall/Winter 2016
The iconic French fashion house presented us with the most grown-up version of Jenner we've ever seen. The slicked-back hair, the touch of fur, the oxford heels, and the vampy lips should serve as the perfect lesson in the art of styling an LBD.
Elie Saab, Fall/Winter 2016
Punky goth vibes are translated into couture chic, with this stunning embellished lace gown fit for a queen of the night.
Balmain, Fall/Winter 2016
Jenner channeled her inner blonde bombshell at the Balmain show, sending the fashion world into a hysterical frenzy. Did she dye her hair? Was this a wig? What did you do, Kendall?
Balmain, Fall/Winter 2016
But even the blonde locks could not distract us from this Balmain number, that's part sexy kitten (look that would no doubt sit well with older sister Kim Kardashian West) and part baroque military. It totally brought out the fierce in Jenner.
Bottega Veneta, Fall/Winter 2016
A feminine and sweet, but no less fashion-forward, side of Jenner came out during the Bottega Veneta runway show.
Versace, Fall/Winter 2016
Equal parts futuristic and retro, Jenner looks like a portrait of a modern flower girl in the making, dressed in pretty pastels and fluffy textures.
Marc Jacobs, Fall 2016
The epitome of fashion noir and femme fatale, this Marc Jacobs look was everything and more. We love the raven vibes, smoky makeup, and the fact that Jenner shared the runway with the legendary Lady Gaga.
Calvin Klein Collection, Fall 2016
Minimalistic and modern, Jenner effortlessly channeled downtown cool in this all-white look that bared her midriff.
Michael Kors, Fall 2016
We almost didn't recognize the makeup-free Jenner as she strutted down the runway in a Twiggy-like dress for the all-American designer whose collection gave a subtle nod to the '60s era.