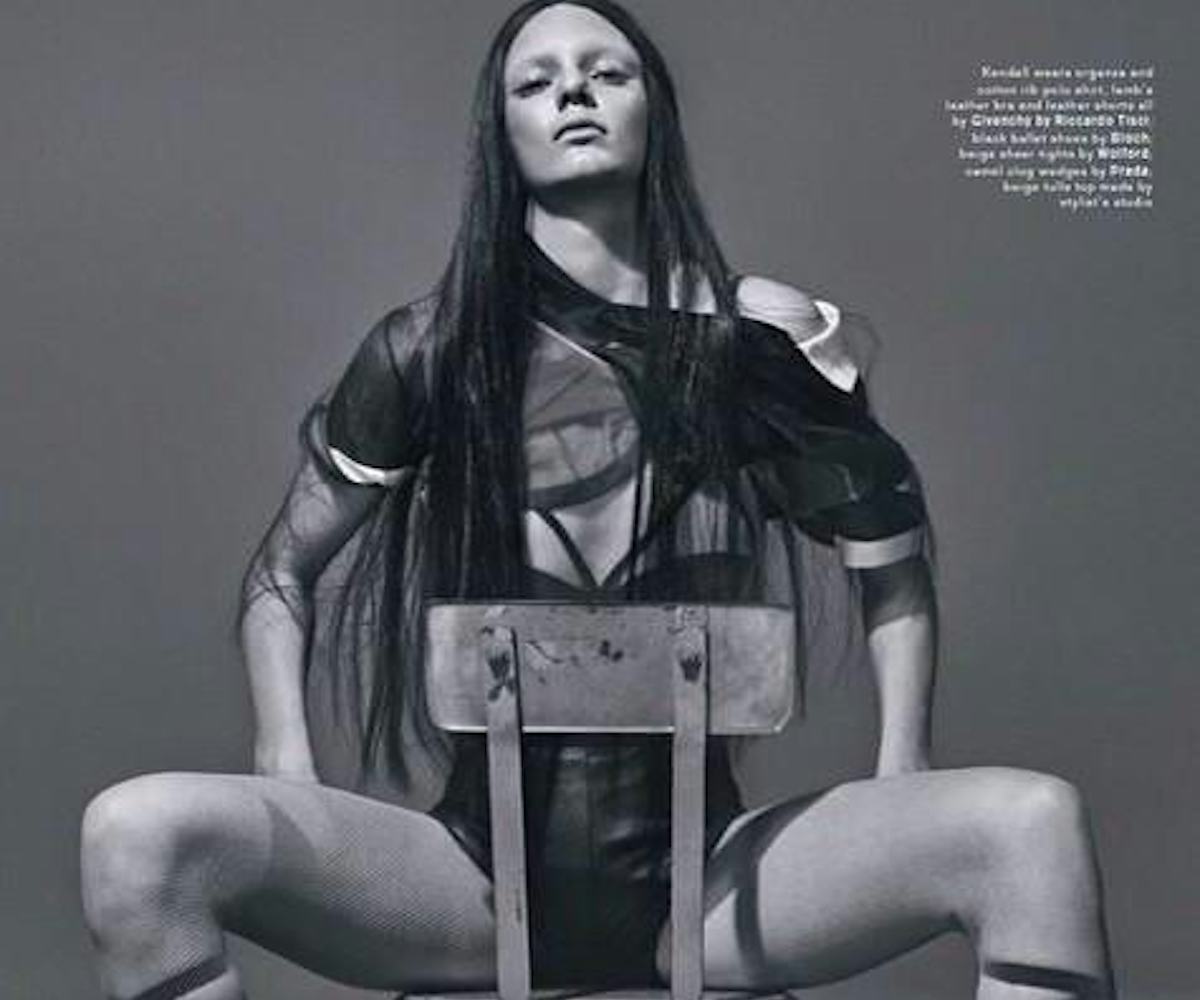 photo via @updatejenner on twitter
kendall jenner freed the nipple
for an editorial titled "boobs."
While sister Kim nearly #BrokeTheInternet going full monty with a bum-centric cover shoot for Paper magazine, it seems as if Kendall Jenner is trying a different route—or body part: boobs.
In the latest issue of Love magazine (in which Kim Kardashian and Kylie Jenner also appear), the 19-year-old model goes topless in a leaked editorial most eloquently titled "Boobs." Note: this isn't the first time we've seen Jenner's breasts, as she wore a sheer top in the Marc Jacobs Fall 2014 runway show, but it is her most exposed photo shoot to date, as she poses completely shirtless and frontal.
The photoshoot is definitely statement-making and even potentially empowering. Jenner poses topless of her own accord and does so in a way that makes her look strong and confident. She does not cater to any sort of male gaze. Whether she is the latest proponent of #FreetheNipple, or is simply embracing her body a la Willow Smith, the model's toplessness seems to make fun of society's taboo on female nipples. It's provocative because society thinks that nipples are provocative—that's all.
Still, while the nudity in the photos is completely deliberate, but we can't help but notice that something is just a bit off. The reality-star-turned-model's breasts seem to have been digitally enhanced to be larger and perkier in an overtly artificial way. Photoshopped or not, we're intrigued to see how 2015 becomes a year where nipples are free to be.
Related Articles:
Kendall Jenner Shares Her Thoughts On Youth, Makes Some Great Points
A Definitive List Of All People Kendall Jenner Has (Maybe) Dated