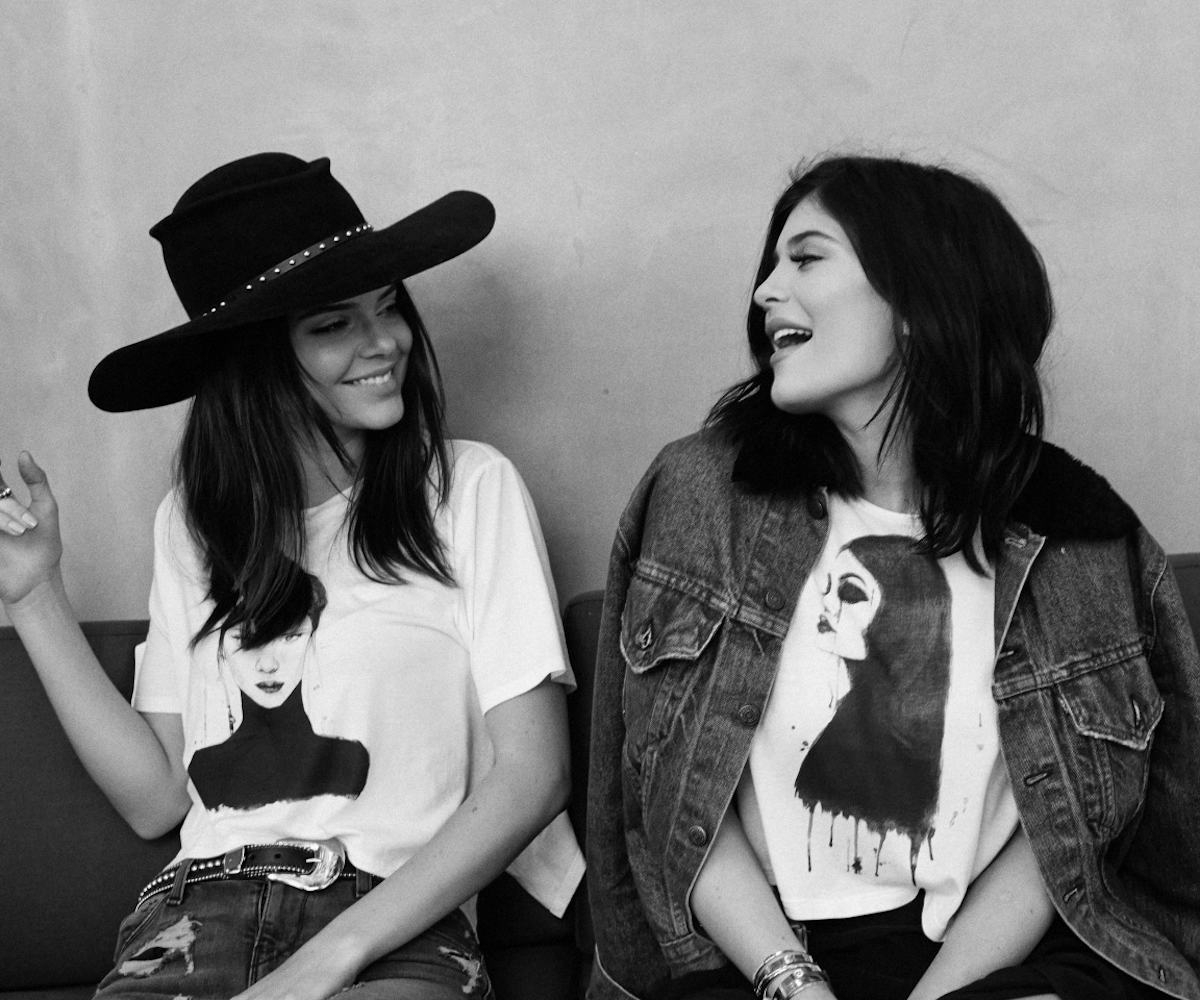 photo courtesy of kendall and kylie
Kendall + Kylie Are "Going For It" This New Year's Eve
No matter which way you look at it, 2015 has been a monumental year for Kendall and Kylie Jenner. Not only have they become two of popular culture's most influential celebrities through their domination of social media and the media at large, but they also became full-fledged style institutions and are well on their way to becoming some of fashion's most savvy businesswomen. After releasing capsule collections with Pac Sun and Topshop, the sisters also launched their own eponymous line, Kendall + Kylie, stacked with graphic tees, slinky basics, and a bevy of printed and monochromatic wardrobe staples. While some may say they're mere celebrity-driven media fodder, we say they're a testament to how young women can assert power over whatever verticals they choose.
As we prepare for the ball to drop, we catch up with the duo to see how they're ringing in the new year in style.  
What will you be doing this New Year's Eve? Do you think it is a fun holiday, or an overrated one?
Kylie: Definitely with my friends. It's a fun holiday but I also don't take it
that
seriously. I like to be dressed up and celebrate and get excited for what's ahead. NYE is my time to reflect on everything that happened in the year before and envision how I want to grow. 
Do you have any secrets to having a great New Year's Eve? 
Kendall: When it comes to plans, I try not to put too much pressure on it. I think that's the ultimate secret. I've had plenty of fun NYE nights just being surrounded by friends and family for something more intimate. Sometimes it's good to avoid the crowds and plan a gathering with the people you know are easy to be around and are always down to have a good night.
When it comes to creating a look for a special occasion, what are some important details that go into a memorable New Year's Eve outfit?
Kylie: I think for New Year's Eve you kind of get free reign to just 'go for it'... it's your night. I think it's the one night where you want to make sure the outfit captures how you want to feel in the new year. 
How about a memorable New Year's Eve makeup look? Do you like glitter, or do something more dramatic?
Kylie: I like full glam for NYE. A dramatic eye, maybe try something that's smoky or sexy. I think it's fun to experiment with lip colors on NYE for a fun evening party look. A bordeaux lip is a good twist on red or something on the darker side. 
Do you already know what you are going to wear?
Kendall: Still debating! I have some options though. I always want to be comfortable since it's such a long night. 
Click through the gallery to see how to style some of Kendall and Kylie's favorite pieces from the collection this New Year's Eve.
Kendall + Kylie, cut out bustier, $19, available at kendall-kylie.com; Alexander Wang, Hana bootie, $650, available at alexanderwang.com; Charlotte Olympia, visage clutch, $597, available at charlotteolympia.com; Missy Skins, kiki embroidered top, $615, available at missyskins.com; Helmut Lang, wool-twill wide-leg pants, $415, available at net-a-porter.com; Manoush, bomber, $168, available at yoox.com.
McQ Alexander McQueen, satin-trimmed wool-crepe vest, $595, available at net-a-porter.com; Nila Anthony, foldin' girls metallic clutch, $40, available at nastygal.com; Lipstick Queen, silver screen in 'Stella!', $50, available at spacenk.com; Creepyyeha, signature choker, $40, available at creepyyeha.storenvy.com; Stella McCartney, black elyse brushed star shoes, $1080, available at stellamccartney.com; Kendall + Kylie, seamed mini skirt, $19, available at kendall-kylie.com.
Kendall + Kylie, racerback crop, $19, available at kendall-kylie.com; Banana Republic, sparkle bow tie bracelet, $30, available at bananarepublic.com; Aldo, Raladien, $90, available at aldoshoes.com; Discount Universe, one-off the real thing hand-sequinned jean, $465, available at discountuniverse.com; Topshop, sequin boyfriend jacket, $180, available at topshop.com.