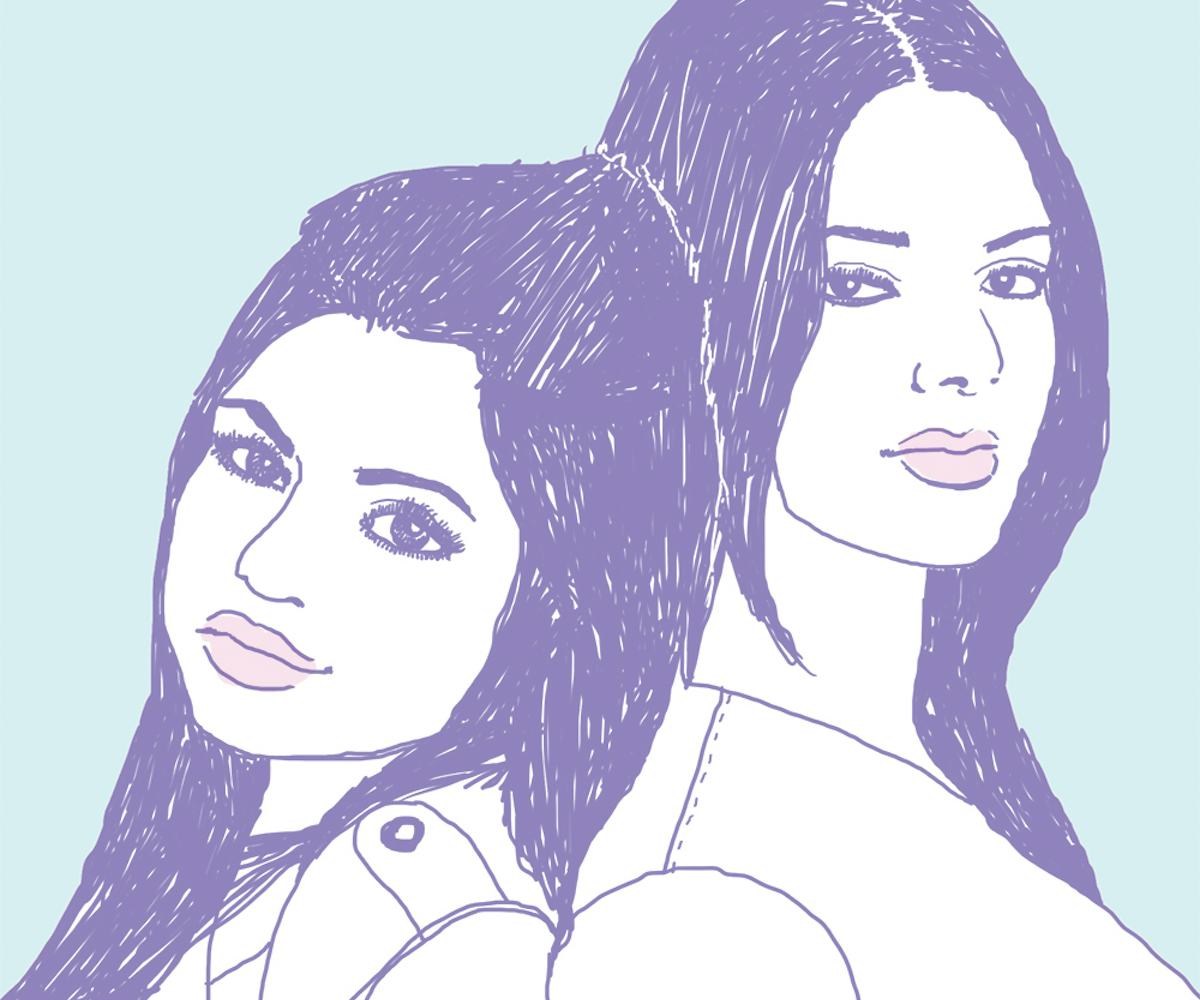 illustration by kelly shami
kendall and kylie jenner discuss their topshop collection
They're part of the closest thing the City of Angels has to a royal family, so who better to channel the L.A. vibe into clothing than Kendall and Kylie Jenner?
"We were thinking about the L.A. girl: who she is, what she loves to do, and what her dream wardrobe would be," says Kendall of the Kendall + Kylie collection, a Topshop-exclusive range she designed with her younger sister. Based on the offerings, their idea of an L.A. girl's sartorial fantasies consists of distressed denim, Hawaiian prints, and slogan gear, along with blouson tops, duster coats, sheer trousers, and layered maxi dresses. The selection of pieces seamlessly blends what Kylie refers to as Kendall's simple, "off-duty model" style with her own darker, edgier taste, as well as various influences that the sisters found online or within classic designs that they wanted to customize (like wide-legged pants and matching short sets). West Coast nonchalance runs true throughout, from the light, airy fabrics perfect for a bonfire-lit beach party to a crewneck emblazoned with the words "When in doubt, vacation" ("That's our motto!" says Kylie).
Kendall + Kylie launches this Wednesday, June 3, at Topshop stores worldwide, topshop.com, and select Nordstrom stores. Click through the gallery to see the collection's offerings, and our exclusive interview with Kendall and Kylie.
What was the inspiration behind the collection?
Kendall: We're trying to bring the LA vibe to Topshops all over the world. We were thinking about the LA girl, who she is, what she loves to do and what her dream capsule wardrobe would be. There are lots of lighter shades and florals that give that sunshine feel.
Describe your design process.
KE: It was very natural. We would see things online or in person, someone's style that we loved, or key designs spotted but wanted to make it ours in some way or another. We collated all of our ideas, used those references and worked with the design team to make it real. We came to Topshop, who loved it and it's just gone from there.
How would you describe your individual styles?
Kylie: Kendall has more of that off-duty model style. She's simple and casual. I'm more of the type that would wear a dress and heels to breakfast. I'm a bit edgier and like darker colours. Generally though, we like a lot of the same things.
What do each of you think are the standout pieces of the collection?
KY: My favorite piece is the grey crew neck sweater that says "When in Doubt, Vacation" That's our motto!
KE: I really like the wide-legged black pants that are see-through. I'd probably wear them with a knotted up t-shirt and some strappy heels.