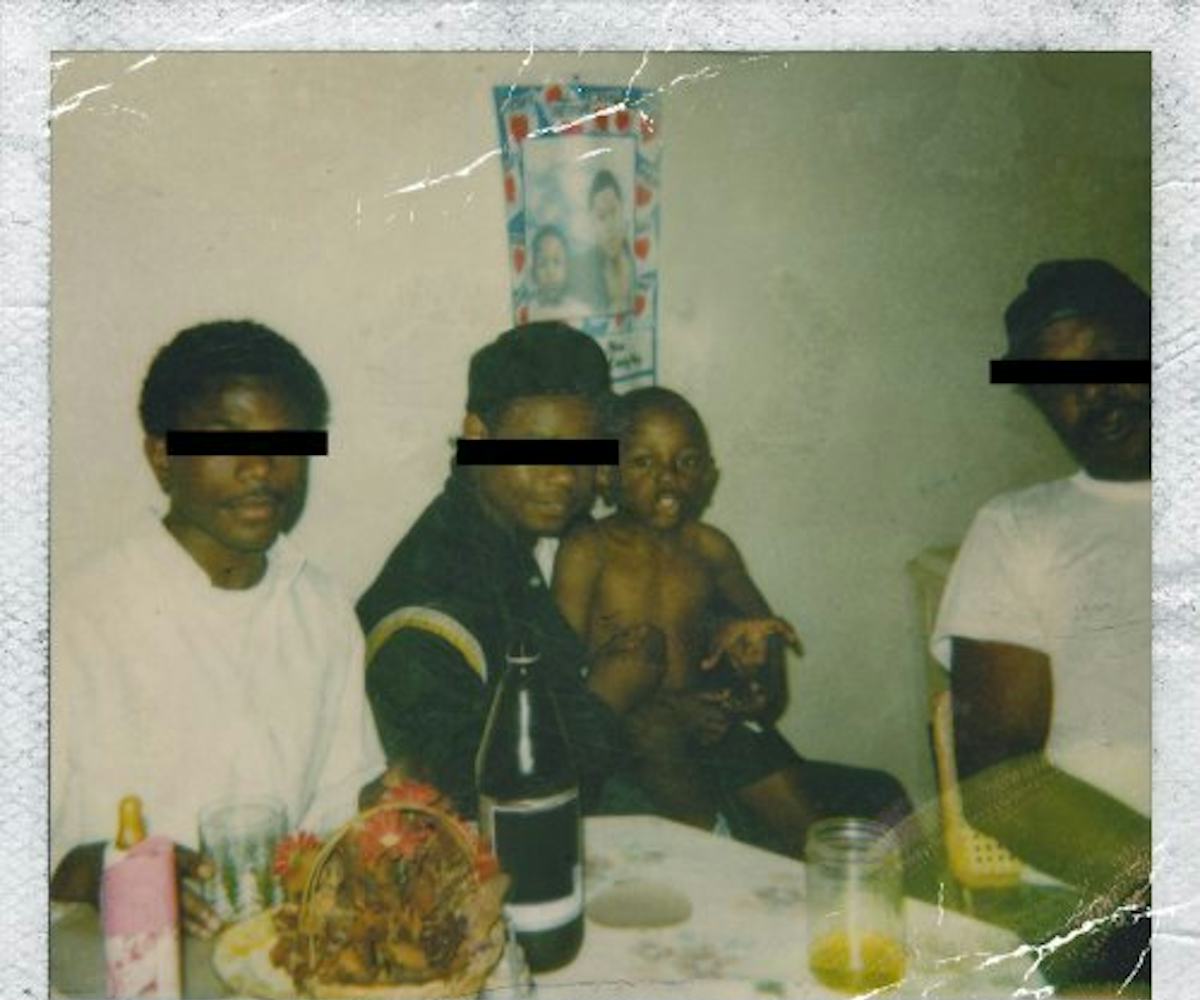 Photo courtesy of Top Dawg/Aftermath/Interscope
6 Lines To Live By From Kendrick Lamar's 'good kid, m.A.A.d city'
In honor of the album's fifth birthday
Almost five years ago, Kendrick Lamar blessed our ears and eyes with good kid, m.A.A.d city, a profound, self-critical, and emotionally expansive record that was dubbed a modern classic by critics and fans alike upon its release. And while the record may not have been his magnum opus (it's a close tie between To Pimp A Butterfly and DAMN.), it certainly positioned him at the epicenter of the music universe. 
In a time where party-influenced trap rap began to take over the charts in droves, Lamar purposely chose to take the road less traveled and presented the world with a meticulously crafted, introspective short film—and we all watched on in admiration and awe. From explosive (and sometimes, violent) bangers like "m.A.A.d city" and "Backseat Freestyle." to moody, down-tempo classics like "Sing About Me, I'm Dying Of Thirst" and "Poetic Justice (feat. Drake)," the Compton, California, native has proven that an artist doesn't have to sacrifice meaningful lyrical content, artistic integrity, or honesty in order to create a record worthy of radio plays and chart success. 
And while good kid tells the story of a teenage Lamar struggling to find himself as he battles the allure of violence, sex, and drugs in Compton, the album's intellectually, emotionally, and introspectively mature content continues to teach us to be courageously and unapologetically ourselves against all odds. 
And as the album's fifth birthday is this Sunday, we've rounded up six of its most memorable quotes that continue to have an impact on us today. Cheers to a successful five years.
"Sherane a.k.a Master Splinter's Daughter"
Lamar's words paint a vivid picture of a feverish and insatiable lust (or, is it love?) between himself and Sherane―and, despite their romance taking a deadly turn in the end, the rapper's candid expression about the recklessness of teenage desire is surely one we can all relate to.
"The Art of Peer Pressure"
Arguably one of the most straightforward songs on the record. From its title to the lyrical content, this track (and line in particular) emphasizes Kendrick's struggle of living in his truth, as a "good kid," while fighting (and often losing) the battle between his inner righteousness and the tempting world of violence, sex, and drugs.
"Poetic Justice (feat. Drake)"
Reminder: Romantic love is not just an external pursuit―it's internal, too.
"Swimming Pools (Drank)"
The beauty in Kendrick's struggle is that while it is deeply personal, it's also inherently universal. We all crave acceptance, and sometimes, we bend, curve, and alter different parts of ourselves in order to survive.
"Sing About Me, I'm Dying Of Thirst"
The lyric filters one of life's biggest questions into two concise sentences: Do we do enough for the ones we love? Will our lives be worthy of praise when we're gone?
"Real (feat. Anna Wise)"
Embracing who you truly are is definitely a form of courage. It's a celebration. It's defiance. And, most importantly, it's a revolution.