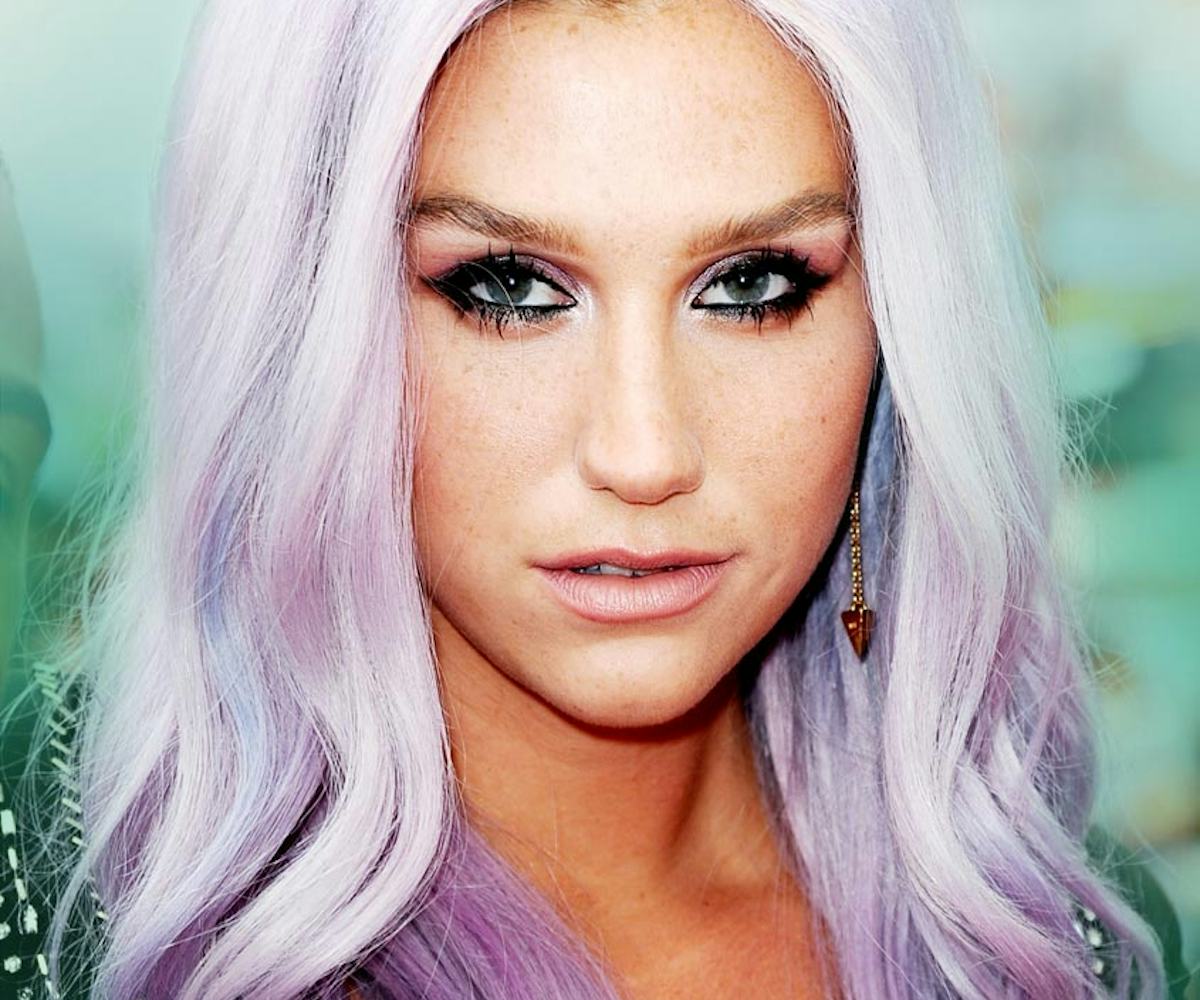 photo via getty images
kesha is suing famed producer dr. luke
an upsetting day for the pop star.
Earlier today, Kesha filed a lawsuit against her producer, Dr. Luke (Lukasz Gottwald), for sexual assault and battery, claiming that he sexually, emotionally, physically, and verbally abused her since she signed with him at the age of 18.
Among the allegations made, Kesha asserts that Gottwald forced her to consume drugs and alcohol and, in one instance, snort a substance before boarding a flight, during which he sexually abused her. She also claims that he gave her GHB, a date rape drug, telling her they were "sober pills"; after she ingested them, she woke up in his bed and experienced memory loss. The suit also references a conversation between the two, during which Dr. Luke allegedly threatened to destroy her career and her family members' lives if she publicized her experience—"He also threatened her and her family's physical safety. [Kesha] wholly believed that Dr. Luke had the power and money to carry out his threats." According to the singer, he also constantly criticized her weight and musical abilities, resulting in an eating disorder.
Kesha's lawyer, Mark Geragos, who has previously defended Winona Ryder and Michael Jackson, released the following statement: "This lawsuit is a wholehearted effort by Kesha to regain control of her music career and her personal freedom after suffering for ten years as a victim of mental manipulation, emotional abuse and an instance of sexual assault at the hands of Dr. Luke. The facts presented in our lawsuit paint a picture of a man who is controlling and willing to commit horrible acts of abuse in an attempt to intimidate an impressionable, talented, young female artist into submission for his personal gain. Kesha is focused on moving her life and her career beyond this terrible time." Rolling Stone points out that Kesha's fans have previously petitioned her release from her contract for specifically this reason. 
Dr. Luke filed a countersuit hours later, claiming that all allegations made are, indeed, false and an attempt to get out of her legal contract with the producer. His legal team released the following statement: "These are allegations that Kesha and Pebe [Kesha's mother] have themselves admitted are false. The complaint explains that Kesha and her mother Pebe have wielded these defamatory statements in an attempt to extort Gottwald into releasing Kesha from her exclusive recording agreement with Dr. Luke...We understand that Kesha has filed a lawsuit of her own against Dr. Luke, though we have not yet seen it. Undoubtedly, Kesha's lawsuit is nothing more than a continuation of her bad and offensive acts. We are confident that Dr. Luke will prevail in all matters, and that our client will be awarded substantial damages for this malicious conduct." (Note: Calling her lawsuit a part of her "continuation of bad and offensive acts" seems like the wording used in an attack of character, which is precisely one of the reasons victims stay silenced in the face of abuse.)
This situation proves that power dynamics in the music industry are real and problematic. Both Kesha and Dr. Luke are extremely talented and accomplished in their own rights—Dr. Luke is the man behind Yelle's new album, Miley Cyrus' "Wrecking Ball" and "Party In The USA," Katy Perry's "I Kissed A Girl" and "Roar," and Britney Spears' "Till The World Ends"—and while we hope these allegations are false, if they are true, we stand behind Kesha 250%. It takes a lot of courage for anyone to come forward and rightfully bring her abuser to justice.