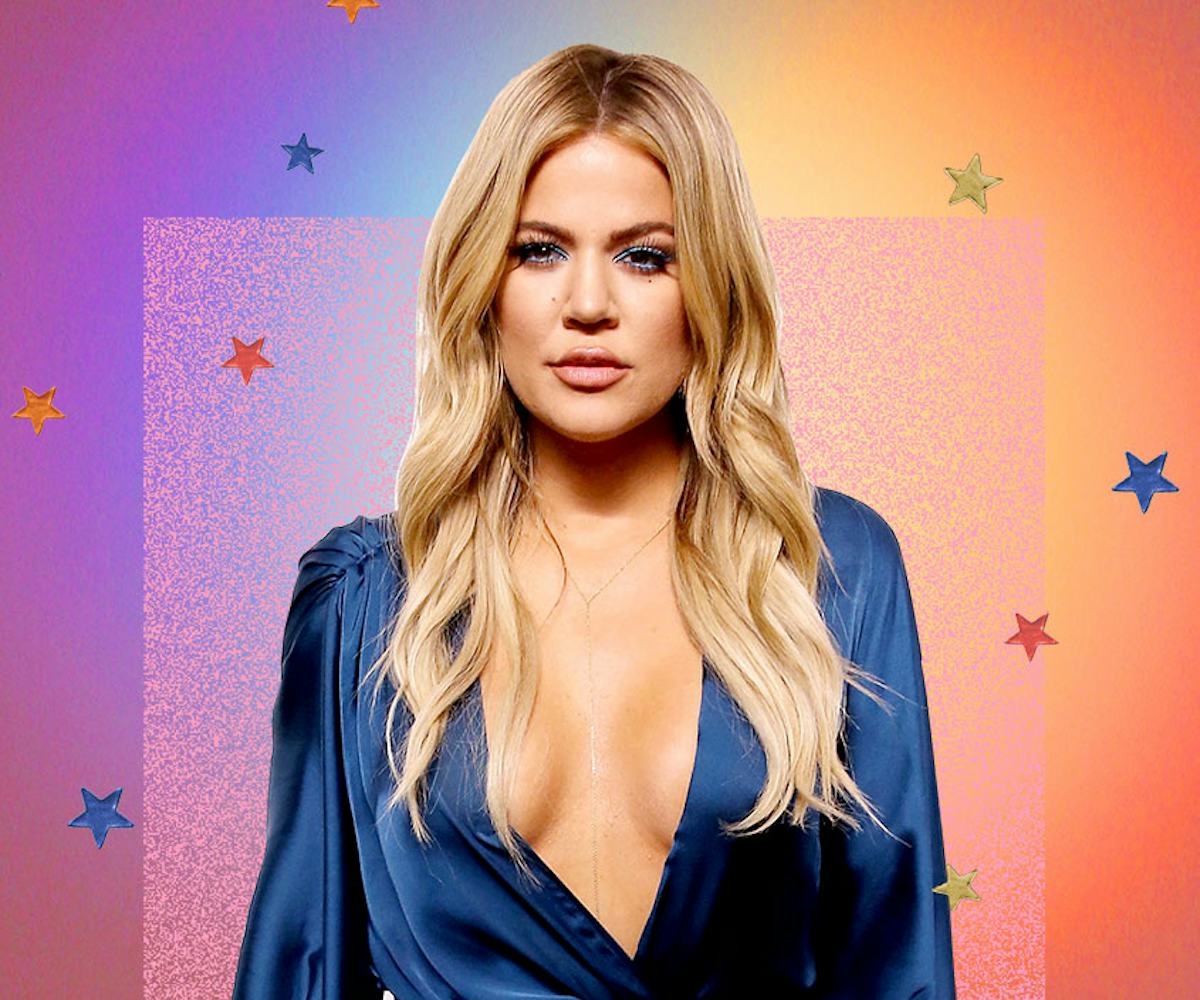 Photograph by Robin Marchant/Stringer/Getty Images.
Khloé Kardashian Gets People To Answer Questions They Probably Shouldn't
on her new show 'kocktails with khloé'
In the nine years since Keeping Up With the Kardashians premiered, the Kardashian-Jenner clan has generated numerous spin-off shows, gained social media followings larger than anyone could have anticipated, and created a vast empire filled with apparel and beauty lines, apps, books, and more endorsements than you can count on your two hands. Each member of the polarizing family has come into their own at one point or another: 2013 was the year Kim broke free of her "reality star" label; 2014 was the year Kendall became a major fashion force; 2015 was the year that Kylie asserted her status as a beauty maven. Now, after a successful book launch and a new show, Kocktails With Khloé, 2016 is shaping up to be the year of Khloé.
In her new show, which premieres tonight on FYI, Kardashian, with cocktails in tow, is reinventing the talk show format with unfiltered interviews and a good old fashioned boozy game night. We caught up with her at the Television Critics Association in Pasadena, where we spoke about her new show, The People v. O.J. Simpson: American Crime Story, Lamar Odom, and Justin Bieber's fans.
Where'd the idea for this come from?
The kind of fun dinner parties that I tend to have at my house all the time, and how people seem to just let their hair down [when they] have a few drinks. We play a ton of games. Instead of having your standard structured dinner party, when you play these fun, interactive games, you get this silly element and so much more information comes out from people.
How is this going to be different from Keeping Up?
The Keeping Up show is really—it's just about me and my family. And this is going to be interactive with so many different types of people from all different walks of life. I want to keep it very versatile. It's still going to be naughty and risqué, but that's why we're doing it for late night, because that's more me. I like it to be vulnerable, and what I talk about at home. 
Do you have a sense of who your guests will be and will we see family members?
Definitely family members, because I also think that's where we thrive and we are the most comfortable, but also friends of our family as well. So a lot of people in pop culture. 
We built a set that pretty much mimics how my house looks and feels. You're going to see us prepping hors d'oeuvres and cocktails. I think we have, like, 50 games to choose from. Let's say, 21 Questions: We could each write our own questions down of what we want to know from somebody else, and we'll all kind of pick it out of a hat.  And they could be as surface as they want to be or get really intimate. 
What about interviewing—do you try to get into their soul or play around the edges?
No, I'm pretty direct. My sisters always say, "I don't know how you got away with asking that question." It's because I genuinely care about the answer. I'm curious, and it's coming from a good place, so I think people feel that from me.
Are you eager to see the O.J. series on FX and how your sisters and your family is portrayed?
I would definitely like to see it. My mom and Selma Blair became really good friends; she was at our Christmas Eve party. My mom has way more investment into that show. She helped out a little bit with some of the other characters, so I would like to see it.  
Could you give us any kind of an update on Lamar?
It's not my story to tell. I try to respect that, and I want him to be able to tell that story. I'm just there to support and care for him. But he's doing amazing and I'm so proud of the strength that he has to fight this battle that's his battle.  
What parts of pop culture fascinate you?
I love the speed of pop culture—how one day we're infatuated with one thing and the next we forgot what we were so into the day before. I'm very infatuated with everyone's little armies. Like, all the Beliebers, and all those little crews that are literally little soldiers for these pop stars. I think from an outsider looking in, it's very high school-y and cliquey, and it's an interesting perspective just to see.