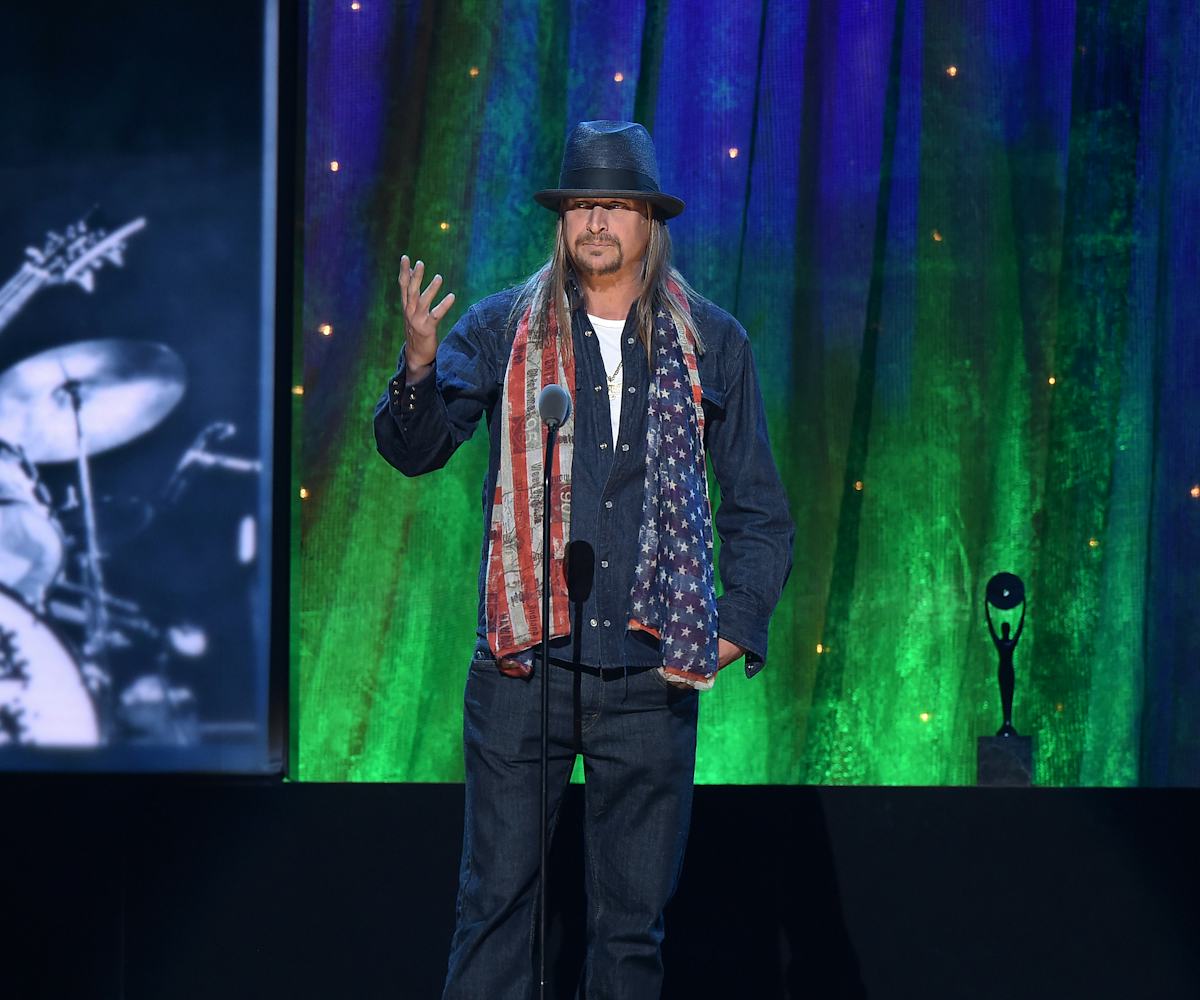 Photo by Theo Wargo / Getty Images
Kid Rock Might Want to Run For Senate—And You Should Be Worried
"I think he's the prohibitive favorite if he gets in."
Kid Rock wants to run for the Senate seat in Michigan. But before you laugh at what seems like seems absurdity, remember that our dismissal at President Trump's campaign didn't stop him from winning the presidency. There may be reason to be concerned that Kid Rock could actually decide to make the run, despite the fact that he has historically said and done some controversial things.
Last week, Kid Rock tweeted out his intention to campaign, along with a website kidrockforsenate.com. The responses were understandably negative, with people accusing Kid Rock of pulling a publicity stunt, especially because the website linked in the tweet directed to a merchandise site for Kid Rock's upcoming tour.
And while it's easy to simply dismiss the possibility, there are other factors, as Politico points out, that might suggest he may genuinely be harboring the idea after all. "He's earned a reputation in his native southeast Michigan as someone who is earnest when it comes to civic involvement, helping local businesses and headlining major philanthropic events," Alberta and Stanton write for Politico. They also point out that Kid Rock is very close to Mitt Romney.
While none of this is absolute proof, we've certainly learned our lesson not to dismiss a celebrity's desire for a political run after we laughed our way through Trump's campaign, only to find him sitting in the Oval Office at the end of it.
According to Dennis Lennox, a Republican political consultant in Michigan, "Presuming Kid Rock doesn't get caught in bed with a little boy, or beat up a woman between now and August 2018, he's going to win the nomination if he gets in. I think there's no question about that. I think he's the prohibitive favorite if he gets in."
The logistics of getting a campaign up and running are almost nightmarishly complicated, and some are convinced that Kid Rock doesn't have the bandwidth to make it happen, especially with his upcoming tour. However, there definitely may be room for worry—at least up until where the Republican primaries are concerned.