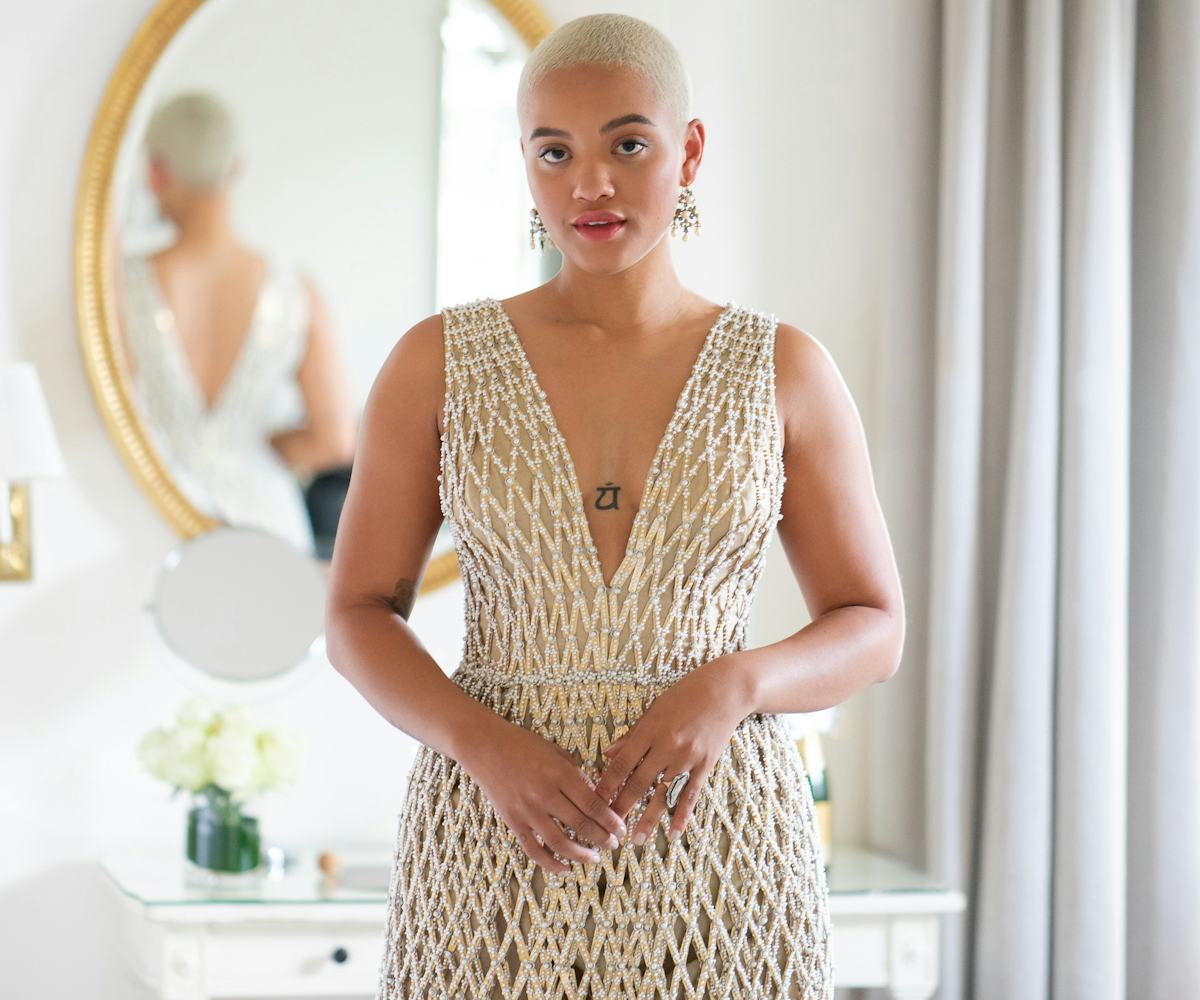 Photograph courtesy of H&M.
How Kiersey Clemons Got Ready For Her First Met Gala
While Kiersey Clemons may be better known for her roles on Dope, The Only Living Boy in New York, and Transparent, we've grown to adore the actress for the ease with which she translates her signature "tomboy" style into red carpet statements. Case in point: Last night's Met Gala where the fashion darling appeared in a custom beaded H&M dress with a buzzed, newly platinum blonde do.
"I sent a lot of pictures inspired by Alexander McQueen and architectural photos of churches," the actress, who will next portray Iris West, the love interest to Ezra Miller's Flash in the upcoming DC Comics movie, told us when we caught up with her prior to the event.
Featuring a netting of diamond-shaped gold and pearl embroidery over a sheer nude slip, the gown's most interesting detail is the full, yet straight, skirt held by crinoline. It also happened to be Clemons' favorite part. "The shape is something I was sending reference pictures of from the beginning, I love it," she says. "I wanted to complement the silhouette of my body shape but add some structure. Ethereal and exaggerated."
When preparing for her first Costume Institute Gala, Clemons said that she didn't want to stray far from what she usually does for red carpet events. "I feel my best when I wear something classic and timeless." Plus, it allowed her new hair to make its proper debut without being overshadowed. "My makeup artist and hair stylist wanted to do something ethereal and angelic," she says of the minimal makeup and hairstyling.
When asked what she looked most forward to from her first Meta Gala experience, she gave the answer you would most expect from the laid-back actress who doesn't take fashion too seriously: "Honestly, I'm most excited to see my friends." She said that the most preparation she'll do is have a facial and drink "lots of water." And while most Met Gala first-timers might get jitters before stepping out on the red carpet, Clemons didn't anticipate the nerves kicking in: "No carpet is ever that big of a deal... although I'm not sure that applies to the Met."
Photo by Neilson Barnard/Getty Images
By the looks of it, she stayed laid-back and had the best of times.