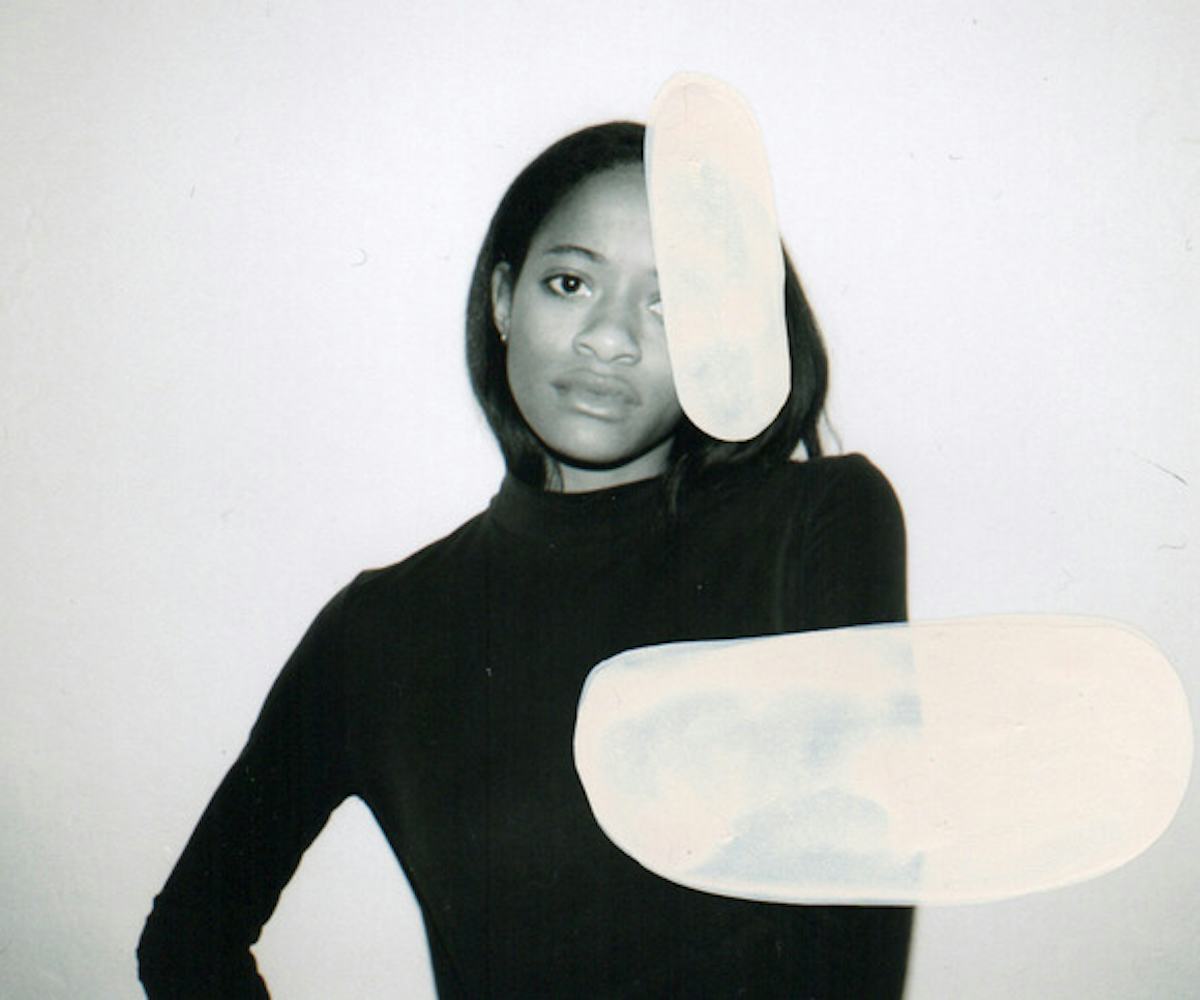 Photo courtesy of Kish Robinson
The Kilo Kish Playbook To Living Your Most Authentic (And Artistic) Life
Hint: It has less to do with Snapchat than you'd think
On paper, it seems as if Kilo Kish has all the makings of the next great pop star: She releases dreamy music, engages in big-time brand collaborations, and even hints at an upcoming clothing line in press interviews. But we'd be a fool to judge a girl by her resume alone. Because what it doesn't show is a sharp divergence from the blueprint that launches the J.Los, Hilary Duffs and Selena Gomezs of the world; it's Kish who can be found behind the curtain, actually dreaming up and doing the work.
Yes, like the shiny, aforementioned stars, Kish is a proven multi-hyphenate. But instead of cashing in on a celebrity fragrance or doing the singing/acting/modeling side thing, she proves herself with art shows at respected galleries (her exhibition, "Real — Safe", is showing at L.A.'s HVW8 Design + Art Gallery through August 13) and a touring show (in support of her 2016 album Reflections in Real Time) that incorporates elements of performance art. And that possible clothing brand? Yeah, she has a textile design degree for that, earned from the Fashion Institute of Technology in New York. 
By creating her own zines and album artwork and working offline more than on, Kish feels more like Kathleen Hanna in her Bikini Kill days than the next pop sensation. She's a DIY force, a tactile maker, or what they used to simply call an "artist," with ideas for how to push the boundaries of music. How, exactly, does Kish keep her cool while also collaborating with brands like Adidas? Why does she choose to painstakingly DIY in an age of Insta-everything? We gleaned the following tips while talking with the multidisciplinary artist ahead of her performance at Budweiser Presents Budland, a fashion, art, and music festival in L.A., where an iteration of her HVW8 gallery show was also presented. 
Check Your Vanity at the Door: Posing, posting, and flaunting diva-like behavior may be integral parts of the celebrity or reality star puzzle, but Kish has learned that getting caught up in likes and followers or even being at the right place at the right time, doesn't help with her artistic vision. "When I first started, it was like, 'Let's talk to every magazine'" she says. "Let's go to these fashion shows. Let's go to this event and have my picture taken. It was just the rounds. To me, I was like, 'What does this have to do with music?'"
After starting to feel like she was being valued only as the "cute, random girl," Kish took a break from playing the celebrity start-up game. "There were times where I did think that the best thing I had going for me was that someone took my picture at some place. It created a disgust in myself where I was like, 'I'm better than this.'"
Though transitioning from on-the-circuit It Girl to actualized artist wasn't exactly easy. "Once I decided that I needed to really be a steward for my own creativity, I had to take myself, and what I thought was cool out of [the equation], and give myself space to be who I am," she says. "I had to really fight back against the vanity stuff, against the lure of luxury and the free stuff, and ask questions of myself like, 'Does it really make me feel good that 5,000 people liked this pic?' That has nothing to do with the work. You have to put the art first, and that's what I try to do now."
Forget Everything You've Learned From Reality TV—You Are Not a Brand: Sure, branding yourself worked like gangbusters for the Kardashians. And Lauren Conrad. And legions of household names with million-dollar bank accounts. But Kish doesn't equate art with being agreeable. "The thing about brands that I don't identify with is the idea that you have a target audience, you're known for a specific thing, and the customer is always right. That's something that I don't agree with in art," she says. "I love when people listen or like anything that I do, but it's not the driving force behind what I do. It's the last thing I want to think about. I want to be free to express what I want."
It's also hard to make something fresh when you're so focused on what everybody else is doing. Kish notes that brands have to be aware of the latest trends, who the so-called coolest people are, what they're wearing, and what kinds of songs they like. "That's what being a brand is, that's what being a company is," she says. "And I don't want to make a dancehall song right now." 
#Trending aside, Kish offers another reason to diverge from the branding pack: Cloaking oneself in a particular ethos can be a heck of a creativity killer, particularly when going off-brand is in your blood. "People won't allow you to change. If you're this super-conscious artist, and then you want to shake your ass in a video the next week, that should be fine," she points out. "But it's not what people want from you. Once I know what people want from me, I'm bored and have to do the opposite. Right now, for instance, people are accepting of me as a visual artist and gallery artist," Kish says. "That makes me feel like I want to dive into music more and learn instruments because everything right now is being validated by an institution. It's rebellion, but it also pushes me to be more creative and step outside of what I think I am—even for my own ego's sake." 
But Kish does think about going into other ventures—she mentions putting her textile design degree to work by designing a hotel or clothing label, for example—and maintains that you can be a multi-hyphenate, all while skirting the curse of having to stay on-brand. Her solution? Make it about the work and limit your personal exposure. "If I started the clothing brand, I don't know that I'd necessarily want to be a model or have it be centered around me as a person," she says. "Because, at least at this point in my life, I just don't want to get stuck in any specific realm." 
Know the Value of "No": Though Kish says she prefers to work alone, she has also collaborated a lot in her tenure as a musician and artist. There have been tracks with Gorillaz, Chet Faker, The Internet, and Childish Gambino; an illustrated comic of Reflections in Real Time track, "Humans + Ants In Proportion" with Justin Scott and illustrator Kyro Ink; the Leyman x RRT Capsule T-shirt collection, to name a few. While these collaborations have helped build Kish's reputation as a multi-disciplinary artist, it's what Kish hasn't done that has been just as defining.
"First—and this is the biggest part—you have to say no and not care. Every time you say 'no,' you gain a bit of power. Every time you actually stick up for yourself, you get stronger in what you're doing," she says. "In the past, I've played into others' hands by acting like I care when I don't. Now, if I go to an event, I don't feel like I have to pull clothes. If I wanna pull clothes, I will. But if I don't, I wear jeans, and then I don't owe you anything."
Partner Selectively: One of Kish's greatest tricks isn't just radiating success across different artistic platforms. It's forging brand partnerships that feel legit, such as her 2015 capsule collection with Maison Kitsune; her "Real — Safe" art show, which is sponsored by Adidas; and, yes, her performance at Budland. How does Kish straddle the line between art and commerce and still do things her way? 
"You have to know in yourself that with brands or big companies, it's a two-way street. If a brand approaches you for something, it's often with the idea that you're going to get so much out of it. But it's important to remember that the brand is going get so much out of it, too," she says. "You add value. Your ideas and your art is valuable—and that's not to say that everything needs to be, 'Oh pay me more.'" 
Though brand partnerships can certainly bump up the number of zeros in a girl's bank account, Kish tries not to let cash—or a brand's cachet—dictate her collaboration decisions. "For me, I don't factor money into my decisions. I've been super-broke before, where I've been like, 'How long can I hold on and not get into this?' But honestly, it always comes back around. It's one of those things where you have to have trust in yourself, to know you have what it takes to make things happen. The essence of who you are can be realized all by yourself. Any brand collaboration on top of that is icing on the cake."
Lastly, Kish is careful to take personal inventory before pocketing a check from a big brand. "Even now, I check myself all the time—especially when people talk to me and say, 'It's so cool that you [worked with] this luxury brand!' For me, I have to ask myself, Why is it cool that I did that? Would it not be cool if I did it with Walmart? If the opportunity is just a money thing, comes from a huge company, or something that's going to make me look like I'm something, then I get weary. I have to ask, 'What makes it great for me?'"
Make Slow Social Media: Try to think of another touring musician who has less than two dozen Instagram posts to her name, which were added after April of this year, then wiped clean before the end of the summer. If Gomez posts with the rapid-fire pace of a line cook at McDonald's, then Kish shares at a speed that's far more farm-to-table. There are a few reasons for that. For one, Kish doesn't employ a social media team or photographer to boost cache.
"I'm literally in my house, doing things myself," Kish says about her approach to Instagram. "There's nobody taking pics of me, say, working, you know? I'm literally, just working. There's definitely a place for people being curious about the way you work or being curious about the process you do, but I don't think my brain is set to spend time on that," she says. 
Staffing and logistics aside, Kish keeps a light social media footprint because she says it helps keep her focused on her projects at large. "Social media, to me, is a formula. I see what people like the most and it's not what I like posting. Sometimes, what I like posting makes no sense to one of my musical fans. I like posting art that inspires my music—and they might not want to see that. I don't do social media stuff only because it forces me to get caught up in a perception and a what you like kind of thing, and I feel like that's the death of creativity. So I try to stay away from it," she says, adding that, for her, going to a store and buying a cassette tape to listen to would be more enjoyable than fretting over a social feed. "I don't want to spend the time curating it because I know myself, and I know I'll start obsessing. I'm a human just like anyone else, I'll be like, 'Oh, they didn't like that,' and I have to fight against my boring side and transcend into, 'Well, that's kind of irrelevant; I'm here to make things and I should just make those things.'"
Go Analog: Take a tour throughout the store on Kish's website, and you'll find that among the shirts, albums, and berets for sale, are zines. Yes, print zines, made with copiers and staples. Even more surprising? They're sold out. Kish made the pubs for each of her live performances while touring for Reflections In Real Time. In the show, Kish assumes the character of a nine-to-fiver who unravels while performing the album in its entirety. To help give audiences context, she created the printed works for each show, containing notes from her actual journal and info unique to each city she performed at.
"I would print a few hundred for whatever show I was doing. Each one was made for a specific place, and it would have the date and time and all that. I would just make them at FedEx myself and put them in envelopes and have them ready for the show where I would pass them out for free. I put any extras we had up on the site," she says. "I think it's nice to have bits and pieces created by the artist you like and to have them at home for yourself."
Sure, it makes sense that the woman who designs her own website, artwork, and Instagram tiles, would also handmake a program of sorts for her shows. But wouldn't it be a heck of a lot easier to just put that online? "Sometimes doing that work in a tangible form is harder," she admits. But there's a major upside to going analog. "It doesn't end up being reblogged and reposted and all of this other stuff," the artist notes. "It just lives as what it is, and you can have that just for you. It's literally just for you—I made that for you. Online is one of those things that can go anywhere. Then, it can so easily be copied. A bootlegger can literally copy it the same day." 
Find Inspo Everywhere (but the Internet): Homogeneous search results are also why Kish prefers to take her own research offline. "For my album and the supplementary things I work on, I'd rather go to the library and look at references and buy old DVDs off of Amazon and actually watch them versus Google-searching all these things," she says. "Yeah, there's a lot of stuff online, but it's repurposed over and over and over again—that's the thing I'm trying to stay away from."
Take Time (Lots of Time) to Make Things: Remember that fictitious clothing label Kish talked about before? Well, on the down-low, it's already in the works. But you won't find Kish teasing an upcoming "lifestyle" brand via Snapchat. In fact, she doesn't know when said clothing line will come out, how many pieces will be in the collection, or where it will sell. Instead, Kish is taking her time with the project, making her own versions of the kinds of wardrobe basics that she wants to wear every day. Designs are made with sustainability in mind and constructed in L.A. "Right now, I'm in the process of making samples of things. And it's taking forever." Sure, fashion design may be the field in which Kish has the most formal training, but she knows better than to rush it. "Because I'm making an album [right now], I don't see myself being able to devote a ton of time to doing clothing design. So right now, I'm slowly making stuff for myself. I make jewelry or a bag for myself, see what people like or don't like, and decide which designs I want to keep and push forward."
Don't Let Others Define What's Good: Kish knows what constructs a "good time" for the average audience member at a concert: a high-energy vibe, good sound, a fun atmosphere, hearing the hit songs that one might want to hear. "For me, there are other benchmarks for what is good: What will create the most impact for the specific work itself?" she says. She takes her performances for the Reflections in Real Time album as an example. The heady record requires more than just bebopping around the stage (hence the character she's developed and zine-like programs she makes for each show). "It's really just analyzing each work in order to give the most. Honestly, it's not necessary my focus for people to have fun or a 'good time.' I make you feel something—and it may not necessarily always be good emotions either."
For more info on Kilo Kish, and to check out her upcoming performance dates, visit here.