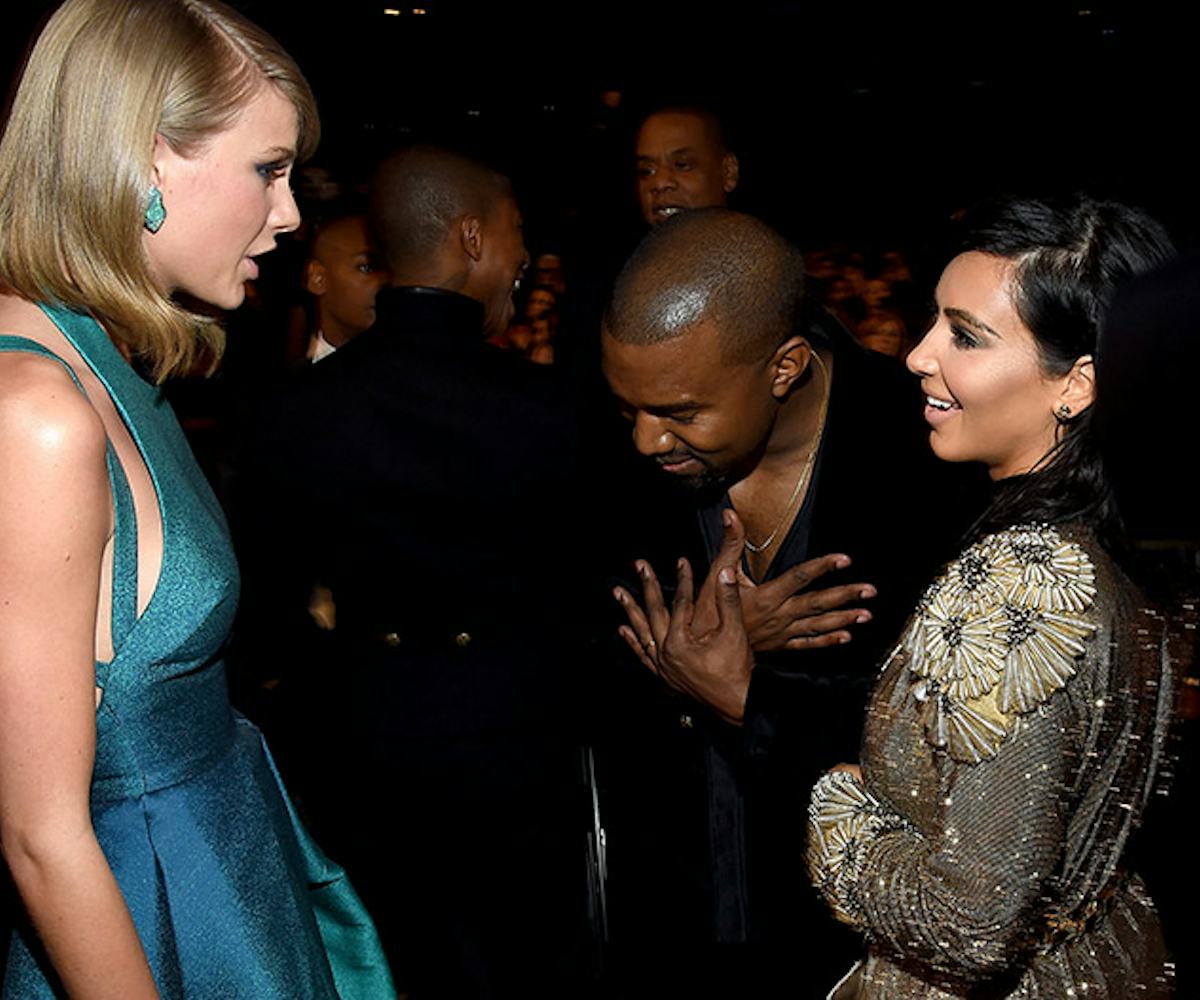 Photo by Larry Busacca / Getty Images for NARAS
Kim Kardashian Claims Taylor Swift Knew About That "Famous" Lyric
Keeping up with the kontroversy
Kanye West's Yeezy Season 3 presentation generated a myriad of discourses: Was it fashion? West says the album isn't done, but he's still debuting it? What does Lamar Odom's appearance with Khloé Kardashian mean? Is that a wig Kim Kardashian is wearing? Wait, did Mister West just say he made Taylor Swift famous? 
Yes, he did, indeed. And that one lyric spawned the loudest buzz. In his song "Famous," off his polarizing album, The Life of Pablo, West says, "I feel like me and Taylor might still have sex / Why? I made that bitch famous." Controversy ensued with West's camp claiming Swift approved of the lyric—even laughing it off on an alleged phone call. Swift's team said West only called to ask Swift to release the song on her Twitter and was not aware of the "I made that bitch famous" lyric. The buzz has since died down, but with the release of Kim Kardashian's first-ever GQ cover story, it's about to get louder because she's got some hot tea and even though it shouldn't be any of our business, it is because look at what we, the internet clickers, have created.
"She totally approved that," Kardashian told GQ's Caity Weaver. "She totally knew that that was coming out. She wanted to all of a sudden act like she didn't." According to Kardashian, West has videographers film every studio session and has the alleged phone call with Swift recorded on camera. She claims that Swift's team sent a letter asking for the footage to be destroyed. Kardashian continued to say, "It was funny because [on the call with Kanye, Taylor] said, 'When I get on the Grammy red carpet, all the media is going to think that I'm so against this, and I'll just laugh and say, 'The joke's on you, guys. I was in on it the whole time.' And I'm like, wait, but [in] your Grammy speech, you completely dissed my husband just to play the victim again." 
Packed within Kardashian's comments and Swift's initial public reaction to the song is a dialogue on the use of "bitch" in rap music. Kardashian told GQ she never thinks, "What a derogatory word! How dare he?" Swift may not feel the same. Her team told GQ what Kardashian said, "Kim Kardashian's claim that Taylor and her team were aware of being recorded is not true, and Taylor cannot understand why Kanye West, and now Kim Kardashian, will not just leave her alone." Many likely share that sentiment, for there are more compelling bits of Kardashian's GQ profile than bad blood rumors. Read them here.