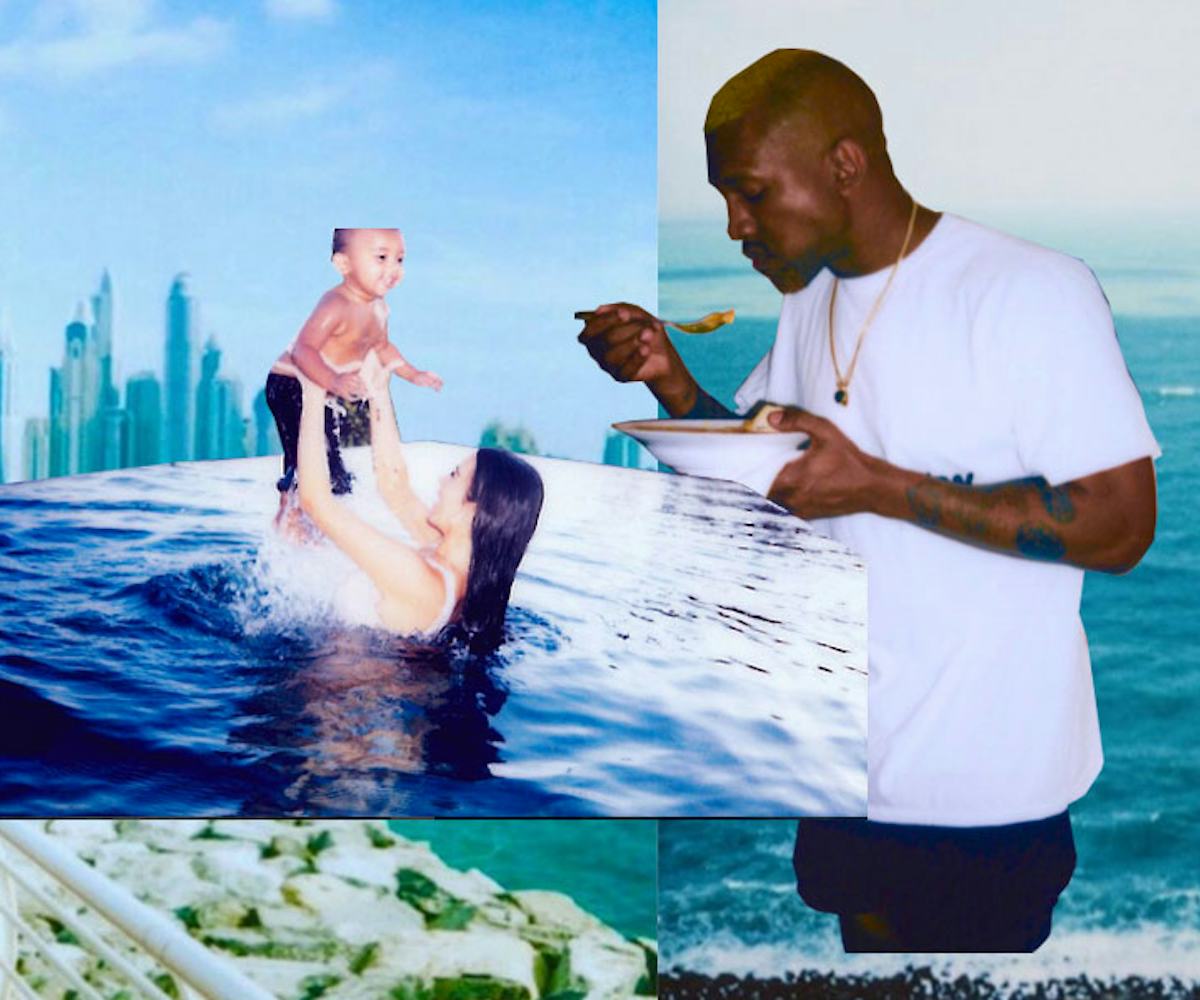 Collage photos via @kimkardashian Instagram
Kim Kardashian's New Instagram Sends A Different Message
Welcome to Kim's new social strategy
If you scroll back a few square boxes down Kim Kardashian's Instagram feed, you'll notice a stark contrast somewhere around five months ago.
This isn't a coincidence, of course. Five months also marks the last time Kardashian posted on social media before her infamous, horrific Paris robbery. It took the reality star nearly three months to return to her largely followed feed, and she did so with a new look—call it Kim K.'s latest reinvention, if you will. 
This new aesthetic eschews the glitz and glamour we've come to expect from the Kardashians—and by extension, their social media feeds. Kardashian herself has prolonged a career based on her daily "glam shots" and selfies, so this new wholesome, family-focused, Polaroid-driven imagery came at a surprise to many. But this is Kim Kardashian, and it's safe to say that with her business sense, hardly anything ever goes unplanned. Welcome to the new Kim Kardashian social strategy. 
"Kim Kardashian's new Instagram aesthetic looks very sophisticated," Jodie Cook, social media specialist and owner of JC Social Media, says. "It's how I imagine Angelina Jolie's Instagram would look if she had it. It looks like Kim has taken stock of her personal brand and thought long and hard about how she wants to come across."
As Cook notes, excessive selfie-taking is typically linked to low self-esteem (though there is a counterargument that selfies can be empowering), and Kardashian's last Instagram selfie was taken a full three months ago. "Her new presence gives off a retro and confident vibe, with a lot less flesh and a lot more class," Cook also points out.
Marketing strategist Jon Westenberg agrees, saying the new imagery "is a lot more raw than it used to be—it's still posed but more natural." And that Kim seems more down to earth and relatable while hanging out with relatives. "There's something more timeless about these new images," he says.
It's important to note that Kardashian isn't the first and won't be the last to implement Polaroid-style images to personalize her social feed. As Chris Callaway, a New York-based photographer who typically shoots in film, points out, "There is a resurgence of analog photography happening right now," This has a lot to do with young photographers bringing back the craft of photography. And with that comes a sense of nostalgia and a throwback.
In addition, Westenberg notes, this new move marks a departure for Kim from the rest of her family—the Kardashian-Jenner clan—eschewing their uniformed flashy social media style.
Callaway also says that given fashion trends of the moment, Kardashian is also borrowing from the vintage '70s-era references via clothing and hair to mimic that effect with the photography. As for the photos themselves, to his expert eye, the images look like they've been taken with a Fujifilm Instax camera, which has seen a surge in popularity in recent years. 
"There's nothing effortless about what she's doing, and in trying to look effortless, it looks sort of forced," Callaway says of the photo shoots with husband, Kanye West, and their children in a seemingly rented, modest house. "In the psychology of using film to send a message, what she's doing is interesting. It's showing this wholesome image of a mom in these nostalgic filters."
But in the same way that memory can be tinted by emotion, a "nostalgic" photo can lack authenticity, and be just as staged as all those glam shots we're used to Kardashian offering. Case in point: this paparazzi shot of the Wests with President Obama, which was then filtered to fit the rest of the Polaroid-looking feed.
Regardless of its iffy production value, is Kardashian's newly rolled out social strategy on track to influence the internet in the same way everything else she touches does? 
"I wouldn't doubt, in the coming months, that other brands and campaigns start mimicking this," Callaway says.
Cook goes as far as to predict that other celebs may follow suit to improve their public image: "There might be individual people in the public eye who choose to take a similar look at their own brand and replicate the more sophisticated, demure style that Kim has adopted."
All this begs the question: Is Kardashian's new domestic image a genuine decision to step back and focus on family or just a rebrand? And does it matter?
And as with everything else Kardashian does, count on her new feed to have a positive influence on her business ventures. Not least because even her newly Instagrammed sponsored ads have the same look as her personal shots. But Kardashian has always been a consummate businesswoman, and so there's nothing wrong with her taking her aesthetic to a new place, and cashing in on it. After all, where Kim goes, the internet tends to follow.
"I wouldn't be surprised if Instagram released their own 'Kim Kardashian filter,' which makes all your images look like that," Cook predicts. "Or if not Instagram, a side app that Instagram go on to buy."