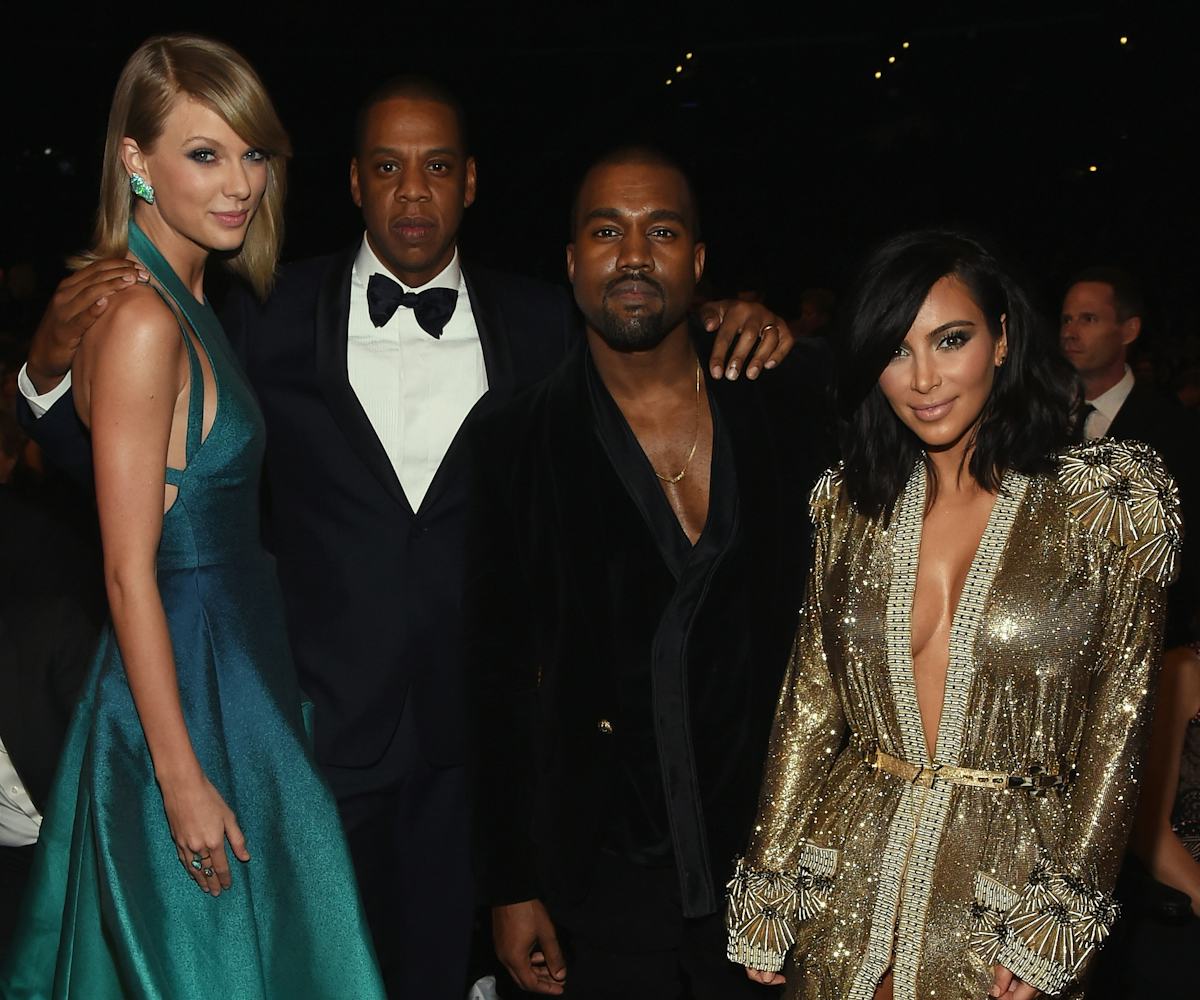 Photo by Larry Busacca / Getty images
Kim Kardashian Just Took Her Feud With Taylor Swift To A Whole New Level
Well, that escalated quickly
Get your hazmat suits on everybody, because the feud between Kim Kardashian West and Taylor Swift just went nuclear. After calling Swift out for being two-faced in her recent GQ cover story, Kim posted a series of videos on Snapchat Sunday, featuring a recorded conversation between Swift and her husband, in which Swift can be heard approving Kanye West's now infamous "Famous" lyrics.
A cheery Swift, who denied ever approving the song after publicly admonishing Kanye on the Grammy stage, can be heard calling the lyrics "tongue-in-cheek," adding that "it's like a compliment." Kanye, meanwhile, tells Swift that he doesn't "want to do rap that makes people feel bad," and that he cares about Swift "as a person and as a friend." Swift says that she really appreciates it and that she "would never have expected you to tell me about one of the lines in your song." Rick Rubin is there, too. 
It's a fascinating peek inside a relationship that's been fraught since 2009 when West grabbed Swift's mic at the MTV VMAs. The two artists seemed to have put the past behind them in recent years, but surely their friendship is shattered beyond repair after Sunday night's events.
Swift was quick to respond to Kim's ambush, with a statement that some observers pointed out seemed prepared as if Swift knew this was coming. "Where is the video of Kanye telling me he was going to call me 'that bitch' in his song. It doesn't exist because it never happened," Swift tweeted.
In fairness to her, Swift is only heard approving the part of the song where Kanye raps "For all my Southside n***** that know me best/ I feel like me and Taylor might still have sex," which is not what Swift originally took umbrage with. "You don't get to control someone's emotional response to being called 'that bitch' in front of the entire world," she added.
Swift accused the Wests of "character assassination," and finished by asking them, one more time, to just leave her alone. "I would very much like to be excluded from this narrative, one that I have never asked to be a part of, since 2009," she wrote.
It's hard not to feel bad for Swift here, who's reputation took a massive hit Sunday, as social media seemed to gravitate toward Team Kim. The singer has never shied away from casting herself as the victim, but Sunday's events are a stark reminder that nothing in the high stakes world of the ultra-famous is incidental. Everyone involved has massive PR infrastructure built around them to help ensure that all press is good press. When the dust here settles, Kim will come off as a doting wife, Kanye will have a touch more cred, Swift will have a whole album's worth of new material, and they'll all be a little more, er, famous.