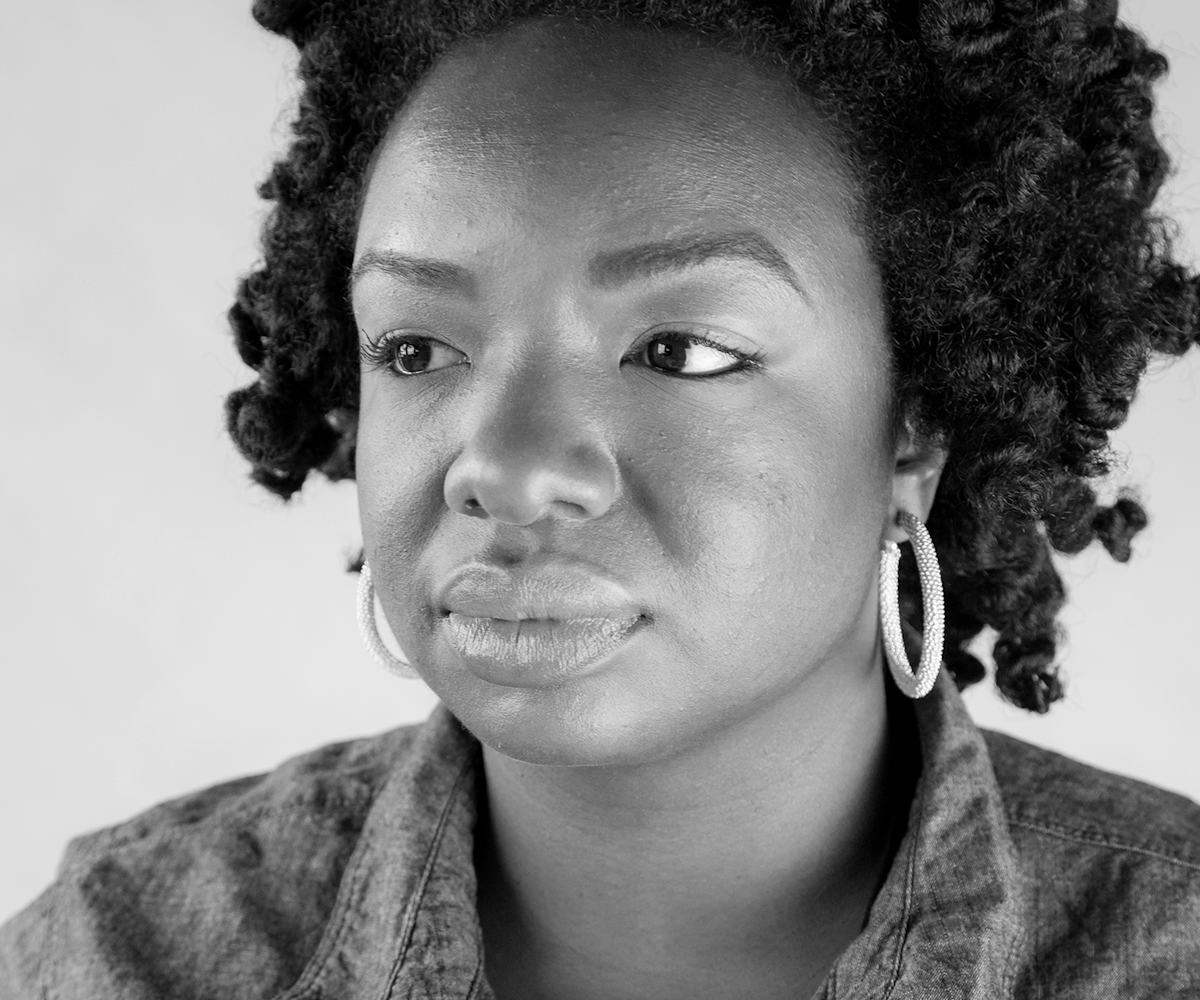 Photo by Rachel Eliza Griffith'
Kima Jones Is Putting More Women Of Color On Your Bookshelf
Meet the founder of Jack Jones Literary Arts
In celebration of Black History Month, NYLON is running a spotlight series called UNAPOLOGETIC. Every day, we'll celebrate different aspects of black culture through profiles, interviews, roundtables, reviews, videos, and op-eds. #Blacklivesmatter and we hold that truth to be self-evident.
Ever since Kima Jones got her first library card, she's been bound to books. As the oldest of eight children, Jones was the designated responsible and independent child; and in her mother's household in Harlem, New York, reading was always a top priority. 
"She never made me stop reading to go outside and play or 'be involved' in the way adults sometimes feel children should be," says Jones. 'My mother knew me and respected how I chose to spend my time. Reading and work came first in her house, and it's first in mine."
With a little help from her Nana who, Jones says, spoke to her like a peer rather than a child, Jones' mind was molded to operate on a "free-thinking" frequency. Ultimately, this foundation perfectly prepared the 34-year-old for her future as the founder and owner of Jack Jones Literary Arts, a Los Angeles-based publicity brand that creates customized literary campaigns and provides a variety of services including strategy development, digital media outreach, speaking and launch engagements, social media consultations and planning, and press kit development.
Learn more about how Jones went from being a bookworm to a book publicist in the interview, below.
Tell me about your background in literature. When did your interest begin to develop?
I've read all of my life, and my parents are big readers. There were two critical turning points in my early life that grew me into a literary advocate. In the fourth grade, I won my first writing contest. In the seventh grade, my stepfather, who was a faculty member at Marist College, let me have several boxes of his surplus books. He only taught non-fiction books in his courses and wasn't particularly interested in fiction, not even fiction by black women, by his own admission. In one of those boxes was a copy of
Black-Eyed Susans and Midnight Birds: Stories by and about Black Women 
edited by Mary Helen Washington. The anthology is as much a curated reading experience as it is literary criticism. Through it, I developed an interest in the "how" and the "why" and the "practice" of books. I read it flap to flap and then I went down the index and read every book by every writer listed. I didn't know that I would be reading those women for the rest of my life, or that those women would become the center of my universe. I grew up through that book, and it was my own self-directed growing. 
Can you outline the process and timeline that went into launching Jack Jones Literary Arts?
I began thinking about Jack Jones Literary Arts for a full year before I began the work. I spent that year developing relationships, consulting with other self-employed women, saving money, thinking about brand identity, developing a one-year, three-year and five-year business plan, opening business accounts, setting up a DBA, hiring an accountant, finding a brand manager, hiring a graphic designer, finding photographers, hiring a copy editor, developing templates, meeting booksellers, building a website, and asking three trusted peers to be my advisory team. It was an intense period of infrastructure building but totally necessary. I was employed full-time when I started Jack Jones in March 2015 and divided my time between the two. By July 2015, there was only Jack Jones, and it's been that way since. I worked 18-hour days the first year, and it was brutal. Year two, I traveled nonstop, and that was also brutal. Heading into fiscal year three, I have a much better command of the work-life balance, I have an impressive roster of campaigns, past and present, and I'm gearing up to unveil new projects. Jack Jones has more to show and more to prove. 
How did you learn how to manage your own business?
My father has always been an entrepreneur. I've watched him open stores and close stores and invest and lose and invest and win. He made mistakes so that I didn't have to make them. I firmly understand what it means to be a black woman in business for myself, how that impacts my family and the arts community and my community at home. I was prepared by my father's example. 
What is the process that goes into deciding which authors to take on as clients?
First, the book needs to be good. It has to have a good cover. Hopefully, the author has a social media presence. I read the book, my trusted copy editor reads the book, and I ask my sister to read the book. My sister is a stay-at-home mother of two—a three-year-old and a seven-month-old. If she can find the time to finish the book, I feel like the book is worth the time of other working women and people. If the team likes it, I have a consultation with the author to see what work she believes her book is doing in the world, and how she would like it talked about, and then we set plans in motion. I begin working on book campaigns six months before the book's publication. I love short story collections, poetry collections, and novels. I would love to get my hands on an art book or a cookbook with a strong narrative. 
How do you feel about representation in the book world?
We've come a long way, and we have a longer way to go. "Voice" still means mainstream marketability, and "audience" still means white readers. I've completed 23 campaigns in two years, and 97 percent of my clients are people of color, while 96 percent of my clients are women. I work with a lot of small presses and indie book presses because they're taking the risks that I'm interested in, but I also work with the five leading publishing houses on some of their niche titles. I prefer to publicize books that don't have a big engine behind them even though they deserve the big engine. I want to see those books win. 
What keeps you motivated to keep doing this line of work?
Books are my life. There's really no way out of it now. I'm also a writer in my own practice. All of my friends are writers. Jack Jones is fully integrated. My social events center around literature. I'm committed to literacy, and access to literature, and building cultural capital. I read professionally for this work, I read because I'm a writer, and I read because I'm a student. Poetry is my daily practice. I read a poem every morning before I stretch and make my coffee.
What is one piece of advice that you would you give to a younger version of yourself?
Keep reading, girlfriend. We have so far to go.