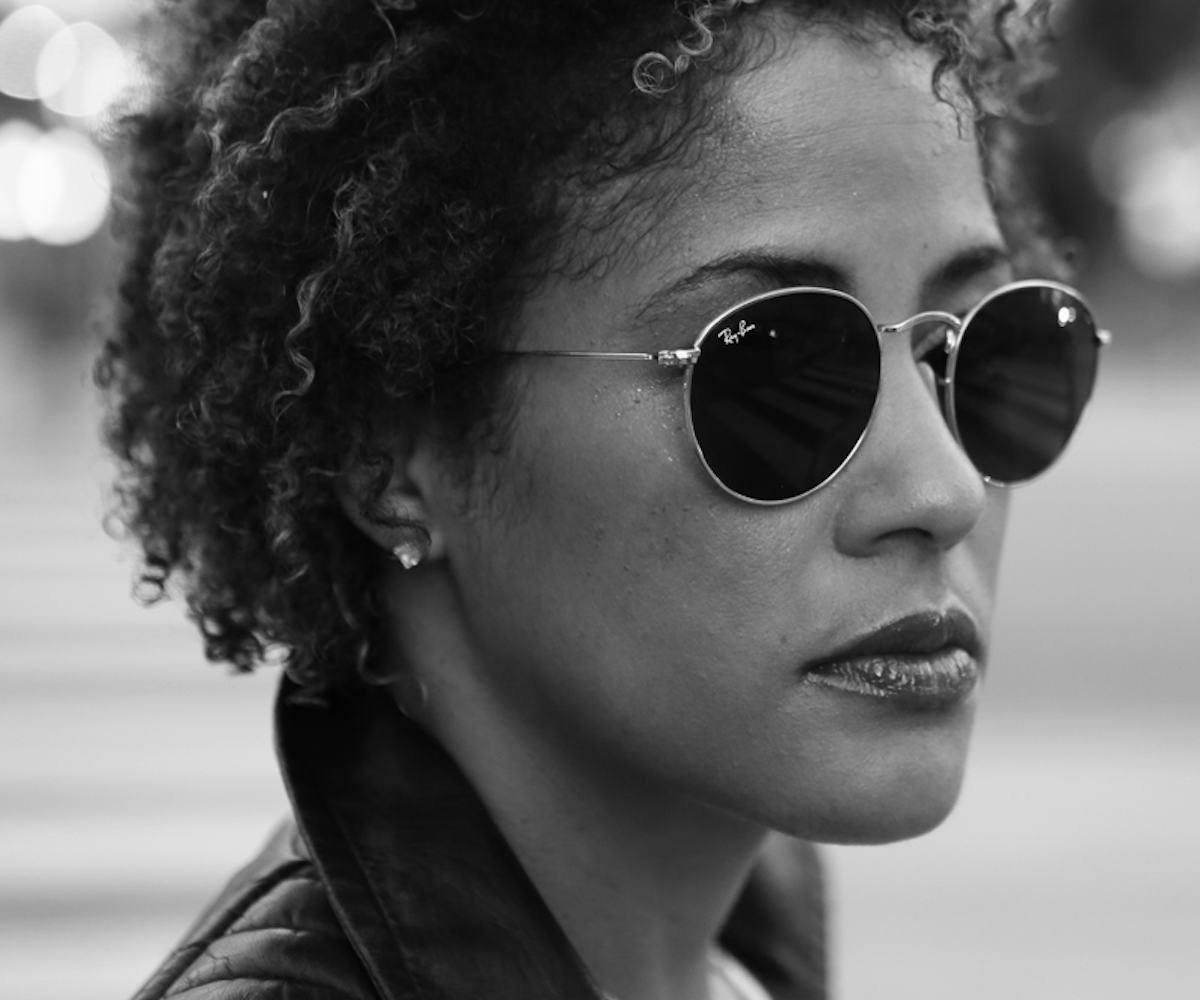 Photo via KTMUSICPRODUCTION
Beyoncé's Drummer, Kimberly Thompson, Is Our New Fav Badass
Get to know the woman behind the beats
At an intimate theatre space in Manhattan, Kimberly Thompson sits in front of her drum set in a tight, black lace cocktail dress. She wants to go into beast mode without giving the audience a different kind of show, so she has draped a gold shawl across her lap. She is calm as she and her band segue into "Hills of Macedonia," a song on her new album, inspired by the women percussionists who paved the way centuries before her. Thompson's face glows in the gentle spotlight.
As the track progresses, her face no longer belongs to her. It now belongs to the frenzy of the song. She becomes a different kind of pretty. The kind that makes people nervous because—like a fiery beat itself—it can't be contained.
"Being submissive hides the fact that we have super strength. We have to accept that part of ourselves and own it," says the drummer, the day before the concert as she reflects on being a woman in a male-dominated field. Raised in Missouri and currently residing in Los Angeles, Thompson's accolades are plenty and diverse: she's performed worldwide at prestigious venues, played in Seth Meyers' house band as well as toured with Beyoncé's all-woman band for more than six years.
Regardless of Thompson's distinctive solo career, it's hard to imagine anyone could escape the pop powerhouse's grip without at least a little Queen Bey-fication. Hence, Thompson's business ideals weave into her theories on feminism which include being assertive and graceful while getting the job done. "But not masculinizing yourself is important. Honing in and keeping your femininity—be a lady about it," says Thompson.
Her support of like-minded women is evident on her album from musical influences of Billie Holiday and Ella Fitzgerald to her track, "A Presidential March Dedicated Hillary Clinton, " a musical endorsement of her chosen candidate. "I feel a spiritual closeness with her… She's intelligent, down-to-earth and well, she's a Scorpio," says Thompson.
Treasures Abound, the sixth album on her own label, KTProductions, yields notes from Thompson's musical and personal evolution. A jazz drummer who's dipped her toes into every genre, she pays homage to the greats in her standards and strives to open minds with her original compositions. "[There's] no longer this sleepy type of facade associated with jazz," she says. "It actually has this energetic pulse—a millennial pulse."
At Thompson's album release show, "Hills of Macedonia" is now in full swing. She goes from providing a rhythmic backbone for the track to an aggressive drum solo, evoking audience approval and then awe. She does fancy tricks with her sticks. She does not break a sweat. And while she's undoubtedly received the "compliment" that she plays like one of the boys, she does not. There's something unmistakably feminine about her ferocity.
Thompson moves between circles, professionally—gigging for big names, creating film projects for PBS, and teaching private lessons for a select group of aspiring musicians. Her thirst for knowledge and experience belies any desire to stay in one lane. "When there's a drum set or a piano or something to be learned, I won't eat. I won't sleep. I won't go use the restroom," she says. "I used to play basketball so I'm very athletic. There's all this energy. I never get tired."
Fitness plays a big role in not just Thompson's tenacity, but her students' as well. She takes them to gym as a part of their training, encouraging meditation and an increased awareness of their physical presence. "You're your own instrument," she tells them. "You are your art."
Thompson asserts the importance of expression, physically and emotionally, in music. Her lingerie-like dress one evening is jeans, a leather bomber, and a fedora on another. Thick, '80s style jewelry adorns her neck sometimes. And then there was the Beyoncé-approved mohawk.
Thompson recalls a feeling, while on tour with the pop icon, of craving change. Something that would take her from "sweet and nice," which were the traits often used to describe her, to a little more edgy. So she opted for a mohawk. But even with something like a haircut, she had to tread lightly. "I couldn't have done it without Beyoncé's approval. I had to show it to her and she had to say 'okay.' It's a part of her packaging and branding. She agreed with it. She loved it," says Thompson.
This is jarring since Thompson doesn't come across as the type to seek anyone's approval. But she stresses the importance of moving seamlessly between roles in her career. Just because she wears the bandleader hat now, doesn't mean she dismisses the significance of supporting another artist. 
"I like making my bosses smile. I'm a boss, myself so I like my players to solo and do their thing when were all together," she says. Her current band, who play supporting roles on her album—Carlos Homs, Aaron Burnett, and Will Slater—slay at her show. They are in tune and at ease with their lady boss, which isn't the case sometimes in other environments.
"I'm a very loving person and I've seen it all so I'm very sensitive to people's situations but at the same time we have to get things done," says Thompson. "There needs to be a balance."